News | Galleries
Sumer Art Gallery Opens in Auckland
The gallery, which emphasises emerging artists, launched in Tauranga in 2018.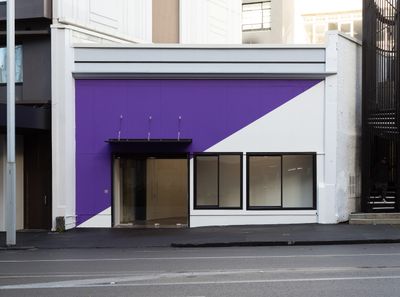 Sumer art gallery in Auckland, featuring Jan van der Ploeg's wall painting no 534 (2023). Courtesy Sumer.
A bright purple triangle bisects the facade of Sumer, which opens at 27 Beach Road in Auckland on Wednesday 31 May. The work is a new wall painting by Dutch artist Jan van der Ploeg.
Van der Ploeg is one of 25 artists appearing in the Auckland gallery's inaugural exhibition, Nova, which continues through 24 June.
At 63, van der Ploeg is one of the oldest artists with the gallery. Most are in their 30s or early 40s, while Cindy Huang, whose ceramic lilies appear in the exhibition, is in her mid-20s.
With more established artists already represented in Auckland, 'it makes more sense to build a new crop of artists,' said Dan du Bern, Director of Sumer.
Exhibition view: Group Exhibition, Nova, Sumer, Auckland (31 May–24 June 2023). Courtesy Sumer.
Du Bern and his former partner Courtney launched Sumer in Tauranga, New Zealand's fifth largest city, in 2018. Returning from London to New Zealand, they found a base for their art services company that also worked as a gallery.
The name is a reference to Samuel Butler's satire Erewhon: or, Over the Range (1937), which draws on the author's experience working as a sheep farmer on the South Island's improbably named Mesopotamia Station.
After hosting some 40 exhibitions during a period badly disrupted by the pandemic, du Bern ended operations in Tauranga in 2022 and moved to Auckland, two to three hours' drive away.
'Art collecting in New Zealand is h​ub and spoke,' du Bern said. 'People tend to collect either in their hometown or in Auckland.'
'There's lots of great galleries here but there's room for another one,' he said.
Exhibition view: Group Exhibition, Nova, Sumer, Auckland (31 May–24 June 2023). Courtesy Sumer.
The opening of Sumer in Auckland comes shortly before two prominent New Zealand galleries close their doors.
Scott Lawrie Gallery is showing artists Sefton Rani, Daphne Mason, Brett a'Court, and Mark Schdroski in their final exhibitions, concluding 10 June. Lawrie will return to Scotland to care for family after six years showing in New Zealand.
In Wellington, Bartley & Company opens their group show The Grand Finale from 31 May to 1 July. The gallery, led by Alison Bartley, opened in 2009.
'It's been a wonderful ride and now it's time for a change,' Bartley said in a statement. 'I want to stop while I still have lots of energy for other things.' —[O]