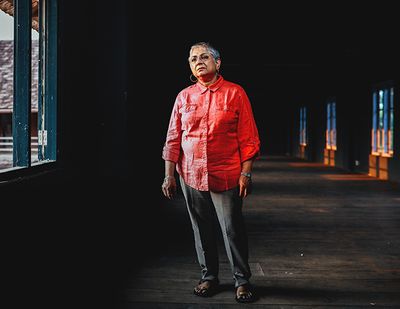 Anita Dube. Courtesy Kochi Biennale Foundation.
On 12 December 2018, the Kochi-Muziris Biennale (KMB), referred to as 'the people's Biennale', will open its fourth edition to the public. Considered one of the most significant large-scale exhibitions in South Asia, and by far one of the most attended art events in the subcontinent, this edition is curated by the New Delhi-based artist and critic Anita Dube—an appointment that reflects KMB's stance as an artist-led exhibition.
Titled Possibilities for a Non-Alienated Life, at the heart of Dube's stated vision for this edition of KMB 'is a spirit of ongoing and decentralised collaboration.' It aims to configure a 'politics of friendship' where 'pleasure and pedagogy' can co-exist and dream together. In reflection of this curatorial theme, Dube has invited an extensive range of artists from the Global South, including Walid Raad, William Kentridge, Tejal Shah, Tania Bruguera, Zanele Muholi, Vivian Caccuri, Rana Hamadeh, Barthélémy Toguo, Jitish Kallat, Marzia Farhana, Young-Hae Chang Heavy Industries, and The Otolith Group, to mention a few. The show will be staged across multiple venues in Kochi, including the Aspinwall House, Pepper House, David Hall, and Cabral Yard in the Fort Kochi area, as well as Durbar Hall in Ernakulam city close to Kochi's main railway station. Cabral Yard will host KMB's inaugural Pavilion—an open space for dialogue and sharing among participant-visitors of the Biennale, conceptualised by Dube.
Construction of the Pavilion for the 4th Kochi-Muziris Biennale (KMB). Courtesy Kochi Biennale Foundation.
Dube received her BA in History from the University of New Delhi in 1979, followed by an MFA in Arts Criticism obtained from the Maharaja Sayajirao University of Baroda in 1982, after which she became involved with the Indian Radical Painters and Sculptors Association between 1984 and 1989. For the Association's inaugural exhibition, Questions and Dialogues (1987) held at MSU Baroda's Fine Arts Faculty Gallery, Dube contributed a manifesto text with the same title, which presented the arguments of the group and their intention to redefine art's role in everyday public life. This essay is considered a seminal text in Indian modern and contemporary art history, notably for its critical position concerning Place for People, a 1981 exhibition that categorically expressed its interest in figuration and narration in Indian art.
Following her role in the Indian Radical Painters and Sculptors Association, Dube began translating her criticality to the material process of making art. Her interest in materiality is visible in her iconic 1997 work Silence (Blood Wedding), for which the artist covered real human bones in a skin of red velvet embellished with beads and lace. Displayed in 13 vitrines, these objects embody what Dube describes as a 'deep rejection of death' signifying a difficult time in her personal life, when her father was diagnosed with a fatal illness and she was dealing with a broken relationship. In the mid-2000s, Dube began a series of performances and photographic works titled 'Meat Words / Key Words', for which letters were cut, and words were written from slabs of meat, and the audience was invited to discuss their meaning in collaboration with the artist. The performance further demonstrated the artist's interest in materiality, which allowed her to question 'how you can give body to things by experimenting with materials and embodying words.'
Anita Dube, Silence (Blood Wedding) (1997). Human bones covered in red velvet with beading and lace, 13 elements. Dimensions variable. Courtesy and Copyright of Devi Art Foundation.
In addition to her work as an artist, Dube also co-founded the KHOJ International Artists' Association in 1997, where she is still a board member. Since its inception, KHOJ has been a catalyst for an extensive range of artistic collaborations through residencies, exhibitions, and other kinds of exchange projects. Its long-standing commitment has been to foster networks around questions of media, urbanism, and ecology between artists of South Asia and the world.
In this conversation, Anita Dube talks about curating KMB amidst the right-wing government's political rule in India, as well as her specific curatorial plans for the exhibition.
SM

The premise of 'non-alienated life' lies at the centre of the curatorial provocation for the 4th Kochi-Muziris Biennale (KMB). Alienation here is spoken in the double fold, as one that is generated by the society of spectacle and by the parachuting tendencies of contemporary art.
How will this year's edition of KMB depart from the existing biennial structure, which embraces a spectacle of artistic practices across global cities?
ADAlienation, as we know, is a classic symptom of living in a capitalist system, further compounded in our highly mediatised world in which people are robbed of agency by the dominance of the 'spectacle'—the terror of a distant world consumed primarily as an image. In curating KMB 2018, I wanted to address the 99 percent, and not the 1 percent that goes to Kassel, Venice, Sharjah, Gwangju, and Kochi; to allow for some sort of self-determination on behalf of the average visitor. I felt I needed to move beyond the traditional exhibition model, because there is an absence of a major museum of contemporary art in Kochi or a thriving gallery scene, wherein the Kochi-Muziris Biennale becomes the only window to the art of the world. The danger of a top-down approach troubles me, as I want the audience to be active participants rather than passive consumers of culture.
Pangrok Sulap, SEBARKAN CINTA (Spread the Love) (2017). Woodcut. Dimensions Variable. Courtesy the artist.
SM

Possibilities for a Non-Alienated Life also calls for a renewed sense of community, solidarity, and what you refer to as a 'politics of friendship'. How do you plan to foster these associations in the expansive temporal arena of a biennial?

ADThe process of constructing the Biennale was driven by wonderful conversations with artists whose work I have admired for a long time; with artists I encountered during my travels; with my curatorial team; with the [Kochi Biennale] Foundation, and with the huge production apparatus. Without dialogue, solidarity is impossible. This has been the key lesson for me, and the curatorial frame slowly emerged from this process. The project involves a vast array of artists whose practices and backgrounds are connected by threads and narratives that run through the exhibition. What emerges are fragments: groupings of artists that enable a particular thread of the polyphony of the Possibilities for a Non-Alienated Life to be teased out. Propositions and ruptures are also laid out within the architecture of the sites, like the unfolding of a musical score.

Cyrus Kabiru, from the series 'C-Stunners' (2012). Photographic prints. Dimensions variable. Courtesy the artist.
SM

You have mentioned that the form of the exhibition is limiting for the specific kinds of conversations you want to have with the local public of Kochi. Can you speak a little more about how these limitations within exhibition-making are being negotiated?

ADA huge part of addressing this problem lies in the pavilion model I have imagined. The curatorial frame is therefore conceived in two parts: the exhibition in conversation with what is called the 'Pavilion', a multi-purpose structure in Cabral Yard, architecturally conceived as an open space to encourage sharing and free dialogue amongst participant-visitors, in what can hopefully become a knowledge laboratory. Through open source platforms via the still available freedoms of the internet, along with an open mic and blackboards to scribble on, people will be encouraged to share, in any language or medium, content that means something to them—whether that is an academic lecture, a popular film song, or a poem. I feel that the coming together of pleasure and pedagogy is the only way forward in these times of increasing identitarian closure. I'm looking forward to the fact that everyone will be able to form and share their ideas through the use of technology in the Pavilion—a liberating space where visitors can bond through a 'politics of friendship'. In this sense, I hope the Pavilion can allow for an understanding of the possibility that anyone can be a curator.

William Kentridge, More Sweetly Play the Dance (2015). Eight-channel video installation with four megaphones, sound, video. 15 min. Courtesy the artist.
SM

As an artistic practitioner, you have been committed to politics that are embodied in the materiality of art-making. How will your artistic vision of materiality translate into the making of the Biennale both politically and spatially?

ADI have always been interested in the materiality of human experience—not only in the materiality of material. The politics of the pleasure principle—known as Rasa in India—play a key role. Therein lies my critique of disembodied dystopic virtual reality as a system that will produce zombies as ideal citizens in an increasingly authoritarian world. Women know how forms of power etch their bodies.

The question of survival, not only of politically disempowered bodies but of our ecologically disempowered planet, is now the spectre haunting us. The colonising drive will march on to newer pastures elsewhere, possibly Mars; and where will the remaining individuals go?

Through this Biennale I can only offer to set up small conversations, both real and imagined: technology in conversation with the human hand; a whiff of democracy as we try to solve problems together; and the imagined possibility of cyborgs chatting with peasants and agricultural workers. That would be fabulous indeed!

Araya Rasdjarmrearnsook, Two Planets—Manet's Luncheon on the Grass and the Thai Farmers (2008). Video. Courtesy the artist.
SM

The fourth edition of KMB brings together artists from extremely different parts of the world, making it an 'inclusive' exhibition with many of these artists showing for the first time in India. Can you elaborate on the process that led you to the specific selection of artists? Are there any commissioned projects that you are waiting to be realised as part of the Biennale?

ADIt was a conscious decision to look to the Global South, away from a funding-fuelled itinerary; although, I must confess, it's difficult to entirely overlook the financial muscle of Euro-American organisations. We are excited to work without hierarchy with young, emerging artists and those that are older and more established. This non-hierarchical approach applies to different mediums as well. The exhibition will include painting, drawing, sculpture, video, film, sound installations, and performance.

The market is so smart in adapting itself to parallel discourses, even those of dissent, and its connection to institutions cannot be overlooked. In this scenario, practices that consistently resist spectacular museumisation appeared to me like the best alternatives. I chose many artists based on conversations I had with them around my curatorial theme and their engagement with those ideas, as well as those whose practices I encountered that echoed and expanded my ideas. New commissions were never a primary agenda for me, as I was thinking more of bringing in iconic works by international artists for my audience in India. Given our finances, that a quarter of the projects are newly conceived and commissioned for the Biennale itself feels like an achievement. —[O]