Anne Noble is one of New Zealand's most acclaimed contemporary photographers. Her work spans landscape, documentary and installation incorporating both still and moving images. Her most recent exhibition Nature Study
is the first of a series of exhibitions and installations about the honeybee and its place in our world. Currently on display at Bartley and Company, the exhibition draws on work she began in 2014 while on a Fulbright fellowship at Columbia College, Chicago as their international artist in residence.
She has been the recipient of numerous awards including a New Zealand Order of Merit for Services to Photography 2003; a US National Science Foundation Artists and Writers Award 2008; New Zealand Arts Foundation Laureate Award, 2009 and a Fulbright fellowship at Columbia College, Chicago, 2014. Highlights of her extensive exhibition history include: Observed and Contrived: Recent International Photography at the Queensland Art Gallery 1998 and the Asia Pacific Triennial in Brisbane, 1993; Slow Release: Recent photography from New Zealand at the Heide Museum of Modern Art, Melbourne, 2002; Anne Noble States of Grace, Dunedin Public Art Gallery 2001 – 2003 (touring exhibition); In Cold Light, Centre for Contemporary Photography, Melbourne, 2005; Anne Noble: Ruby's Room, Speilhaus Morrison Gallery, Berlin, 2005; Critic's Choice, Neuer Berliner Kunstverein, Berlin, 2005; ICONICA: The connection between contemporary art and reality, Patio Herreriano, Museo de Arte Contemporaneo, Valladolid, Spain, 2006; Ruby's Room, Musée du Quai Branly Paris 2007; Antarctica: Joyce Campbell, Anne Noble, Connie Samaras, Pitzer Galleries Claremont College, Los Angeles 2007; Reveries: Photography and Mortality, National Portrait Gallery, Canberra, 2007; Ice Blink: Antarctic Photographs, Centre for Contemporary Photography, Melbourne, 2008.
Ocula correspondent Kate Brett-Kelly Chalmers talks to Anne Noble on the occasion of her new exhibition, Nature Study at Bartley and Company in Wellington.
Can you tell me about your current exhibition Nature Study at Bartley + Company Art? This show introduces a new series of work relating to bees…
I have been a beekeeper and for about two years now and during this time I've been preoccupied with learning about bees and understanding the hive, how it functions and its significance for the larger ecosystem that we are a part of. My new exhibition,
Nature Study
, is the first of a new series of exhibitions and installations about the honeybee. It draws on work that began when I was in the United States last year on a Fulbright fellowship based at Columbia College in Chicago, as their international artist in residence.
Nature Study looks at how we perceive and understand the natural world. Scientists are struggling to understand, contain and manage the impact of technology on the health of the environment and the risks to bee populations with the decline in pollination. Art has an imperative to ask some parallel but different questions that draw on our sensory and imaginative capacity to fully comprehend the impact of human action on natural biological systems.
There are a number of components to this exhibition. Reflecting on Goethe's approach to studying the form and structure of organisms—it was Goethe who coined the term "Morphology"—I have produced a series of unique tintypes, based on a morphological collection of bee wings that I found while visiting a bee scientist in Texas. I was interested in a return to process and made a series of images printed on metal plates that were hand coated with light sensitive silver emulsion.
Another group of images comprises large prints of bee wings that I have plucked from dead bees and photographed through a homemade microscope of sorts. I sourced them from hives that had died during the period I was in the US, when bee deaths were becoming more and more prevalent.
I have titled this suite of images 'Eidolon'—a word that evokes associations with the image of a phantasm or an apparition that has returned to question its own existence. I have also included a large portrait of a bee, which is one from a large and growing series of Dead Bee Portraits.
Anne Noble, Bee wing morphology, Exhibition view, 2015. 30 x 245 x 65 mm. Original tintype /silver emulsion on coated aluminium
I'm interested in how your photographs isolate quite ordinary details in such a way that they appear sublimely beautiful: visually alluring but also quite strange, uncomfortable, almost uncanny. Can you talk about how you photograph these details—what attracts you to a particular visual fragment or moment in time? What are you looking for?
My subjects, in this case the bees, are a means to look a little more closely at something I care deeply about. We have a need for images and stories to make meaning of human experience. This universal need for artistic experience requires constant interrogation and renewal.
I don't look at bees just to make another photograph—there are millions of photographs of bees on the Internet. I am looking for ways to engender a psychic connection between humans and the ecosystem. Rather than being lords over the environment, we are a part of it while maintaining a frail capacity to see and understand it. What do bees see I wonder? Do they know it is me when I walk towards the hive? What is bee consciousness? I think bees might see a whole lot more than us. They may also hear differently and they sing exquisitely. I'd love to touch a little of this, and make work that then touches us.
Getting close to science is a wonderful thing and it has been part of my practice for a long time. Science uses tools to examine and measure the world precisely—and more and more it is finding out how little we really know. I recently read a scientist musing about how the supposed complexity of human philosophical thought pales into insignificance when we consider the complexity of a single cell. I love this idea as we have placed such confidence in rational processes of observation, measurement and thought. To realise that there is so much complexity in the minutiae of the world and that no single way of seeing can give us anywhere near the necessary richness of understanding we need, creates a new imperative for art on its own terms. Like science, art experiments and measures--although measurement for art has another meaning altogether—more to do with the tenor of feeling, with the sensibility of the psyche and the formation of cultural consciousness.
I am fascinated by photography's relationship to science. The camera is a viewing device that was a product of the 19th century. It is an imaging machine developed to reveal the world as an aid to the certainty of science. I love its capacity to challenge those very ideas that propelled it into being. While photography traces the surface appearances of the world, it more powerfully informs our interior experiences of time, memory and being.
You have developed several projects based on visits to Antarctica with the support of the New Zealand Arts Foundation. It seems that Antarctica's extraordinary visual environment already presents a kind of 'fragmenting' or 'isolating' mechanism whereby anything you photograph is immediately framed by an expanse of white. Can you talk about what it is like to take photographs, to make images there?
Antarctica is vast and offers an experience of space and horizon that defies our capacity to meaningfully wrap a frame around it. Because of its scale, it readily provokes a mythic encounter with oneself as small within the scheme of things, within an environment that is, on the one hand, extraordinarily beautiful and at the same time incomprehensible. We can't, however, talk about wilderness and landscape without the knowledge that both are concepts freighted with cultural meanings—especially for the medium of photography. In the idea of wilderness, we encounter a kind of binary that renders nature as separate from the self. Embedded within it is a division between notions of wild and tamed, self and other, and nature and culture. On the one hand wilderness is an idea or an ideal that we hold onto in order to keep places safe from human exploitation (I include tourism in this). On the other hand, by doing so we adopt that set of binary oppositions as boundaries over which humans will always cross—to experience, to discover, to claim, and to know.
I find it fascinating that very few people have been to Antarctica and yet it exists in the global imaginary as a library of images that I like to refer to as the pre-existing 'Antarctic photographic imaginary.' The Antarctic tourist takes with them a pre-configured set of photographic expectations that confirms each of them in the act of re-photographing Antarctica. Over a series of days the Antarctic tour lays out view after view of crumbling ice cliffs, glacial blue icebergs, and penguins frolicking in their black and white dinner suits, each one a stage for an Antarctic re-photographic event to take place.
In my Antarctic work I was questioning how this visual language through which we frame Antarctica and our relationship to it, fails to serve our need to see and understand the risk to Antarctica due to the effects of climate change. I proposed a need for images that might speak, not of heroic landscapes and endeavors, but of the frailty of human perception and the fragility of the Antarctic continent itself.
Anne Noble, Antarctic Inventory, AI #1 Southern Belle, 2008. Pigment print edition of 10
Both the Antarctic works and the Ruby photographs—quite different bodies of works and subjects—put pressure on ideas of what is natural and what is not. They seem to maintain a tension between what is artificial and what is organic, whether that organic matter is the body or the 'untouched' landscape. To my eyes, this natural/unnatural tension seems to be the source of fascination and eerie weirdness in your photographs. Any thoughts?
When I take photographs—whether it be of Antarctica, my daughter's mouth or bees—I am doing two things: I am attending to the processes of seeing/looking and interpretation, while also considering the nature of photography itself—in particular, how it informs our interior imagination.
Ruby's Room comprises a whole series of moments that don't normally get photographed. These then became a kind of album of photographs—a collection of overlooked moments; an accumulation of images that run counter to the adult tendency to smooth the edges, wipe the noses, clean the knees and create an appearance of unsullied sweetness. This is a cultural habit and practice that, I think, creates a romance with the idea of childhood as a time of innocence, while forgetting the darkness of our own memories of it. As a mother, this romance with an image of cleaned-up adult wishfulness seemed much more dangerous than the direct approach of honing-in on the actions and relationships that are expressed through the mouth as a site of communication and play.
Ruby's Room is a documentary project about childhood and an ethnography of overlooked moments. It also dares to place motherhood and the relationship between a mother and her child at the heart of a contemporary art practice. The ghoulish arousal of sexual responses is part of its affect, not its meaning. Each image becomes a part of a larger portrait that is questioning our cultural image bank—this challenges the adult imagination.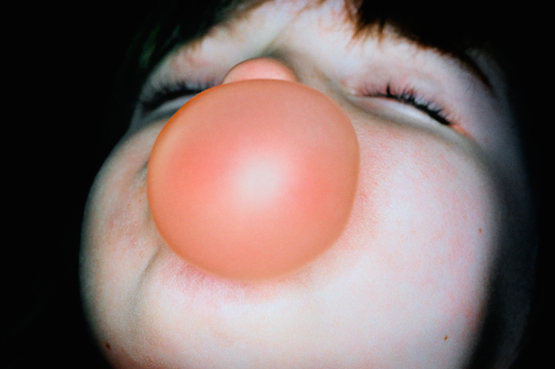 Anne Noble, Ruby's Room #14, 2006. Pigment on hannemuhle paper. 66.8 x 100 cm
Lastly, can you tell me a bit about the technical aspects of your works. I take it, of course, that you moved to digital devices at some point in your photographic career. I'm interested in how you construct these images—what photographic processes and technologies you employ here.
Image-making technologies are always a part of any photographic process—but the technology is in the service of ideas. Do we ask a painter: Did you use use a thick or a thin brush? Or, how do you get the edge of a line so sharp? These are not very interesting questions really. Digital or not—this is also not a very helpful distinction. While working with bees I am thinking about a whole raft of things that emerge through playing with the whole gamut of photo media technologies, from film to hand applied emulsion on metal, to Photoshop, to electron scanning microscopes, to homemade honkey microscopic devices I make myself, and moving image and more recently sound.
Ultimately it is the image itself and its affect that is important.—[O]