Jennifer Flay. Image courtesy FIAC
Much seems to have fallen into place for New Zealand-born Jennifer Flay. Expanding her horizons, Flay moved to France in the 80s to pursue studies in Art History and was exposed to the international art world—an inspiring revelation for the antipodean native. Contact with the late Italian-American gallerist Leo Castelli offered a window into the commercial gallery sector and led her to open her own eponymous gallery that ran throughout the 90s and for over a decade.

As the Parisian art fair FIAC was celebrating its 30th anniversary in 2003 there was much talk about the fair's "birthday or burial". Seeking a new trajectory, fair organisers appointed Flay as Director in the hope of steering it on a new course. Twelve years on and in its 42nd edition, FIAC has become one of the world's premiere art fairs, rivalling its close neighbour on the fair calendar, Frieze London. Each year FIAC presents high calibre ancillary events—such as OFFICIELLE promoting emerging galleries—and an integrated public program aligned with many of the French capital's most important museums. Flay's enthusiasm for her role and unique industry insights inform her vision for FIAC that advocates for the sustained support of galleries, from emerging to established. Her commitment to the arts represents a symbolic contribution to her adopted country.

Rachael Vance talks to a candid Flay about her professional path, the mutating art world, and her role in the development of FIAC and Paris' cultural landscape.
How did you initially come to work for FIAC in 2003?
Just after the milestone 30th anniversary edition of FIAC, Beaux Arts Magazine—a very well-known art magazine in France—included on the title of their front page (right across the cover): "FIAC 30 Years: Birthday or Burial?" [The fair] was in a total mess. I was a gallerist in Paris throughout the 90s. When my gallery was operating, I myself had pulled out of FIAC because I found it really uninteresting.
2003 was the year Frieze started and the owners of FIAC saw it going downhill. With this new kid on the block they decided they needed to react. One of my friends put my name forward when they were looking for someone for the role and they wanted to meet with me. I actually wasn't that interested in taking the job on as it seemed like too much of an uphill battle, but on the other hand, I thought FIAC had really played a very important part in the art world in the 80s, and also in France socially and culturally. So I thought I would give it a go and give it everything I had and make it my project. That was twelve years ago.
How long before that had you been in France?
I came from New Zealand to France in 1980 with a French government scholarship to study Art History.
It must seem like a long time ago now.
I came in 1980 to pursue my studies. One thing led to another really. I encountered the gallery world. Growing up in the 70s in New Zealand there wasn't a gallery scene at all. The gallery world was a revelation to me, not so much the actual physical space of the white cube gallery spaces, but these people who with their own financial means decided to stand up and be counted alongside the artists that they believed in. That type of commitment was quite striking to me. And also the very close relationship that gallerists have to artworks: They are always moving them around, picking them up, wrapping and unwrapping them. I kind of fell in love with that. Also, when I was studying I met Leo Castelli. I actually saw a lot of Leo over a period of years because he used to holiday in the south of France near where I was living. That was extraordinary because Leo had this standing alongside his artists whom he had helped create. He certainly impacted a lot of the course of the art history that I was really interested in.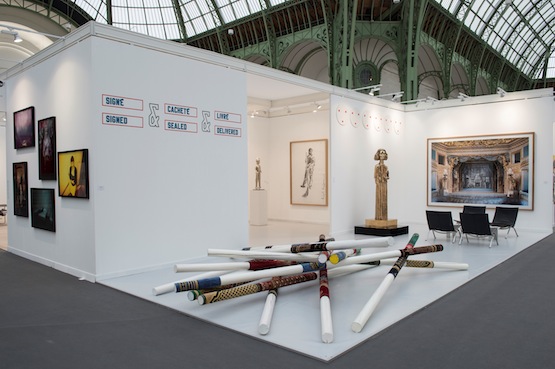 FIAC 2014. Image courtesy FIAC Paris. © Marc Domage
What were your objectives that you set out to achieve in those early years at FIAC?
Obviously to put FIAC back on the international map, and for that I had to re-federate even the French galleries around the fair while also making it into the international event that Paris deserves. I started working on the international galleries and on the French galleries at the same time. My gallery had been an important gallery and I was known to the majority of the international gallerists of my generation. So I wasn't a newcomer, but obviously I was to the fair world.
So the first steps were to re-federate the French, the local community around the fair and to begin to reach out to the international art world. But of course you can't attract galleries to your fair unless you have something to offer them. Primarily what galleries are looking for when they come to fairs, which is very obvious to say but I will say it because nevertheless one needs to remind oneself, that they want to sell. So you have to attract the right collectors to ensure they are able to make high level transactions regularly, right throughout the event.
I also needed to think about the physical context in which the fair was taking place. The Grand Palais had closed down for renovations in 1993. At that time FIAC had been on a long exile here and there and ended up in a convention centre on the outskirts of Paris. It is not what people hope for and expect when they come to Paris. Also, we have such a wonderful infrastructure in Paris of really high level museums that are doing beautiful shows and presenting contemporary and modern art, but also, more historical periods. I really wanted to be able to connect with those people and develop synergies with them.
How did you do put all this into action? I imagine it would take some convincing, and also having an open dialogue over time.
Yes and proving and creating the conditions of confidence and trust. In the art world we are all interested in excellence and quality. The art world, like any domain of excellence, is not a place for mediocrity; a collaboration with a mediocre art fair would not interest the Centre Georges Pompidou or the Louvre Museum. Before these institutions were going to agree to work with us we had to be on the [same] level, or at least show that we were working to achieve it better together. As museums are programmed several years in advance it took a period of time until they could actually align their major exhibitions to open during FIAC. A few years went by whereby we had the opportunity to prove that their reputations would not be endangered if they worked with us, and on the contrary, we could help each other.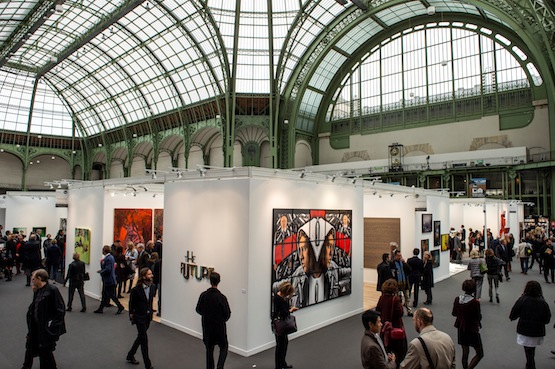 FIAC 2014. Image courtesy FIAC Paris. © Marc Domage
What year did FIAC return to the Grand Palais?
In 2006. We did an important event in 2005 in the Grand Palais—in the only part of the Grand Palais that was available at the time—as a sort of inaugural event to say we would be returning with the galleries the following year. When I think about it, it was much of what we do in our current cultural programs, where we present external events. In this exhibition we had large-scale installations that were all about domesticity, because I had this theme in the back of my mind that going back to the Grand Palais would be like going home. We also had an artist performance and film program that took place during the four days of the fair. We never communicated any form of nostalgia. FIAC has never gone back, it continues to go forward. It is something that has been in movement ever since. Every year we develop, we strengthen and we try and dig in further.
With your experience working in the arts industry, what major changes have you seen over the past five to ten years?
Clearly the market has become even more competitive than it was ten to twenty years ago. It has become a very tough place to operate. It is more ambitious and difficult than it was. The big name galleries have developed over the last ten to fifteen years—the galleries that have multiple spaces such as Gagosian, Hauser and Wirth, David Zwirner and Marian Goodman. This is something new. Leo Castelli had a gallery in Milan in the early 70s and it didn't last that long. In the 80s I did ask him once, "Leo why did you close the gallery in Milan?" and he said "well you know Jennifer a gallery is a person and you have to be there with your artists in the space." I guess when you think about it, this is a fundamental change.
What about the intermingling of private and public sectors?
Absolutely, even the fact that there is this great cooperation between art fairs and the public sector. For example, the new hanging of the Picasso Museum will be inaugurated during FIAC this year, and last year the Vuitton Foundation and the Picasso Museum all opened their new premises during FIAC. This type of collaboration didn't happen before.
No it didn't but yet it makes perfect sense. I often wonder why it has always been so separated.
I think there was always some sort of suspicion, with the two worlds kind of looking at each other without really understanding. On the institutional side, there was this feeling that there might not be something quite above board about the commerce of art, and perhaps from the other direction, the gallery world looked to the institutions as though perhaps they were not au fait with all the realities on the ground. The fact is it is all very interdependent and as we all know, many museum shows take place with significant funding from private galleries; to produce artworks museums need private sponsors. I think that today there is more of an awareness that we are all part of the same ecosystem—that we are interdependent. This understanding has made different collaborations and synergies possible.
How do you view the role of the art fair today?
Art fairs are increasingly important and perhaps they have become too important. One of my focuses during FIAC is to put the attention back onto the galleries. To say to people and the media as much as I can, FIAC is great and by all means come to FIAC, but alternatively, what you could do is visit the many excellent galleries that are in Paris all year round for free. Five years ago we organised a late night gallery opening Nocturne des galeries, in Paris during FIAC. For me it is fundamentally important to get people back into the gallery. I think that we have a role as fair organisers not just to accept the custom of our clients but to reinforce their position in their individual gallery spaces.
FIAC 2014. Image courtesy FIAC Paris. © Marc Domage
Some people may comment that there is an art fair every second week and that they can buy online so why would they need to visit in person.
It is so important to see the shows that galleries organise. Solo shows of course in particular are extremely important moments for artists. These things do not take place in the same way at an art fair. A solo show for an artist in their main gallery with a new body of work is irreplaceable. Of course the profession is mutating, but I think that there will always be a need for just that, private people who have the courage, the inclination, and the will and passion to actually make sure these things keep on happening. Artists rely on that, they need it. As you know, those seminal gallery shows always happen before the museum shows and there are always several in an artist's life. Art fairs cannot provide those same conditions. Art fairs are about many galleries and many artists.
What can visitors expect from FIAC this year?
One journalist scared me terribly recently; she said it was like the apogee of FIAC. I said "oh no I can't stand that idea". Because when you think of apogee you think it will be going downhill straight afterwards. So without being the apogee of FIAC, it is a very strong year. We have reinforced the presence of modern art by extraordinary exhibitors of modern art like Landau Fine Art. But also tastemakers of indisputable weight, people like, The Modern Institute and Galerie Buchholz who are exhibiting with us for the first time. It's a thrill for me to have someone as influential as Daniel Buchholz involved. I have known him since the 80s. I have seen his path. People like Daniel are the real intellectuals, who have actually shaped a part of art history with their work. Zero ... is exhibiting with us. I am very happy to say, our first exhibitor from Columbia, Casas Riegner, will be exhibiting along a new gallery from China Long March Space.
Any galleries from New Zealand?
Unfortunately not. We have twenty-two countries represented. There are many new entrants in the gallery sectors, powerful new galleries from all sectors of the business, from young galleries right through to the most beautiful galleries of modern masters. There are some extraordinary artworks to be shown, as well as a very developed outdoor sculpture program. For example there will be new work by Dan Graham, Antony Gormley, Angela Bullock, Heimo Zobernig and an incredible ensemble by Ai Weiwei on display. Also, every year I try to present architectural projects. This year we have a beautiful architectural project which will be in the Tuileries gardens by the Japanese architect Kengo Kuma. We are also honoured as part of our performance program to have the New York choreographer Yvonne Rainer performing at the auditorium of the Louvre Museum.
There is something else I am very proud of. It goes in the vein of the synergies that have been created. Last year when we created the OFFICIELLE I introduced river transport along the Seine to get from A to B. That led to a number of discussions with people in the art world saying that we should have river transport to visit museums. In the same way Berlin has its Museum Island and New York has its Museum Mile, we could have this museum river. I realised that is what we needed to do. This year we are doing a program called Musées en Seine that includes twenty-two different stops connecting prestigious cultural venues located along the Seine. It's like a new cartography for Paris looking at it the city from the river. What we would love is for public authorities to pick it up and say this is what we need to do for the rest of the year. I am pretty excited about FIAC 2015 actually. —[O]