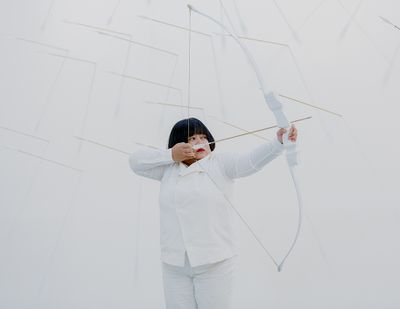 Melati Suryodarmo, Transaction of Hollows (2016). Performed at and commissioned by Lilith Performance Studio Malmö, Sweden, (19–22 October 2016). Courtesy the artist.
In 2012, Melati Suryodarmo opened Studio Plesungan in her native Surakarta, also known as Solo, the historic royal capital of the Mataram Empire of Java in Indonesia. Suryodarmo had returned to Indonesia from Germany, where she studied Butoh and choreography with Butoh dancer and choreographer Anzu Furukawa, time-based media with avantgarde filmmaker Mara Mattuschka, and performance art with Marina Abramović at the Braunschweig University of Art (HBK) between 1994 and 2001. After completing her postgraduate study in performance art in 2002 at HBK, Suryodarmo was invited, along with other students, to perform at the 50th Venice Biennale in 2003 alongside Abramović. Since then, she has been included in countless exhibitions and events, including Egon Schiele: Love and Death at the Van Gogh Museum in Amsterdam and Videobrasil in São Paulo, both in 2005; KIASMA, Helsinki, in 2007; Manifesta 7 in Bolzano, Italy, in 2009; and Luminato Festival in Toronto in 2012.
Suryodarmo founded Studio Plesungan to share her rich experiences as a performance artist, dancer, art director, and choreographer, not to mention festival and theatre director. The studio, which includes an indoor hall and outdoor stage, provides space to train new performers and host Suryodarmo's own festivals. One such event is Undisclosed Territory, an annual international performance art festival Suryodarmo initiated in 2007 with the Solo-based arts institution, Padepokan Lemah Putih. Studio Plesungan has continued the festival independently since 2012, enabling exchange between international established and budding artists during a workshop programme of several days that culminates in the presentation of a series of performances.
Melati Suryodarmo, I'm a Ghost in My Own House (2013). Single-channel video. 30 min 30 sec. Documentation of performance at Lawangwangi Creative Space, Bandung (3 October 2012). Courtesy ShanghART.
Suryodarmo's own work often takes the form of dramatic, durational pieces. She chooses her visual landscapes with care, as well as her objects and the outfits she wears, which are often monochrome, either blending in or contrasting with her performance setting. Exergie—Butter Dance is one of Suryodarmo's famed durational pieces, which premiered in 2000 at the Hebbel Theatre in Berlin (now HAU1). Dressed in a black dress and heels, the artist dances on 20 bricks of butter, continuing painfully despite the melting substance incapacitating her movement. Repeatedly falling and picking herself up, she continues until she has no more energy left, at which point she takes her shoes off and leaves the stage. I'm a Ghost in My Own House, first performed at the Lawangwangi Creative Space in Bandung in 2012, is another example of Suryodarmo's striking blend of drama and cinematographic sensitivity. The 12-hour performance involves the artist, dressed entirely in white, crushing charcoal briquettes on a grinding table in the midst of a charcoal-covered floor. Intervals of exhaustion sees Suryodarmo collapse on the charcoal-covered floor, her own body gradually covered in the black powder.
Ultimately, Suryodarmo's body is the main conduit of her work. Her themes, drawing from love, failure, and history, help bring to the surface deep emotional knots that she untangles, at times brutally, through pathos or spasms of life force. In I Love You, first performed at eBent 07 Festival at Off*Ample in Barcelona in 2007, Suryodarmo manoeuvres a large glass panel over a period of three to six hours, never letting go, while walking around a red room repeating the phrase 'I love you'. At times the sentence sounds like a mantra; at times it is unintelligible. As the cumbersome pane appears more and more difficult to hold, the performance underlines the limits of our capability of carrying and expressing affection.
Melati Suryodarmo, I Love You 2 (2018). Colour inkjet print, edition of 5. 120 x 180 cm; 146 x 207 x 8 cm (incl frame). Performance photograph. © Melati Suryodarmo and ShanghART. Courtesy ShanghART.
Over 2019 and 2020, Suryodarmo is taking part in many events, from New York to Shanghai and Canberra. As part of the exhibition Contemporary Worlds: Indonesia at the National Gallery of Australia (21 June–27 October 2019), Suryodarmo performed Transaction of Hollows (2016), a performance that canalises the tension created by the contradictory quest for both love and war. In a closed white space, Suryodarmo slowly shot hundreds of arrows over a period of several hours. In October, Suryodarmo took part in the Creative Common Ground initiative at Asia Society in New York, a programme that commissions multidisciplinary works that are presented over a short time frame. In November 2019, STPI in Singapore opened Memento Mori: a collection of new print and paper works that depart from the artist's performance practice to explore the relationship between matter and memory, along with personal expressions of displacement. Finally, between 28 February and 31 May 2020, Museum MACAN in Jakarta presents Why Let the Chicken Run?, an exhibition of the artist's works from the past 20 years, with a focus on her long-durational performances.
In this conversation, Suryodarmo takes time to reflect on some of her main influences and career milestones, touching on the networks, meditations, and connections she has developed along the way.
Melati Suryodarmo, 24901 Miles (2018). Colour chromogenic print. 100 x 66.7 cm. Edition of 5. Courtesy ShanghART.
CS

On 11 and 12 May 2019, you premiered—as director and choreographer—an interpretation of the legend of Orpheus at Komunitas Salihara in collaboration with poet Goenawan Mohamad. Could you tell me more about the production?

MSI created the choreography based on the concept of vulnerability. My dance practice and performance practice share a similar corporeality, but performance has no choreography. Choreography is based on a concept and then it is executed. Goenawan Mohamad wrote a poem about Orpheus and his wife Eurydice in a contemporary setting. Through this interpretation, I tried to understand the message of the mythology and the importance of the shadow and what it symbolises. Orpheus is a man who has a desire he cannot suppress. The condition to release his wife, Eurydice, from the realm of the dead is that Orpheus cannot turn back to look at her until they reach their destination, but his desire fails him. It's a very heavy, emotional piece. We also collaborated with Sri Hanuraga, a young Indonesian pianist who created a composition for this piece. Hanuraga played live with the five dancers. The first time I worked on this production was with Steve Goodyear at the Luminato Festival in Toronto in 2012, with a Beethoven sonata.
CS

This year is particularly busy for you, with projects scheduled in Indonesia and abroad. With so much going on, what are the issues that are most consistently on your mind right now?

MSFor now, the biggest issue is probably my studio. I turn 50 this year, and I am coming to the realisation that it is a good age to think about what I can share with people, besides my art. My studio is constantly open for other people to do projects and for artists to gather. There are basic body training classes twice a week, and there is a dance class. Classes are always full at around 15 people. Besides giving performance art workshops, I share my basic training in dance and choreography.

My training method essentially consists of Butoh, and other body exercises such as release technique, tai chi, and other mixed methods. I teach students how to find their own flow through movement, and to use the body as a medium to deliver and release energy. People come through all the time. We just had the Dance in ASIA 2019 festival in the studio and the Dance Laboratory Project (D_LAP)—a research and development project in choreography, dance, and performing arts. Every two months we have a black box collaboration with the Cultural Centre of Central Java, where I invite young directors to show their works.

D_LAP#3 (Dance Laboratory Project#3) at Studio Plesungan (2019). Photo: studioplesunganarchive2019.
CS

Looking back, what do you see as the defining moments in your career?

MSIndeed, I can only see my milestones when looking back—I never planned to go somewhere or reach something while I was doing it. A very important moment for me was in 1999, when I felt I wanted to do my own performance and I realised I wanted to find a method for it, from something in me. I performed a piece that I had first performed in Hanover called Der Sekundentraum (The Second Dream) (1998), at the International Performance Festival Odense in Denmark, which involved packing and folding hundreds of clothes that were messed up on the floor, and then putting them on until I was stuck and couldn't move. The performance is a reflection on being uprooted and changing one's frame of reference when moving to another country. Back then, I was invited to many festivals in different countries, and to events curated by Marina Abramović for her students. I loved being in festivals—I met so many artists, like Boris Nieslony, Alastair MacLennan, Philip Corner, Esther Ferrer, Marie Cool and Fabio Balducci, Forced Entertainment, Tania Bruguera, and so on. It was so impressive for the younger generation of artists.

Another big event was the 50th Venice Biennale in 2003, which was curated by Francesco Bonami. It was a very hot year and we performed on the hottest days—I remember it being 46 degrees, and us performing for three hours outdoors in the Giardini during the VIP days. The event, titled Recycling the Future, was curated by Marina Abramović—I was her assistant at the time. It was one of the very extreme projects that we had, and I questioned whether I wanted to be in that kind of thing or not. It was very heavy mental training, which was tough, but good at the same time. The Venice Biennale involves a lot of politics, prestige, and other complicated considerations. As a student you initially think you are very small in comparison, but in the end, you realise that you just need to focus on your work and not think about all of it.

D_LAP#3 (Dance Laboratory Project#3) at Studio Plesungan (2019). Photo: studioplesunganarchive2019.
CS

What or who else has had a significant influence on the way you work?

MSIn 1999, I met performance artist named Boris Nieslony, whose practice is deeply connected with philosophy. The language he uses to discuss his work is very impressive and inspiring. It is not only about producing the work, but also about how a work becomes something that exists, and at the same time is open to non-existence. Non-existence, zero, nothingness, Zen, emptiness, and meditation—these are all ideas that can potentially become platforms for something new.

From 2007 to 2010, we created the Performance Art Laboratory Project in Bali, a project aimed at providing space for artists to exchange practices and experiences in a concentrated time and location. Being connected with other artists and creating a good support network is a direct influence of Nieslony's thinking. In the end, it is not only about the infrastructure, but also about the relationships that are supportive of our work. We are not lost if we are connected to people. This is especially true for us performance artists whose practice is not always understood, even by other artists and art historians. Giving support to each other is part of our practice. There is a spirit of sustainability in terms of how our practice can keep us alive, not only financially but spiritually.

Ben Sunarjo giving a contact improvisation workshop at Studio Plesungan (March 2019). Photo: studioplesunganarchive2019.
CS

I found out that you performed in the video clip for the song 'Ruang Sendiri' by Indonesian pop star, Tulus. In the video you are seen wrapping cord around your wrists, lying next to a mirror on the grass, and throwing your body against what looks like a flour- or chalk-covered mattress.

MSOh, you found that [laughs]. I didn't know he was famous; I thought they were indie musicians, but then my assistant told me they were really famous. It was a very interesting experience, and many Indonesian pop music lovers loved the video because it was very different from what they were used to seeing. When I go to the market now, people recognise me from the video; it even got a best Indonesian video music award.
CS

Could you tell me more about Fracture, the performance you are preparing to show in Shanghai in November at the West Bund Art & Design fair?

MSIt is a long durational performance, which will involve a massive installation resembling a skateboard ramp. It draws from the movement of an earthquake, and how fractures are created and people are separated when tectonic plates unpredictably shake the earth. The concept of the fracture in this performance refers to the various human instances that obstruct the ideal of justice and harmony in society. Justice is widely intertwined in social life, from the smallest part of society to the most important social circles of our world, including religious spheres. It relates to how you treat your children, friends, and people, if one is in a position of power.

Melati Suryodarmo, The Promise (2002). Documentation of performance at Body Basic, Trans art 02, Franzenfestung, Brixen (2002). Courtesy the artist. Photo: Oliver Blomeier.
CS

Your work seems to be intertwined with traditional Indonesian culture. For example, The Promise (2002) is a performance that draws from the symbolic strength of Durga, a female figure from the Mahabharata epic, part of Javanese cosmogony. Could you talk about how you incorporate these influences into your practice?

MSI do focus on the influences of traditional culture, but in the context of my contemporary cultural environment. Those influences always enter my dance pieces, even when I am seemingly working on contemporary scripts and ideas. I always research traditional knowledge in relation to ritual dances and ritual ceremonies—even those that are nearly forgotten.

In today's Indonesia, more and more people are turning to traditions, but many of them are looking at them superficially. They focus on the form—on what looks like tradition—and instead of having a genuine embodiment, the surface value becomes more important than the philosophy. In cases such as these, tradition is not updated and not made suitable for the development of mankind. Instead of being kept alive, the tradition is kept in a state of nostalgia without understanding the source of its knowledge. For a very long time, we were kept under Dutch colonial rule. We lost a lot of information. Now we refer to mythologies and legends, totally mixing them up with reality in the representation of our history. The Indonesian attitude toward history is very peculiar.

Melati Suryodarmo, Transaction of Hollows (2016). Live performance: Transaction of Hollows, ShanghART, Singapore (25–26 January 2018). Courtesy ShanghART.
CS

Many of your works also draw from the experience of being uprooted, from when you first moved from Indonesia to Germany.

MSYes, being in multiple cultures is a form of confrontation. When I moved to Germany, I experienced the force of adaptation; the force of understanding something that is not from where you are originally from. I am much more relaxed in Indonesia now, even though there is much that I need to catch up on. I have lived elsewhere for too long.
CS

What brings you to share your experiences with the different types of audiences that you encounter?

MSI don't want to share my own experience. It is not about showing people how happy I feel or how bad I had it—it's about seeing if there is a common experience that the act of my performance can reveal. The performance then becomes a reflection, rather than a way to tackle a subject directly. Sometimes you catch that reflection, sometimes you let it go. Sometimes you see it, and sometimes you don't see it all.

Melati Suryodarmo, Eins Und Eins (2016). C-print, edition of 5 + 2AP. 66.7 x 100 cm. Courtesy ShanghART.
CS

Could you talk about Eins Und Eins (2016), the performance you presented in 2017 at the newly inaugurated Museum MACAN in Jakarta? You drank and spat an ink-like liquid on the surrounding white walls...

MSThe liquid wasn't ink, but food colouring that was very dark brown. In that performance I learned how to combine immediacy and a sense of a message. I also danced a little—I followed a necessity to move that came from my body. The performance refers to people who are not supposed to speak out—those who are not allowed to say this and that. It is a layered understanding that moves between the individual, family, society, and country. Eventually, not speaking out makes you feel nauseous. You want to spit it out; you want to explode. In the performance, I am focusing on that feeling and not on acting it out.

I have a lot of memories to rely on, specifically as a woman. But I am certain many men have repressed and oppressed feelings as well. We always say it is women who are subjected to this, but men also oppress their feelings by force or by themselves. This physical state is a very dangerous condition for our health.

Melati Suryodarmo, Eins Und Eins (2016). C-print, edition of 5 + 2AP. 66.7 x 100 cm. Courtesy ShanghART.
CS

How does the composition of a performance come to you?

MSMostly I am inspired by daily life and the society surrounding me—not only my private life. I observe, but it is not literal. Most of the time I look for the source—what lies behind what's happening. I am currently working on a new dance piece, which has to do with the concept of the lapse, in relation to chaos rather than time. A lapse, when repeated, no longer represents failure. Instead, it becomes common and accepted, and eventually a chaotic situation is created. For example, in Indonesia, everyone is making mistakes when they are driving their motorbikes and when they are walking on the street. Those mistakes, or forms of failure, are eventually understood as common behaviour. A motorbike driver is supposed to look right and left before entering a main road, but in Indonesia they just assume people on the larger road will take care of incoming traffic. When you drive on the main road, it is something you have to take into account. When the motorbike makes a mistake, even if the car is correct, it has to pay because it is understood that the car owner has more money. It's not about fault, it is a different logic than that of Western countries. I am working on using the essence of these behaviours in my dance piece and including the fragility in society, which it underlines.

Melati Suryodarmo, Exergie—Butter Dance (2000). Documentation of performance. Courtesy the artist.
CS

Other than meditation, what other mental practices do you engage in?

MSI meditate every morning, even if only for 10 or 15 minutes. But it is not in relation to a Zen or Buddhist tradition—this is a Javanese meditation practice connected with the philosophy of life called sumarah, which I have learned ever since I was a teenager. My art practice is very much connected with this, and also with Butoh. But sumarah is very Javanese. It's how Javanese see their own lives and those of other people. It is how they see their relationship with nature—not only with plants, but with fate and what happens in life. It helps me to survive mentally. For performance art, it helps a lot too. It is an element that I use not to control, but to sense my being and also sense the being and presence of others.
CS

What about your relationship with the audience? How do you perceive or sense the audience during your performances?

MSFacing the audience is not only physical—it involves a connection between mental states. Their mental state might not necessarily flow with my mental state, but we connect somehow. I don't want to talk too much about the notion of energy, but I do believe there is a certain phenomenon that is at once describable and non-describable. The human sensorium is important in my practice, and also considerations of how things are sensed, how feelings and emotions are projected on non-emotional objects, and the kinds of thoughts and understandings that are at play when projection happens.

A good performance work can be a trigger for enlightenment—not in a spiritual way, but rather in a sort of 'aha' moment of perception. It is like opening up to knowledge about new emotions, or perhaps something remembered that was forgotten, neglected, and that has only just reappeared. It can be a very irritating experience, too, because you might refuse to see what's happening, but that's human nature. —[O]