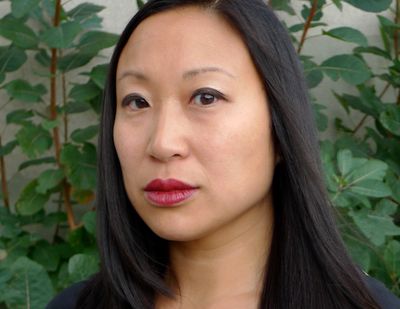 Michelle Yun, who specialises in Chinese contemporary art and diaspora artists, is the Senior Curator of Modern and Contemporary Art at the Asia Society Museum. As such, Yun is tasked with managing the museum's considerable initiatives in modern and contemporary visual art by Asian and Asian American artists at an institution that is recognised as a leader in the field of Asian contemporary art.

Yun's most recent project has been an ambitious undertaking—Nam June Paik: Becoming Robot
, the first exhibition dedicated exclusively to Paik to be held in New York City in more than a decade. The exhibition describes its focus as one that centres "on Paik's process and his philosophy toward technology, especially the relationship between technology and the body, and the intersection of technology and culture," and it presents key works from public and private collections in the United States, Europe, and Asia. This also includes pieces presented for the first time from the newly formed Nam June Paik Archive housed within the Smithsonian American Art Museum, with Yun being one of the first scholars to gain access to this rich trove of material related to one of the twentieth century's most innovative artists. In this interview, Yun discusses the exhibition.
This is the first major institutional exhibition of work by Nam June Paik in New York in more than a decade: how was the idea for putting on a show sparked?
We thought it would be a timely moment to re-consider Paik's work and pioneering career in light of the prevalence of video and new media art being created right now coupled with the great interest and dependence on technology in contemporary society.
The exhibition highlights Paik's prescient and visionary relationship with technologies while considering the impact he has made to the development of new media art. To your mind, what makes presenting a show of Nam June Paik now in 2014 relevant? In other words, is there something about now that would make us appreciate his work even more than if it was shown, say, ten years ago?
Society's current dependence on technology (including cellphones, the internet, iPads, etc.) provides a context for understanding the visionary scope of Paik's ideas that would not have been possible a decade ago, especially in relation to the artist's early ideas and writings from the 1960s and early 1970s in regards to the influence technology could have on art and society. An example of this would be Paik's 1974 report written for the Rockefeller Foundation, in which he coins the term "electronic superhighway".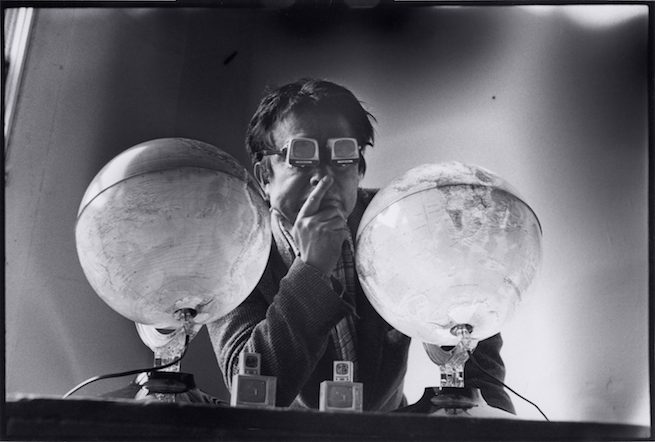 Presentation of Good Morning Mr. Orwell, at the Kitchen Gallery, New York, on December 8, 1983. Photo credit: © 1983 by Lorenzo Bianda (Tegna, CH)

The exhibition is organised with a focus on the following themes: Paik's working methods and process, his philosophy toward technology, as well as the relationship between technology and culture. Together, how would you say they reflect on Paik's diverse career and his innovative approach to art, popular culture, and science?
When considered together, the thematic threads that comprise the exhibition exemplify the holistic attitude Paik had towards the relationship between art, popular culture and technology. This seamless relationship is reflected in the selected works and writings in the exhibition, and is discussed in the catalogue. An example in the exhibition that reflects this idea is Paik's Good Morning Mr. Orwell video from 1984. Through this work Paik was able to use satellite technology to broadcast his video to 25 million viewers through a live television transmission shown on public broadcasting channels.
The show brings together a considerable number of key pieces, including those that have been rarely shown and hat have never before been exhibited in the United States, including drawings and sculptures from his estate, as well as objects and ephemera on loan from the newly formed Nam June Paik Archive housed within the Smithsonian American Art Museum. Could you talk about this particular selection?
Since Paik has been the subject of many past exhibitions including a retrospective held in New York in 2000, we wanted to provide audiences with a fresh perspective on the artist's diverse and long ranging career through objects that viewers were not previously familiar with. An example would be the inclusion of Robot K-456. This early work from 1964 is his first Robot sculpture and has not been exhibited in the United States since Paik's first major solo museum exhibition at the Whitney Museum in 1982. It illuminates the artist's very early interest in the relationship between technology and the body and also is a wonderful example of Paik's process and use of readily available consumer materials to create his artworks. We also wanted to take advantage of the inauguration of the Paik Archive to bring to light writings and objects that were not accessible to the general public until now.
Nam June Paik, Reclining Buddha, 1994/2002. Two channel video installation with two 9-inch colour monitors, reclining stone Buddha. Courtesy Nam June Paik Estate. Photo: Ben Blackwell

The inauguration of the Paik Archive is incredibly exciting. Could you talk about your experience of working with it when bringing this exhibition together?
I had the good fortune of being one of the first researchers to access this rich trove of materials. It was a revelatory experience to go through the artist's personal papers and objects and allowed for a deeper understanding of Paik's working methods and ideas.
Nam June Paik, Transistor Television, 2005. Permanent oil markker and acrylic paint on vintage transistor television. Courtesy Nam June Paik Estate. Photo: Ben Blackwell

To your mind, what are the pieces that particularly stand out in this exhibition, in terms of how they might speak to Paik's cumulative practice and approach to art and technology?
Robot K-456, his Family of Robot series, TV Bra for Living Sculpture, and Three Camera Participation/Participation TV are all key examples. While each work has its own individual meaning a common thread between them is their ability to directly and actively engage the viewer through Paik's use of technology. This interactivity with the audience reflects Paik's desire to integrate fine art and technology into our everyday lives in a direct and meaningful way.
The catalogue to the exhibition includes commissioned reflections by artists including Kenzo Digital, John Godfrey, Christian Jankowski, Jon Kessler, John Maeda, Bill Viola, and Yoko Ono: can you talk about this selection of writers and how their input illuminates Paik's legacy?
Paik was a prolific collaborator who was much admired and respected by his peers. We wanted the recollections of these contributors to illuminate Paik's working process from their diverse perspectives, allowing for a further nuanced understanding of how innovative the artist was in regards to his ideas and artistic practice. Many of the contributors are artists in their own right and their reflections illuminate Paik's great influence on their subsequent art making practices. This speaks to the artist's influence on the younger generation of artists and exemplifies his long-reaching legacy within the contemporary art field.
Paik sitting in TV Chair, (1968/1976) in "Nam June Paik Werke, 1946-1976: Music, Fluxus, Video," 1976. Photo: © Friedrich Rosenstiel, Cologne

What challenges did you face in curating the work of an artist with a legacy like Nam June Paik's?
One of the challenges was working with some of the objects that were created using older technology.
Finally, in putting this show together, did your own perceptions or understanding of Paik as an artist change or develop?
I had always considered Paik a pioneer in the field of video art but this project increased my appreciation for how innovative this artist truly was.—[O]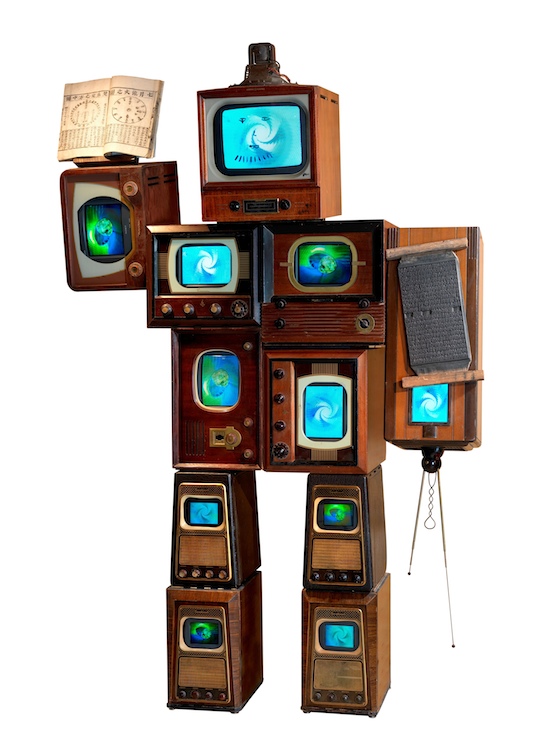 Nam June Paik, Li Tai Po, 1987. 10 antique wooden TV cabinets, 1 antique radio cabinet, antique Korean printing block, antique Korean book, 11 colour TV's. Asia Society, New York: Gift of Mr. and Mrs. Harold and Ruth Newman, 2008. Photo: © 2007 John Bigelow Taylor Photography, courtesy of Asia Society, New York