Feature
1:54 Contemporary African Art Fair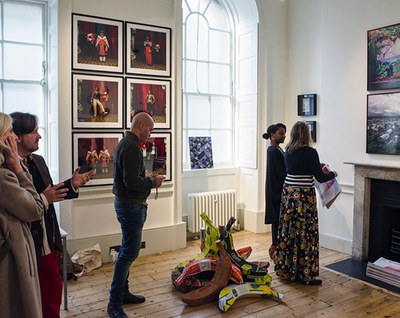 1:54 Contemporary African Art Fair 2015 in London. Courtesy of 1:54 © Benjamin Hoffman
This year marked the third London edition of 1:54 Contemporary African Art Fair at Somerset House. The fair presents an extraordinary opportunity to see many artists, who have a relationship to the African continent and its diaspora, in one space. This year 38 exhibitors participated in 1:54, and 150 artists were represented.

Initiated by Touria El Glaoui in 2013, the fair is an annual event, which also made its debut in New York in May this year. As well as a business development background, El Glaoui has a personal relationship to African art; her father is the Moroccan artist Hassan El Glaoui. Koyo Kouoh, another well-respected presence on the contemporary art scene (and this year again named in Art Review's Power 100), curates the fair's FORUM programme of film screenings and talks, adding to its critical clout. Kouoh is the founding artistic director of the RAW Material Company, a centre for art, knowledge and society based in Dakar, Senegal, and active internationally.

1:54 presents opportunities to view pieces of museum stature, such as magnificent textile pieces by Abdoulaye Konaté (Primo Marella Gallery), painting by Ibrahim El-Salahi (Vigo Gallery) and sculptural objects by Naomi Wanjiku Gakunga (October Gallery). Photographic practices were also well represented, and this year I especially liked the ephemeral and poetic sense of works by Mohamed Camara (Galleri Flach). At the entrance to the South Wing was an unforgettable drawing by Nidhal Chamekh (Selma Feriani Gallery/Primo Marella Gallery), which depicts cropped human figures in flight below a menacing cloudy sky. A sense of disorientation and displacement is felt through the internal world of this large-scale work, which in the artist's rendering of the head of one of the figures brings the pixelated effects of digital technology to drawing.

Kapwani Kiwanga, Flowers for Africa (Nigeria), 2014. Flowers, Protocol written and signed by the artist, iconographic documents. Courtesy of Galerie Jérôme PoggiOne of the strongest galleries from the African continent was unfortunately absent this year: the artist-run space First Floor Gallery (Harare) had previously brought artists such as Wycliffe Mundopa and Moffat Takadiwa to London. However, a newcomer to the fair is the Tamar Golan Gallery (Luanda), which exhibited Angolan artists such as self-taught, Luanda based Adalberto Ferreira (aka Toy Boy). I was struck by Ferreira's painting and mixed-media work; due to the prolonged conflict in Angola some of the works are produced with found media, as the country has neither an established art school nor readily available and affordable art materials.
Four SPECIAL PROJECTS were presented, including the Fondation Zinsou, which has a strong pedagogic programme in Benin. At 1:54, the Foundation foregrounded its 'WAKPON Museum Project – Off the Wall,' an interactive application that thinks about the ways in which technology might be brought to the experience of learning about and viewing artworks. The newly initiated SPECIAL PROJECTS aspect of the fair has the potential to be developed further to include more experimental art practices, notably performance and sound. The performance practices of many of the artists represented at the fair could be included over its duration, and this would certainly enrich understandings of works in other media. I think here of artists such as Kapwani Kiwanga, whose solo exhibition with Galerie Jérôme Poggi was a highlight. Her Flowers for Africa works reproduce flower arrangements from archival photographs, documenting moments of independence from colonial rule. Within the context of an art fair, with its emphasis on art as commodity, ephemeral works such as these pose challenging questions. Of course the flowers wither and die, making an important addition to the work's meaning. Given the conceptual emphasis of Kiwanga's work, a conversation with her at FORUM would have allowed for deeper engagement.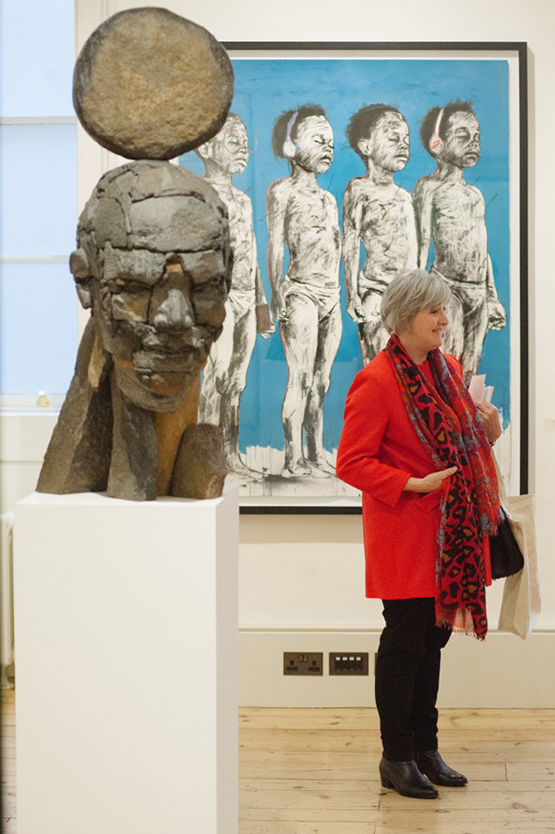 1:54 Contemporary African Art Fair 2015 in London. Courtesy of 1:54 © Benjamin HoffmanThe FORUM programme included film screenings and talks, which drew connections between the fair and exhibitions of African artists taking place elsewhere in London. I attended the conversation between curator and editor Omar Kholeif and the South African artist Kemang Wa Lehulere, whose solo show at the Gasworks, Sincerely Yours, closes on the 8th November. This conversation offered an in-depth, critical insight into the practice of an artist mobilising ephemeral gestures through media such as performance and impermanent artworks to explore the idea of history, and experiences of invisibility and loss. At FORUM, Kouoh also launched the book Body Talk: Feminism, Sexuality and the Body in the Work of Six African Artists, which is based on an exhibition she curated at WIELS (Belgium) and produced in collaboration with WIELS and the RAW Material Company. In this way, FORUM opens up routes to other exhibitions, artists and critical debates taking place both in London and elsewhere. There is great potential to develop this valuable and informative platform, which would benefit from the voices of art historians producing knowledge from the point of view of focussed research over sustained periods of time. The 1:54 Bookshop located near the site of FORUM brought a number of important books, exhibition catalogues and magazines into view, and the fair's substantial catalogue is a valuable resource for collectors and researchers.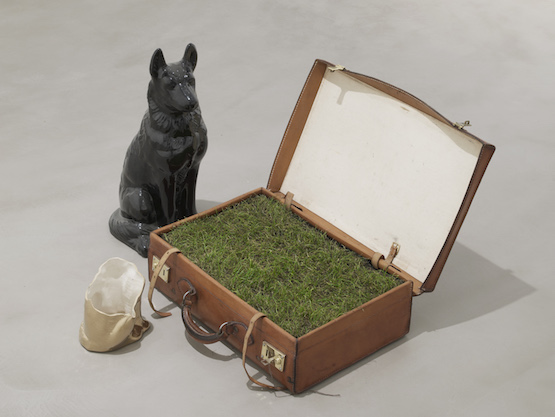 Kemang Wa Lehulere, Do not go far, they say, again, 2015. Commissioned by Gasworks. Courtesy the artist. Photo: Andy KeateAt any art fair the question of which artists are selected and foregrounded depends on factors such as the tastes, and personal and commercial interests of particular galleries. One of my observations with many exhibitors at 1:54 is that women artists, whether identified or self-identified as such, have been under-represented since its inception. Although this has visibly improved since the fair's first iteration, I hope that there will be continued emphasis on greater equality in the years to come. 1:54 boldly inserts itself into spaces that may not have been that welcoming at other historical moments. The political and economic entanglements between the African continent and Europe will continue to pose difficult questions, even as reparative narratives are sought. Contemporary art worlds, with their relationships to both politics and commerce, remain a challenging space to navigate raising numerous ethical questions.—[O]