Feature
Art Basel in Miami Beach: A perfect storm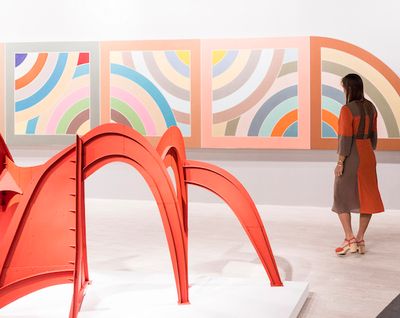 Alexander Calder and Frank Stella at Edward Tyler Nahem Fine Art. Photo: © Charles Roussel & Ocula
'Is it me or was this the worst Miami ever?' asked one Art Basel Miami Beach regular of another; a thought that seemed to have crossed many minds by the time Friday night—the fourth day of the six-day fair—rolled around. By then, a young woman had stabbed another in the Nova sector with a stationery knife. The night before, one surge caused another as biblical rain turned Collins Avenue into a river, and Uber increased its normal rate at one point by six times to meet the demands of the fair's audience (apparently 77,000 people this year).
Art Basel in Miami Beach 2015 . Photo: © Charles Roussel & OculaOf course, the opinion that this was a terrible Miami Art Week had nothing to do with the quality of work on show in the main fair amongst the 267 galleries participating. In fact, this was perhaps one of the most refined editions of Art Basel Miami Beach to date, albeit subdued, with exceptional examples of geometric abstraction and minimalism, with a delicate focus amongst dealers on colour and composition. At ABMB's 14th edition, we saw considered works by Frank Stella at Dominique Levy and also at Edward Tyler Nahem Fine Art, Marcia Hafif at Fergus McCaffrey and Louise Nevelson at Pace. There was an electrifying presentation of Peter Saul's neon paintings at George Adams Gallery in the excellent Survey sector, which also featured a booth of unexpectedly delicate early Keith Sonnier works at Castelli Gallery. One memorable encounter was found at Andrew Edlin Gallery, with the enchanting ceramics of Eugene Von Bruenchenhein, an intriguing historical artist who was also presented at NADA by Adams and Ollman.
Louise Nevelson at Pace. Photo: © Charles Roussel & OculaIn actuality, there was a total absence of the crassness Miami has so often flaunted in past years. (The kind embodied in Dakis Joannou's yacht, decorated by Jeff Koons, and brazenly—though somewhat endearingly?—named 'GUILTY'). Gallerists appeared to take great care in selecting pieces that spoke to the zeitgeist of 2015. The bold—yet subtle—presentation by Max Mayer in the Positions sector of Leisure Time Future: The Rattlesnake (2015), a film about techno-culture by Danji Buck-Moore, Henning Fehr and Philipp Rühr, is an exemplar. At one point in the film, a young man acknowledges the legacy that is embedded in the colour of his skin, and expresses a desire to represent in the future a white culture that is not destructive. This was a poignant statement to make in a place like ABMB; Acknowledging the issue of white privilege, at a fair that has often been accused of pushing a Western-centric agenda, even if one could argue that ABMB does pander to what Deborah Solomon called 'international biennialism' (in a New York Times article on Sheena Wagstaff that left many aghast at its sentiments).
Henning Fehr and Philipp Rühr, Time Future: The Rattlesnake (2015), at Galerie Max Mayer. Courtesy Art Basel.Herein lies the thing about ABMB—it is, of course, a contradictory capitalist machine. But it is also more than a marketplace predicated purely on fiscal activity and loaded with the aggression of capitalism; this is an agora, or even a commons: a site of political and cultural dissonance, convergence, and exchange, predicated on the trade of what many believe to be a common resource. Many gallerists attempted to activate this aspect of the exhibitionary site this year. Kamel Mennour provided a considered presentation of The Pole of the East, Huang Yong Ping's public commission for the 2004 Liverpool Biennial. The work comprises an iron signpost which points to 17 countries east of Britain, starting with the three that were named as the 'axis of evil' by George W. Bush: Iraq, North Korea and Iran; and Afghanistan, the fourth country to become a target of the 'War on Terror'. The other countries—Syria, Egypt, Libya, Lebanon and Russia, for example, now all in the headlines—were included in the work under the logic that they, too, might be singled out by the Western powers as the 'War on Terror' progressed. As Mennour explained in conversation, it was impossible not to bring a work like this, made some ten years ago, to Art Basel Miami Beach this year.
This brings us to the conclusion by some that this was the worst Miami Art Week ever, which had everything to do with (quoting Scott Indrisek) the 'late-night parties celebrating glossy magazines, or Dominican cigars, or rappers moonlighting as film directors (or all of the above, at once—it gets confusing down here).' Indeed, aside from one earnest evening hosted by Michael Chow in anticipation of the restaurateur-slash-artist's upcoming exhibition at the Andy Warhol Museum, which honours Chow's father, the legendary opera singer Zhou Xing Fang, one regular described the parties this year as nothing more than invitations to drink 'twenty dollar cocktails in a tent on the beach.' Perhaps this is why the two sides—the mothership that is ABMB, which actually faced up to some of the contradictions within its space, and the constellation of heavily sponsored parties and events—could not cohere. The decadence so often associated with Miami Art Week could not provide a distraction from the events of 2015.
Thus, without the sun to add a warm shimmer, but rather a reminder of the effects of global warming—and an X-Acto knife attack to boot—not even the parties that so often add the sparkle and fluff to Miami Art Week could alleviate a palpable tension. This was articulated not only in Miami's rising sea levels and rampant real estate bubble, but in Rirkrit Tiravanija's pitch-perfect installation for the Public sector in Collins Park: A road sign co-opted to express messages including, 'THE DAYS OF THIS SOCIETY IS NUMBERED.' [sic]
Art Basel in Miami Beach Public Sector 2015. © Art BaselThe reason Tiravanija's warning feels more like a foreboding fact was articulated with diagrammatic precision in Romy Pocztaruk's cruel and concise installation at SIM Galeria in the Positions sector. The work consisted of a wall of 18 pairs of glass globe beakers joined by a thin tube at the neck, housing 36 male and female Betta fish pairs. Pocztaruk uses this specific breed—whose formal name is the Siamese fighting fish—because it is known to be aggressive and the fish will likely kill each other if kept in the same tank. (Especially if males are involved.) Apparently, the fish respond to the vibrations of French Romantic composer Camille Saint-Saëns' composition, The Carnival of the Animals, from which the piece takes its name; Le Carnaval des Animaux (2015). (Note the colour scheme of the installation: red, white, and blue.) Though there is cruelty in the use of live animals for any installation, the work distinctly reflects the severity of our times: a precise articulation of a violent dialectic—two opposing entities (here, male and female) mediated through a concise minimalism (the installation grid)—that reflects on what Garrett Hardin once called 'The Tragedy of the Commons,' in which Hardin pinpoints man as a self-interested, savage animal who must be managed. In its simple composition—following a colour scheme of red, white and blue—the installation reflects not only the zeitgeist, but speaks to a longue durée of co-existence and systemic violence.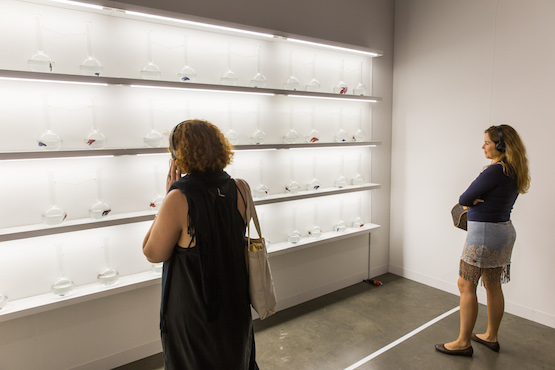 Romy Pocztaruk, SIM Galeria. Courtesy Art Basel I thought of The Carnival of Animals when one director noted just how much our current day has become 'everyone for themselves'. And again when witnessing the desperate lines attempting to enter the parties that have become so much part of Art Basel Miami Beach's allure. This sentiment was grounded in collective terms at Magazzino, where Vedovamazzei presented a wall of tiles over which, written in enamel, was a graffiti scrawl left in 1994 by a UN peacekeeper during the war in Bosnia: 'UNITED Nothing'.
But it wasn't all doom and gloom—even if in the Nova sector Arredondo \ Arozarena presented a Fritzia Irizar work in the centre of its booth: a Phrygian cap (symbolic of freedom) made from golden thread, its fibres connected to a mechanism said to slowly unravel the form until it becomes no more. Thankfully, Tavares Strachan's neon Venn diagram in which 'We' formed the intersection of 'Us' and 'Them' at Fergus McCaffrey provided the perfect counterpoint to a sobering view of a world joined increasingly by its divisions.
Then came the most illuminating talks in ABMB's Conversations programme, during which Juliana Huxtable, Gordon Hall, Kim Drew, David Tierney and William J. Simmons talked about the dynamism of the trans body as something that is always in transition—like any body—highlighting the fact that we are all undergoing such a process, all the time. When asked, as most panellists were asked throughout the talks, how the speakers felt about talking in a space as loaded and problematic as Art Basel, the response was a productive one: It is important to use the platform you are given in order to contribute to a greater good. Abstraction, explained Huxtable, is a place in which one might explore the ineffable complexities of individual experience through a mediation of personal affect. Perhaps this is something to remember in the halls of the historic Miami Exhibition Center, as filled as it is with abstraction every December, when faced with the seduction of power articulated in those coveted RSVPs, or pulled into the values—and politics—of the art market.
In the end—and I am reflecting the opinion expressed in a number of conversations throughout the week (no doubt influenced by a rain so intense it felt like global warming slapping you in the face)—it seems ABMB 2015's perfect storm pointed to the reality that, as we advance into the next calendar year, it is time to rethink the way the social capacities of an art fair might be harnessed in ways that matter. That is, if one chooses to attend.—[O]