Feature
Another Year, Another Art: A Report from Art15
Art15, which has touted itself as "the world's most global art fair," was an interesting experience this year, not just of the fair's impressively global reach (two thirds of participating galleries came from outside the UK, from Jordan to Saudi Arabia and Brazil to Taiwan), or because I'd resolved to see Art15 on its last day, rather than its star-studded opening night (Bianca Jagger and Florence Welch were amongst the name-checked visitors). This was the inaugural fair for Kate Bryan, who replaced former director Stephanie Dieckvoss for the third edition of an event that seems to have no definitive name (is it just "Art" if we refer to it as a brand? No one seems to know).
From the get go, something felt markedly different from previous iterations. The location for the fair this year was not the Olympia Grand Hall, as had been the case for the first two editions, but the Olympia National Hall: a much smaller space located within the same 19th century complex. This scaling down reflected Bryan's stated desire to create a smaller, more intimate and bespoke fair offering a broad range of works, styles, and cultural influences. But the move also pointed to the fact that uneven sales have been an issue for "Art" since its inception. (Thirty-three of the galleries that participated in the first Art13 in 2013, for instance, dropped out for Art14, only for that gap to be filled by 101 new spaces that brought the gallery tally to 196 in 2014. In 2015, there are 150 galleries. In general, the only constant is the number of countries represented: around 40.)
Wang Keping and Huang Rui at 10 Chancery Lane
Art15's ground level opened up promisingly enough, with premium fair galleries, 10 Chancery Lane and Pearl Lam, holding up the fort at the entrance with excellent group presentations. (10 Chancery Lane presented Wang Keping and Huang Rui, while Pearl Lam brought her growing stable of artists, including Zhu Jinshi, Qiu Deshu and Su Dong Ping, Ben Quilty, and Gatot Pujiarto.) But before I could even get a handle on the Galleries section, I was immediately sucked into the funnel of Emerge, located at the centre of the exhibition hall and only steps away from the fair entrance. Curated by Ikon Gallery director Jonathan Watkins, Emerge consisted of two columns of seven booths, fourteen in total. These were separated by a main walkway, where Subodh Gupta's Cheap Rice (2006), a life-size rickshaw filled with brass utensils (courtesy of Omer Tiroche Contemporary Art) was presented alongside Kestutis Svirnelis's Consume (2014), a heaving kinetic sculpture that effectively looks like a giant clothes monster, both forming part of Art15 Projects, which saw large scale works dotted throughout the fair.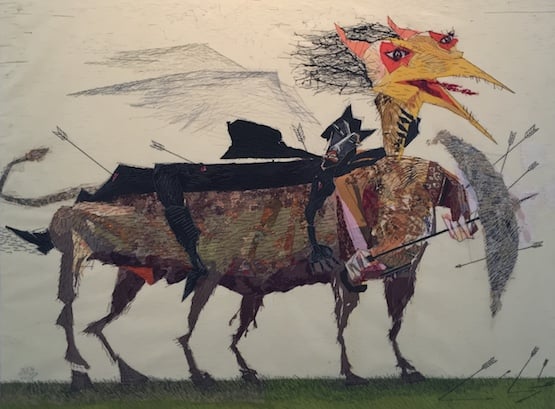 Gatot Pujiarto, Helping the Hero, at Pearl Lam Galleries
There was a noise to Emerge, no doubt given its broad focus, which "wholly encompasses the curatorial notion of emerging—from markets to galleries to artists." Stand out booths included Joel Andrianomearisoa's solo presentation at Sabrina Amrani Gallery and Nevan LaHart's weird and wonderful paintings at Kevin Kavanagh. But this noise seeped into the Galleries sector in an unhappy way, since Emerge's positioning resulted in the relegation of established galleries to the sidelines. The effect was disorientating at first; a shame, given there was good work on show in the Galleries section. These included excellent examples of Indian modernism by Neeraj Goswami, M.F. Husain, and Thota Vaikuntam at Sanchit Art; works at London's oldest art dealership, The Fine Art Society, including a wonderful Barnaby Hosking bleached velvet painting titled Ombre (2015); a playful and precise solo booth of works by painter Jane Lee at One East Asia; and an intriguing work at Tang Contemporary by Jin Feng titled Rehearsal (2015), featuring a computer animation that riffs off the opening ceremonies of such mass sporting events as the Olympics, or the Pyongyang Games, with a sculpture of a buxom anime cheerleaders, also referenced in the animation, placed in front of the screen.
Jin Feng, Rehearsal, 2015, at Tang Contemporary
Priveekollektie Contemporary Art & Design also presented a dynamic booth, showing a number of works, including Varvara Guljajeva & Mar Canet's line of 7 metronomes, The Speed of Markets (2014), each representing the speed of financial markets around the world, from the Hang Seng to the Nikkei to the Deutsche Bourse, and Dominic Harris's Ruffled series (2014), which is comprised of interactive LCD screens depicting animated studies of twenty species of birds. (Opposite this booth was another ode to our feathered friends courtesy of Cat Street Gallery's solo presentation of owl and forest paintings by Joshua Yeldham).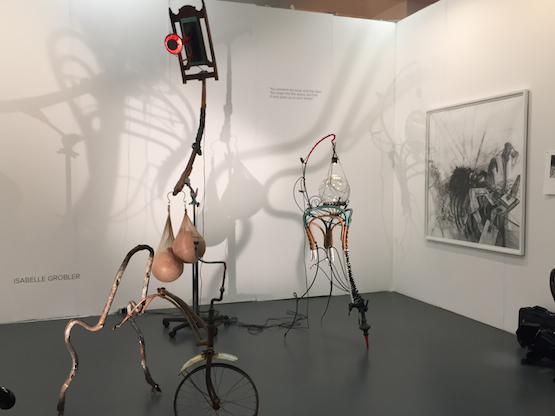 Sulger-Buel Lovell at London First
The upper level of the National Hall, reachable by stairs from the upper end of the Emerge section, led to a very different fair altogether. London First was presented—like Emerge—at the entrance to this hall, and there was a considerable sense of space and sense. Curated by Delfina Foundation Director Aaron Cezar, London First was an excellent selection of 14 galleries, from Marian Cramer Projects (showing Adham Faramawy and Joe Frazer), to Blau Projects, showing Marcone Moreira and Eder Oliveira, and Upfor Gallery, featuring Brenna Murphy. William Bennington Gallery presented Mark Davey and Amy Stephens in a concisely curated two-person show titled For Now We See Through a Glass, Darkly. Stephens presented a series of sculptures, including a white bronze cast of whale vertebrae, Kudu (2015), while Davey presented a series of sexy post-industrial abstract assemblages, from a pink strip light mounted vertically on an aluminum and steel panel, to a pair of powder-coated steel and nickel objects presented in such a way that they invoked Haim Steinbach's shelves.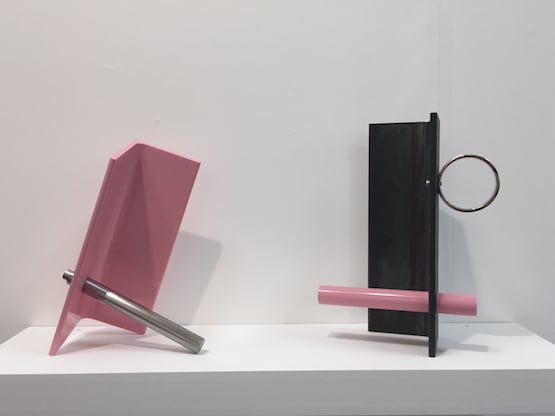 Mark Davey at William Bennington Gallery
The experience of the upper level of the fair was far better than the ground floor, since the Galleries section was clustered in a space behind London First, like a bloc unto its own, as well as around the viewing platform that surrounds the lower level, thus creating clear distinctions between established and emerging spaces. This allowed for work in the Galleries section to breathe, producing a wonderful sense of thematic crossover and synergy. Take Rossi & Rossi, who presented a concise booth showing Naiza Khan, Nicole Wong, and Heman Chong, whose ongoing book cover series, in which the artist paints modernist but colorful covers for such classics as A Christmas Carol and Frankenstein, played nicely with the weird (but equally colourful and compositionally precise) world of Chang Teng-Yuan, showcased at Galerie Grand Siecle opposite. Similarly, Chang's work fit with Kate Shaw's colourful, abstract landscapes shown at Fehily Contemporary—a fantastic solo presentation titled Lucid Dreaming that also connected nicely with Agustin Sirai's playful acrylic on canvas studies of nature at Praxis. At Frameless Gallery, Ambrosine Allen's excellent landscape collage Mountain Study at an Elevated View, was brilliantly paired with Mat Chivers' cast opaline lead crystal glass sculpture simply titled, M.
Chang Teng-Yuan at Galerie Grand Siecle
Other standouts were Khaas Art Gallery, showing Humaira Abid, Zubeida Agha, Waseem Ahmed, Shakil Saigol, Komail Aijazuddin, and Imran Channa, with the latter two presenting (respectively) an amazing portrait rendered in oil paint and gold leaf (Thorns, 2015), and intricate digital collages on paper. Albareh Contemporary came with an excellent group of artists, too: notably Annie Kurkdjian, whose paintings adorned one wall of the booth to great effect. Kanalidarte, like Boesso Art Gallery and Cortesi, took the historical route, showing a series of works pertaining to optical and kinetic art (with ZERO links) by Bernard Aubertin, Julio Le Parc, Adolf Luther, Grazia Varisco, Hartmut Bohm, Luis Tomasello, and Shozo Shimamoto, co-founder of the Gutai.
Komail Aijazuddin, Thorns, 2015. Oil and gold leaf on canvas. 152.4 x 91.4 cm. Courtesy Khaas Gallery
In all, Art15 left much to be desired, at first. Yet, scrolling through my images after leaving the fair, all I see is good work, at a range of prices, from affordable to blue chip. (Take El Anatsui showing at October Gallery, just weeks after being honoured with a lifetime achievement award at the 56th Venice Biennale). As so many have commented (Kate Bryan included), there really is something for everyone here. Yet it really does remain to be seen what kind of identity "Art" will take as it discovers its global character in more complex, perhaps more streamlined ways, and this includes how "Art" designs its floor.
Many people have a soft spot for "Art". There is a desire to see it succeed. All the elements are there, after all. The selection committee is illustrious (it includes Tim Marlow, director of artistic programmes at the Royal Academy of Arts, Sunhee Kim, director of Daegu Art Museum, South Korea, and Christopher Phillips, curator at the International Center of Photography, New York). The crown jewel of the fair's parallel programme, the Global Private Museum Summit, which brings together some 40 private museum owners (collectors, then), is a carrot to the stick. But at the tender age of three, all we can do is wait and see what (and who) Art16 will bring.—[O]