Feature
Bernd & Hilla Becher At Sprüth Magers London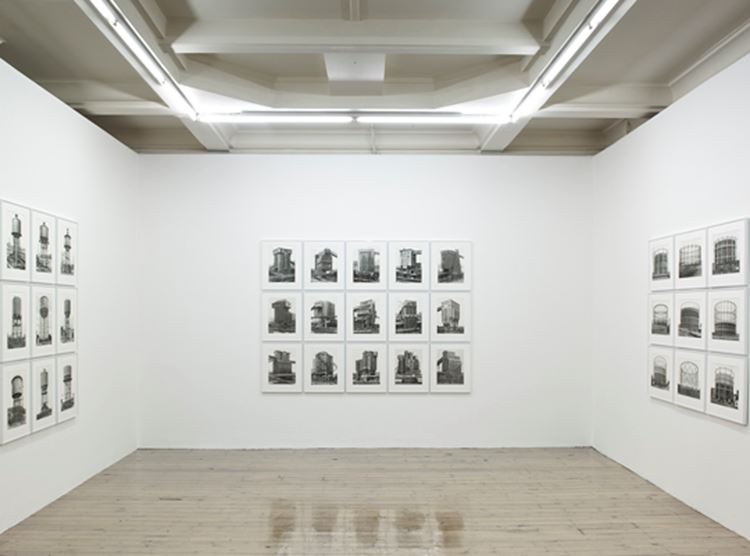 The new exhibition of photography from Bernd & Hill Becher now showing at Sprüth Magers London is another meticulously documented look at post-World War II West German industry by the husband and wife duo.
Comprised of a series of five grids of smaller works alongside several larger individual images, the show speaks to the central interests of the Bechers' ouvre with their trademark black and white images of industrial sites often presented grouped together by type and function. The show represents their first solo show in London since 1998 (and thus the first since Bernd Becher's death in 2007), and the largest presentation of their work since their showing as part of Cruel and Tender: The Real in the Twentieth-Century Photograph exhibited at Tate Modern in 2003.
Featured structures in this collection include water towers, coal mines, storage facilities and cooling towers amongst others. All appear almost as if part of a scientific study and are visually anonymous except for one water tower which bares the words 'Detroit Zoological Park I Block' across it. Only their titles identify them according to date, function and location, like specimens in a catalogue of biological samples.
In an interview with Thomas Weaver, published in the Architectural Association's Journal AA Files (Issue 66) in 2013, Hilla Becher discussed her childhood and upbringing as well as her work with her late husband. Within this fascinating and in-depth discussion, reprinted as part of the accompanying press file at the gallery, Becher offers some interesting insights as a way to approach the images on show. To begin with, she dismisses the idea of typologies in favour of a more organic approach to photographing the subjects in their work. "I never really considered the things we photograph as typologies. Of course there are different groups of things, but Bernd and I always thought of them instead as objects that reappeared in different countries," she told Weaver, adding "we just travelled around, photographing this and that. And after a while, when you have a lot of images, you have to sort them out." The resulting impression is less of a strict scientific approach and more of an intuition and curiosity, revisited later to connect previously unseen dots.
Later in the same interview there is also a firm rejection of the idea of the Bechers' photography as documentary, as Hilla Becher recounts an incident where her husband tried to incorporate elements of the surroundings into the shot, only to decide that the inclusion of aspects of the landscape and the wider context of the thing being photographed simply didn't work. Their process was a more focussed and specific one, where the building was the only thing being photographed, and where the weather and light conditions were observed with this in mind. This approach gives these functional structures a kind of sculptural character, touching on the wider signs within their construction, and feels particularly noticeable in the larger single images in the smaller gallery spaces, which stand out due to their size and dislocation compared with the rigid grid arrangement of the previous room. Freed of the suggestion that they were photographed consciously as typographies, the buildings become more engaging as individual sites rather than just component parts of a greater whole.
A frequent commentary on the German duo's photography is how it seems to reflect West German culture and attitudes in the post-World War II climate of the Cold War. There is certainly something stoic and straightforward in these images which is hard to escape from, a result in many ways of the formal, functional role that much of their photography reflected in its subject matter. Clearly, however their works went beyond this, not just in terms of mood and execution but also in terms of geography and scope. The attention to detail reveals a keen understanding of both the technical and aesthetic parameters of the pair's project, while the resulting images move past simply recording or documenting these sites, imbuing the structures captured with a sense of gravitas and dignity that some may find surprising, and many have found rewarding.—[O]