Feature
Beyond the Zone: the 5th Material Art Fair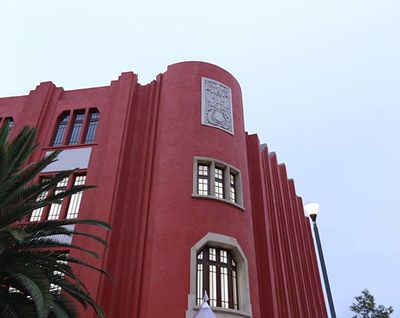 Frontón México, Mexico City. Courtesy Material Art Fair.
Now in its fifteenth year, Zona Maco México Arte Contemporáneo (7–11 February 2018) is rightly regarded as one of the more important events on the international art fair circuit. Without a doubt, it is the grande dame of Mexico City's early-February Art Week, claiming to be 'the epicentre of collecting in Latin America'. But this year, fairgoers interested in innovation rather than blue chip familiarity braved the eight-kilometre journey east through Mexico City's infamous traffic to an event just a little over half the size, Material Art Fair (8–11 February 2018). (Zona Maco this year featured 170 galleries, compared to Material's 78.)
Material Art Fair presented its fifth edition under the slightly odd slogan FREEDOM TO ART. The fair's publicity materials claimed to have 'revitalised Mexico City's most important week for contemporary art' by coming 'to symbolise its city's vibrant and youthful cultural scene' through 'its intimate scale, sense of community, and adventurous programming'. This sort of language is familiar enough, and there is hardly a contemporary art fair on the planet that would not make similar claims. But in the case of this year's Material Art Fair, they seemed appropriate as soon as you walked in.
Frontón México, Mexico City. Courtesy Material Art Fair. Photo: PJ Rountree.
The fair's new home is Frontón México, located to the side of the Plaza de la República: an Art Deco sporting arena that was abandoned for almost a quarter of a century before it was recently rescued by the National Institute of Fine Arts. Inside, local architects APRDELESP constructed a remarkable three-storey-high scaffolding structure. This 'building within a building'—as Rodrigo Feliz, Material's director of exhibitor relations, called it—provided accommodation for gallery booths and performance spaces, plus the cafes, bars and social spaces that art fairs cannot function without, apparently.
This unique architecture was far more than mere gimmickry, though. It contributed significantly to the fair's character. Unlike the maze-like layout of the majority of fairs, including most obviously Zona Maco across town, Material described itself as the 'first vertical art fair' whose design allowed a view of pretty much the entire fair from any position within it. This simple fact not only made the fairgoing experience more manageable, but immediately encouraged dialogue, lent a greater sense of common purpose among the gallerists and artists whose work was on display, and made the whole affair seem more democratic, as none of the booths enjoyed better visibility than others.
Exhibition view: Material Art Fair, Frontón México, Mexico City (8–11 February 2018). Courtesy Material Art Fair. Photo: PJ Rountree.
Of course, APRDELESP's frankly rather alarming triple-layered panopticon-esque structure could well have meant something different had it been erected somewhere other than Mexico City, which suffered a major earthquake only five months previous. The design provided an appropriate setting for work that teeters on the technical or conceptual edges of contemporary art making. (Another of Material's organisers, Brett W. Schultz called the fair a 'home for risk-taking artists and the gallerists, collectors, and curators who champion them.')
Certainly, technical novelty was everywhere at Material. However, one of the most popular booths, located on the third level, was the celebrated Mexico City gallery Lulu, which staged a successful exhibition dedicated to the memento-mori-inspired etchings of Tijuana-based Enrique Ciapara. (Vanitas, a portfolio of five interrelated prints based on a single floral motif was selling at USD 2000 in an edition of 30, with unique artist's proofs going for USD 900 each.) There was something rather reassuring about finding an artist using such a traditional medium as etching whose work sat quite comfortably alongside video, computer technology, and other more palpably contemporary and barrier-busting efforts.
Exhibition view: Enrique Ciapara at Lulu, Material Art Fair, Frontón México, Mexico City (8–11 February 2018). Courtesy Lulu.
Lulu's booth offered a timely reminder that artistic relevance in the 21st century rests on something other than mere novelty, which recalls the architectural design of the fair. Such innovations would have been irrelevant had there not been something special going on among the exhibitors here—and there was, not merely in the quality or character of the art on display. A number of gallerists at Material were not merely looking to sell art, but to tackle the geographical and political givens of Latin America's place in the world as well.
Embajada from San Juan, Puerto Rico, for example, had a tiny booth up on the fair's third level where they showed sculptures by Claudia Peña Salinas (brass pipes arranged into squares held down by single river stones) and Jesus 'Bubu' Negrón (found cigarette butts). Embajada's co-founder Manuela Paz describes their project as 'a self-funded platform for international dialogue', with a particular emphasis on promoting Puerto Rican artists. 'And these aren't just emerging artists,' she stresses; 'it's just that attention hasn't caught up with them yet'. Like a number of other exhibitors, Paz sees Mexico City, a cosmopolitan nexus for the entire Latin American region, as the ideal location to pursue her aims. 'Who doesn't want to be in Mexico City?' she asked with a smile. It was clear that she was delighted with the greater exposure she had been able to win for her artists.
Exhibition view: Claudia Peña Salinas and Jesús Bubu Negrón at Embajada, Material Art Fair, Frontón México, Mexico City (8–11 February 2018). Courtesy Embajada. Photo: Ramiro Chaves.
The city also has appeal for gallerists on the other side of the globe. Ei Kibukawa, director of Tokyo's eitoeiko, declared a similar desire to expose his artists to an international audience. At Material, he showed work by Ichiro Irie, Junta Egawa, Ryohta Shimamoto, and Okamoto Mitsuhiro in a booth on the middle level. Kibukawa talked about presenting 'novel pieces that walk the threshold between art and non-art'. Perhaps the most obvious example of this was Okamoto Mitsuhiro's One Piece One Piece (2016): a sculpture comprising 50 stuffed toys depicting characters from the popular Japanese manga series One Piece, which takes the form of a dress. At various times during the fair's four days it was worn by locally recruited models—at the VIP reception it was modelled by Ileana Mo, who insisted she was not a performance artist but rather a maker of clothes and collages. (The sculpture-dress was priced at USD 6000.)
Exhibition view: eitoeiko, Material Art Fair, Frontón México, Mexico City (8–11 February2018). Courtesy eitoeiko.
Material's performance programme was curated by Michelangelo Miccolis and titled, perhaps inevitably, Immaterial Vol. II, following the previous year's programme. It featured 'expanded notions of choreography' and both of the featured artists, Maria Hassabi and Mårten Spångberg, presented dance pieces that lasted the whole four daysof the fair. While Spångberg's piece—staged up on the third level—provided an occasional pop and R&B soundtrack to the entire space, Hassabi's was more subtly engaging, with performers moving almost imperceptibly through the fair's walkways. One of them spent most of her time stretched out immediately beside Brooklyn's 315 Gallery's booth on Material's middle level. 'It's strange to have someone performing in front of your booth', noted 315 director Jack Barrett; 'I'm not sure if it's a good thing or a bad thing. Perhaps it's just a thing'.
Incidentally, the 315 Gallery booth showed Amy Brener and Haley Josephs. The not-quite-human beings that Brener concocts in translucent pink silicone and found objects and that Josephs paints in high key colors made for a compelling pairing, entirely capable of coping with the distraction of Spångberg's performer.
View of Mårten Spångberg's durational performance for Immaterial Vol. II, a performance programme curated by Michelangelo Miccolis for the 5th Material Art Fair, Frontón México, Mexico City (8–11 February 2018). Courtesy Material Art Fair. Photo: PJ Rountree.
Another New York gallery at Material was Callicoon Fine Arts, who had a booth on the ground level and who were one of more than a dozen galleries showing here for the first time this year. Callicoon showed printed photographs worked over with gesso, watercolour and ink by Rokni Haerizadeh and vitreous enamel on steel geometric paintings by one of the successes of last year's Whitney Biennial (17 March–11 June 2017), Ulrike Müller. 'I'm interested in the collectors here, and in the institutions', director Photios Giovanis explained. 'This is a very important part of the world. I'm very glad I made the decision to come'.
Not all of the artists showing at Material were newcomers by any means. The distinguished José Lerma was one of Andrea Rosen's more notable artists, until her New York gallery's closure, and is an associate professor of painting at the School of the Art Institute of Chicago. Lerma was born in Seville, Spain but made his way to Chicago via Puerto Rico. His eye-catching portrait heads in cartoonish acrylic on carpet got a lot of attention at the booth of San Juan's Roberto Paradise, not least from Lerma's longtime supporter, MoMA PS1 director and MoMA's curator at large Klaus Biesenbach, who was giving them a close inspection on the fair's opening afternoon. ('He was very excited', Roberto Paradise director Francisco Rovira Rullan reported. Perhaps they will show up in New York soon.)
José Lerma, Untitled (Dad) (2018). Acrylic on polypropylene carpet. 182.9 × 121.9 cm; Untitled (Self-Portrait) (2018). Acrylic on polypropylene carpet. 152.4 × 91.4 cm. Courtesy Roberto Paradise.
Given the success of Material Art Fair this year, Rodrigo Feliz is eager to stress that there is no competition between this enterprise and Zona Maco. But it is notable that there is less collaboration between the two fairs than there might be. Though Zona Maco's organisers call their fair 'the most important art fair in Latin America', they would be advised to pay attention to what is happening in the Frontón Mexico. It is very possible that the fairgoers who spent last weekend in Mexico City will remember the innovative individuality of Material rather longer than Zona Maco's comparable blandness.—[O]
—