Feature
documenta 14: the view from Athens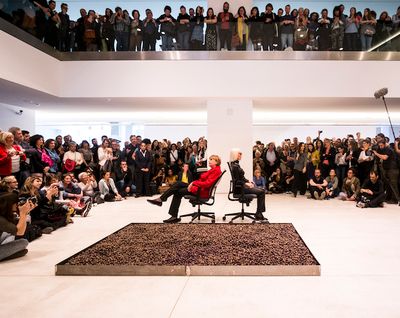 Marta Minujín, Payment of Greek Debt to Germany with Olives and Art (2017). Performance and installation. EMST—National Museum of Contemporary Art, Athens, documenta 14, Learning from Athens (8 April–16 July 2017). Photo: Mathias Völzke.
documenta 14's mammoth effort to include 40 something venues and over 160 artists in its exhibition in Athens (8 April–16 July 2017) is a testimony of the institution's struggle to infiltrate a city with a weighted ancient and modern past, a turbulent present, and an uncertain future. There is a push-pull relationship between inside and outside in Greece's history: a result of centuries under Ottoman occupation followed by foreign and domestic wars. As a result of this historical and hybrid blending, a dissonance has become the acceptable norm in a city caught between north, south, east and west. Within such chaotic coordinates, heightened by a constant state of flux and disarray, documenta 14, an institution in denial of its own institutional capacity, has engaged in a futile and contradictory struggle to both integrate into this context and keep a safe distance from it.
The result is an overambitious exhibition comprising everything from performances, feature film screenings and sound installations, to process-based works, lectures and actions in public institutions, private spaces, ancient and historical sites, as well as on the street. Apart from the main venues, including the National Museum of Contemporary Art (EMST), the School of Fine Arts, the Athens Conservatory, and the Pireos Street Annexe of the Benaki Museum, other sites include the Byzantine Museum, the Agricultural University of Athens (AUA), Gennadius Library, the Ancient Market, Panathenaic Stadium, Benaki Museum of Islamic Art, Kotzia square, and the ancient site of Aristotle's lyceum, there are also several modified commercial-turned-project spaces, like a soap factory by Otobong Nkanga, which is producing soap to sell in Kassel. (The decision to participate in either the Athens or Kassel exhibitions or both was up to each artist.) It is important to note that documenta 14's effort to materialise an exhibition of this scale within the obstructive context of the Athenian landscape, occupied with excessive logistical limitations and problematic bureaucracy, is truly an achievement. Whether the exhibition has succeeded in bringing the social imaginary of that locality's specificity to life, however, particularly within the remit of its title, Learning from Athens, is up for debate.
Rick Lowe, Victoria Square Project (2017–18). Social sculpture. General view: documenta 14, Learning from Athens, Elpidos 13, Victoria Square, Athens (8 April–16 July 2017). Photo: Freddie F.
Following the public programmes launch in Athens last fall, and with the documenta 14 team's residency in Athens, there was an expectation for the exhibition to (finally) reflect documenta's connection with the city's multi-layered archaeology of the past, present and future, particularly after their public programmes' missed attempt. Surprisingly, and apart from a few individually strong works, documenta 14's Athens exhibition is a quiet show with a consistent aesthetic that lacks a clear or solid statement, integrating multiple voices and viewpoints to the point of being somewhat confusing, and potentially tenuous. On his lesson from Athens, documenta 14's artistic director Adam Szymczyk offered a Socratic statement at the press conference, talking about a recognised lack of knowledge while instructing viewers to 'unlearn'—a position that fits well with what is overall a generic exhibition that takes a safe approach while absolving itself of any responsibility.
Lois Weinberger, Debris Field (2010–16). Exhibition view: documenta 14, Learning from Athens, EMST—National Museum of Contemporary Art, Athens (8 April–16 July 2017). Photo: Mathias Völzke.
Nevertheless, the multiplicity of voices in this show permits the viewer to follow a variety of themes throughout the exhibition sites. One potential interpretation could be the reimagination of historical parameters, bound to time and place, by introducing new cultural connections among a variety of geographical and temporal positions, an alternative historical 'continuum'. There is an abundance of indigenous related works, for instance, like Beau Dick's tribal masks found throughout EMST, and Algirdas Šeškus' photographic prints, Shaman (2012), in the Benaki Museum, Pireos Street Annexe. These, in combination with a multitude of archaeology related works, such as Lois Weinberger's Debris Field (2010–2016), a display of excavated items from Weinberger's estate in Austria displayed at EMST, and Amrita Jhaveri's collection of hieroglyphics shown at the Conservatory, allude to primal states of existence, early beginnings of civilisation, and Athens' ancient legacy. By awakening this legacy, intergenerational borders collapse as different geopolitical and cultural trajectories, whether individual or collective, merge. A sense of togetherness is therefore drawn through a transcending of temporal, cultural and geographical frontiers, and new pathways are mapped out.
Algirdas Šeškus, Shaman (2012). Inkjet print. 60 × 42.9 cm. Exhibition view: documenta 14, Learning from Athens, Benaki Museum—Pireos Street Annexe, Athens (8 April–16 July 2017). Photo: Stathis Mamalakis.
Mounira Al Solh's installation Sperveri (2017) at the Benaki Museum of Islamic Art stands out as exemplary of this transcendence. One of the strongest works of the show, Sperveri is the name given to the special covering for wedding beds in various local cultures, as well as in various parts of Lebanon and Syria. After being trained by local embroidery workshops, Al Solh embroidered the cover with local designs, including testimonies of survival from immigrants the artist interviewed during her time in Athens. By connecting the local with the universal, the work becomes a tribute to how intercultural tradition can speak about hardship and survival. The placement of Sperveri on the floor in the museum dedicated to the 16th to the 19th centuries, where various relevant instruments like calligraphy tools and embroidered items are on display, further enhances the historical link of memory between traditions and their neighbouring cultural contexts.
##### ##### Mounira Al Solh, Sperveri, 2017. Embroideries on textile, paint, and mixed media.
400 × 110 × 220 cm. Exhibition view: documenta 14, Learning from Athens, Museum of Islamic Art, Benaki Museum, Athens (8 April–16 July 2017). Photo: Yiannis Hadjiaslanis.
Similar to Al Solh's installation is Banu Cennetoğlu's Gurbet's Diary (27.07.1995-08.10.1997) (2016–17) at Gennadius Library: a research library housing over 120,000 books, archives and artworks of Mediterranean origin from antiquity to the present. The work presents the written testimony of Kurdish journalist Gurbetelli Ersoz in the form of a diary narrating the journalist's guerrilla days, from July 1995 to October 1998, following her torture and illegal imprisonment in Istanbul in 1993, along with her fellow colleagues. 145 press-ready, lithographic limestone slabs are stacked on metal library shelves in the library's garden, reflecting not only the weight of its literary content, but its historical significance as well. On the back of each slab are single written entries, in mirrored-image Greek, while the front remains blank. On the side of every one is the date of each entry printed in gold, covering 170 days. First published in Turkish in 1998 in Cologne after Ersoz's death in 1997, and then in 2014 in Turkey, this diary is a document and testimony not only to decades of war, but also an insight to ongoing injustices taking place universally. Still only available in Turkish, these lithographic stones, which are ready to print Ersozs' story in Greek, become a point of possibility when it comes to visualising channels of communication that can poetically bridge gaps from within the cultural context of a Mediterranean-themed research library.
Banu Cennetoğlu, Gurbet's Diary (27.07.1995–08.10.1997) (2016–17). Various materials. Exhibition view: documenta 14, Learning from Athens, Gennadius Library, Athens (8 April–16 July 2017). Photo: Freddie F.
Music is another medium of communication that surpasses geographical and temporal limitations, as demonstrated by its visual integration and representation within the musical context of the Athens Conservatory. Nevin Aladağ's Music Room (2017) showcases musical instruments from appropriated furniture pieces, which are also used in a daily music performance. Everyday household objects like tables, chairs and cabinets transform their use and form by incorporating an auditory and active function along with their visual presence. While each organ reflects a different culture—like an oud, a drum, a bouzouki or a metallophone—they all play harmoniously together in a performance connecting different cultural coordinates as musical notes in a unified message.
Theo Eshetu, Atlas Fractured (2017). Digital video. Exhibition view: documenta 14, Learning from Athens, Athens Conservatoire (Odeion), Athens (8 April–16 July 2017). Photo: Theo Eshetu.
An equal subversion and convergence of forms occurs in Lala Rukh's Rupak (2016), where sound beats are recontextualized into a visual diagram of the instruments' pulse. Rupak is the semi-classical distinction given to components of Hindustani music known as 'taal', and in this cave-like room we find a series of about 28 drawings of points on diagrams framed by a rhythmic musical video depicting those points in a visual continuous motion. Rukh's transdisciplinary ability to reconfigure music into visual form manages to merge together the traditions of Islamic calligraphy and Indian music with a minimalist aesthetic. Similarly, Theo Eshetu's Atlas Fractured (2017)—an 18min video of fused periods, cultures, continents and genders—pulls together the overall sense of dimensional boundlessness that permeates throughout this documenta.
Lala Rukh, Rupak (2016). Drawings from a series of eighty-eight. Ink on paper. 20.5 × 16.2 cm each. Exhibition view: documenta 14, Learning from Athens, Athens Conservatoire (Odeion), Athens (8 April–16 July 2017). Photo: Mathias Völzk.
These boundless dimensions reveal an underlying effort towards presenting an all-encompassing voice among many voices, consistent with the intentions mentioned in the press conference—that is, to unlearn and remain open. Approaching the city in its totality in order to link it to multiple parallel topographies across disciplines, cultures and histories was also successfully accomplished. Even still, certain issues arise. Although the integration of artists and cultures was highly successful in numbers and diversity, providing a comprehensive picture of global associations generated by general underlying themes—namely the individual and collective struggle for belonging and peace and avoiding clichés of exotisizing and homogenisation—there is still a substantial lack of connection to the local specificity of contemporary Athens, which remains a missing key element despite being directly correlated to documenta 14 by its title.
Central to the discourse of curating other cultures is the criticality of, and the relationship to, the chosen host locality and its identity. Apart from individual works that successfully brought to light a unique artistic conscience to rethink overlooked social realities—such as Maria Eichhorn's process-based documentation work Building as unowned property (2017), where the circumstances of property ownership and use in Greece are put into question; Marta Minujín's poignant performance Payment of Greek debt to Germany with Olives and Art (2017) (which includes an Angela Merkel lookalike); Hans Haacke's photos of Attica (2017); Constantinos Hatzinikolaou's moving multimedia installation narrating the death of a motorcyclist, Anestis (2017), and Eva Stefani's video work Manuscript (2017), which presents a perspective of Athens by mixing images from both past and present—the rest of documenta 14's Athens exhibition is concerned with a global mapping of a shared contemporaneity of postcolonial thinking that could have been displayed and experienced anywhere. (Reminiscent, even, of other documentas.)
Maria Eichhorn, Building as unowned property (2017). Conversion of a building's legal status, lot at Stavropoulou 15. Exhibition view: documenta 14, Learning from Athens, Athens (8 April–16 July 2017). © Maria Eichhorn/VG Bild-Kunst, Bonn 2017. Photo: Mathias Völzke.
And even though the Mediterranean refugee crisis is well incorporated through Bouchra Khalili's subtle nuanced 60-minute film The Tempest Society (2017), Rick Lowe's Victoria Square Community project, Rebecca Belmore's marble life-size tent facing the Akropolis From inside (2017), and the Syrian Expat Philharmonic Orchestra concert staged on 8 April at Megaron Concert Hall, the predominant lack of critical references and dialogue with the contemporary Athenian landscape evidenced in the exhibition cannot but raise the question: why Athens now?
As Nikos Papastergiadis notes in his essay on collaboration in art and society, 'mediation requires more than just familiarisation with and representation of known and knowable differences as its task is not to discover a mode of address to redeem historical damages, but rather create an understanding of new social possibilities by allowing each partner to go beyond their own certitudes and participate in collaborative knowledge-making that is not just the sum of their previous experiences.' The complexity and specificity of a city like Athens cannot be limited to a mere local ethnographic survey, or a German-based romanticised notion of antiquity worship. Its potential lies in the context's ability to create a space for productive knowledge exchange and to build social relations, which—according to the press conference's opening statements of 'having learned nothing'—documenta 14 clearly failed to consider. An example is the uneven emphasis of indigenous elements non-native to Greece against those that would have positioned the context in its present moment: within a contemporary global dialogue that of course includes the country's ongoing relationship with various contemporary financial and political crises—a key point of reference within the political panorama of a broader contemporaneity responsible for bringing Greece to the forefront of political debate.
Eva Stefani, Manuscript (2017). Digital video. Exhibition view: documenta 14, Learning from Athens, Athens Conservatoire (Odeion), Athens (8 April–16 July 2017). Photo: Mathias Völzke.
documenta 14's multilayered dismissal of contemporary Athens as a point of reference testifies more to the underground workings of an exploitative institution with a neoliberal attitude, typical in biennial behavior, rather than to the integrity of an open dialogue facilitator, or genuine collaborator. More recently, invigilators of the show wrote an open letter accusing the institutionof exploiting Greece's crisis to underpay staff at 5.62E per hour. Combining this fact with statements Szymczyk has made comparing Athens to Lagos and Guatemala, officially dismissing the local cultural scene, while art professors have been included in the show in exchange for the use of the city's fine art schools facilities, is further testimony to the condescending mishandling of Athens by an institution that used the city's name for a densely global exhibition with its own agenda.
As Szymczyk noted in one of his interviews, the choice to come to Athens was 'to think and learn from a city suspended between cultural clichés of bygone days and harsh everyday life'. Not only did documenta 14's Athens show fail to portray that reality, but it unfortunately produced yet another cliché.—[O]