Feature
Human not beast: Art in an anxious Paris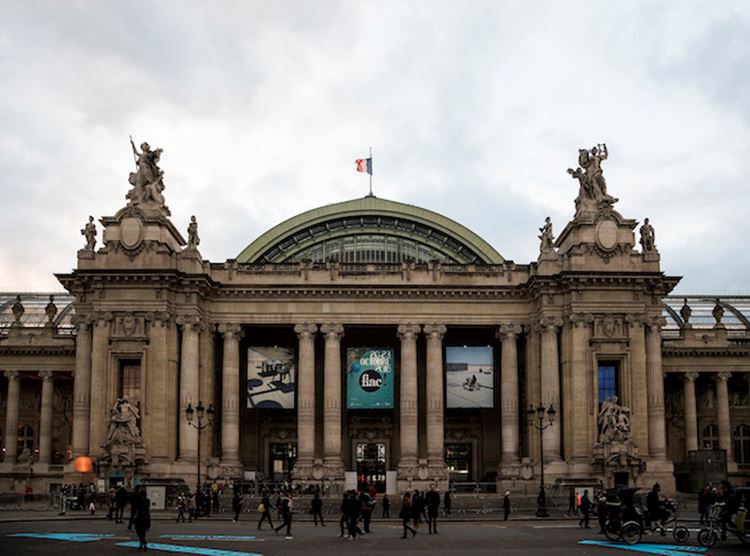 FIAC Paris 2016. Photo: © Charles Roussel & Ocula.
Following on from the spectacle of Frieze London, contemporary art fair FIAC took place in Paris from 20–23 October. 186 international galleries mounted booths in the Grand and Petit Palais, with larger artworks shown in the pedestrianised Avenue Winston Churchill between the two historical buildings.
Preceding the fair's opening, there was a general sense of unease amongst participants and organisers: would overseas visitors still be comfortable making the trek in light of Paris' recent coordinated terrorist attacks? With not yet 11 months passed since the devastating events, France is struggling with the effects of nearby political and idealogical conflicts which play out on its soil, including the influx of migrants entering the country.
In late October, the French government evacuated the Calais Jungle, a camp close to the English Channel densely overcrowded with Middle Eastern and North African refugees. The camp has existed in various forms since 1999, housing thousands at a time in unsanitary conditions and with little access to food or water. Where French authorities neglected to, humanitarian groups provided food and basic necessities, constructing make-shift libraries and handing out free SIM cards to migrants to communicate with their families. Still, arson, physical and verbal attacks against residents of the camp by French citizens were widely reported.
Over 5000 people were estimated to be living in the camp at the time of the clearing, many attempting to access the United Kingdom by stowing away in trucks, trains and ferries. A twelve-foot high electric fence was constructed surrounding the Ferry Terminal and alongside the highway to prevent people from hiding in cargo vehicles, yet many made it over and halted traffic in attempts to board. In early November, a baby and two children were amongst the 15 suspected migrants found hiding inside a refrigerated potato truck in Norfolk, England.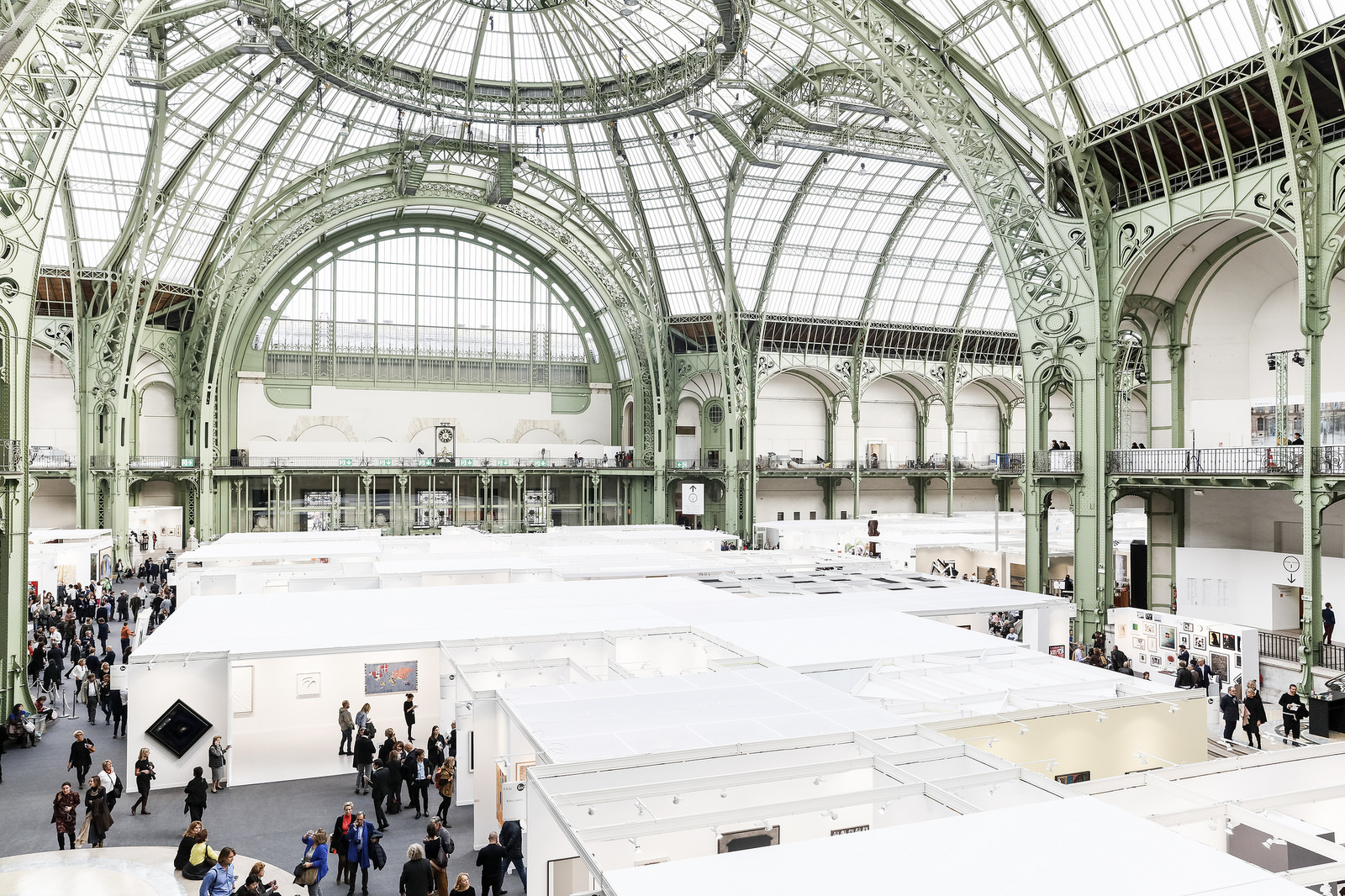 FIAC Paris 2016. Photo: © Charles Roussel & Ocula.
Under pressure from the municipal government, French police loaded thousands of Calais Jungle residents on buses with the intent of resettling them elsewhere in France. A symbolic dispersion aimed to quell the anger of the local population of Calais, it represented the mere shuffling of a problem as opposed to any solution of substance. The charity Association Terre d'Errance (Wandering Earth Association) estimates that 11 migrant camps exist elsewhere in Northern France. Thousands of upended Calais Jungle residents (overwhelmingly young men) ended up in Paris in the days following the evacuation; camping out on the streets in the city's core much to the authorities' and residents' frustration. Reports of squalor, putrid smells and violent fights with improvised weapons have disturbed business owners who complain of suffering profits. Parisians have been audibly upset, voicing their concerns on social media and news outlets. In recent days, migrants have joined with French protestors in the streets demanding empathy and solidarity—one sign carried by a young man read 'HUMAN NOT BEAST'.
The Dublin Regulation states that responsibility for asylum seekers lies with the country in which they first arrive. In the past several months, many have travelled through Italy, Hungary and Greece, countries which, claiming resource shortages, have quietly encouraged the flow of migrants to other states—a sign of a union whose members prioritise national-interests over their collective ones. Certainly, there is disparity in sympathy for migrants amongst Europeans. In the public consciousness, it is difficult to determine whether all of the refugees flooding to Europe are truly in desperate need, or whether some are mere economic refugees, joining in with the masses to heighten their chances at a more comfortable life. This has led to outward discrimination of all forms—and significantly—altered the political landscape across Europe by expanding the reach of the nationalistic right. Post-war governments have historically promoted immigration as a strategy for rebuilding the strength of a country, but with a battleground so many thousands of miles away, it's hard for many across Europe to connect the outfall of this current conflict with the flow of victims into their respective countries. Perhaps this disconnect has made many in France numb to the fact that this is not an economic, nor national nor cultural question, it's a human one.
This year, it was reported that fear following terrorist attacks and floods had caused 20 percent drops in attendance at the Louvre from January through June, compared to the previous year. This statistic can likely be applied to other major cultural venues; a significant decrease given that tourism accounts for 7% of Paris' economy. True to the pre-fair concerns, the New York Times reported a significant decrease in American collectors at this year's edition of FIAC. Still, thousands of the art world elite flooded to Paris for FIAC (the 'desirable', 'moneyed' type of migrants), at least providing some five star hotels and restaurants with much-needed patronage. Exhibitions taking place beyond the fair, however, posed ideas that were more relevant to the country's social climate than high-brow consumerism.
Immediately preceding FIAC, shortlisted artist Kader Attia was announced as the winner of the €35,000 Prix Marcel Duchamp 2016 award. Founded in 2000 by the Association pour la Diffusion Internationale de l'Art Français (ADIAF), the Prix Marcel Duchamp is France's answer to the Turner Prize, and honours a French artist or artist residing in France representative of their generation. Previous winners include Laurent Grasso (2008) and Cyprien Gaillard (2010). Curated by Alicia Knock, works by Attia and this year's other nominees, Yto Barrada, Ulla von Brandenburg and Barthélémy Toguo, are on view at the Centre Pompidou until 30 January 2017. Themes of illness and political legacies run throughout each artist's presentation, making this exhibition a poignant and relevant one.
French-Moroccan artist Yto Barrada's project Unruly Objects (Suite for Thérèse Rivière) (2016) examines the life of Thérèse Rivière, a French ethnologist who conducted a large amount of research in North Africa between the two World Wars. Barrada reimagines Rivière's bedroom by constructing four walls covered in obsessively collected objects ranging from children's toys, maps, rubbings to abstract photographs mimicking shades of skin. Standing in for Rivière's, a squeaking parrot's voice narrates the installation. An artist of dual cultural identity herself, Barrada is interested in the ethnographer's subjective position in producing representations of otherness. The installation blurs the boundaries between the personal and museum space, borrowing the archival strategies of the latter to point to the human subjectivity ingrained in displaying other cultures.
Ulla von Brandenburg's installation It Has a Golden Sun and an Elderly Grey Moon (2016) comprises a large, white staircase (a metaphor for both the white cube or a temple to the sun) which acts as a stage for performances and looking. Nearby, a screen shows documentation of previous performances. Cameroonian artist Barthélémy Toguo collaborated with researchers to examine the impact that the AIDS and Ebola viruses have had on African countries; his work Overcome the virus (2016) comprises wall paintings and enormous, ceramics painted with visual representations of disease's effects on the body including images of infected cells, blood and organs. Produced in China, the large-scale, red, blue and white vases are interesting examples of craftsmanship as well as of globalised production.
Kader Attia's practice is focused on colonialist legacies and strategies for (or the impossibility of) societal repair. Working between Berlin and Algiers, Attia was born in France and is of Algerian descent. He is particularly well known for recreating the Algerian city of Ghardaïa entirely from cooked couscous in 2009. Titled Réfléchir la Mémoire, (Reflecting on Memory) (2016), Attia's presentation for the Prix exhibition focuses on the phenomenon of 'phantom limbs'—the (usually painful) sensation that amputated limbs still exist and can transmit sensation through the nervous system. In an extraordinarily magnetic video (most viewers couldn't leave their seats), Attia interviewed psychoanalysists, neuroscientists, historians and other experts on the subject, extending the idea to a macrocosmic theory of trauma's impact on communities over generations. Discussing harrowing historical memories such as genocide, communism, colonialism and slavery, the film posits that psychological repair is never immediate, simple or complete. The Prix Marcel Duchamp isn't the first recognition Attia has received: he also won the Cairo Biennial Prize in 2008 and the Abraaj Group Art Prize in 2010.
Off of the Place de la Concorde, photography-focused contemporary arts centre Jeu de Paume was showing a recent commission by Egyptian artist Basim Magdy. Born and educated in Cairo, Magdy works with painting, video and photography, often employing wry humour in his inventive practice. The centrepiece of his Jeu de Paume commission is Il n'y aura pas d'étoiles filantes (No Shooting Stars) (2016), a surrealist video focused on an imagined and unidentified ocean inhabitant. Viewing the ocean as a 'territory that lays dormant on the margins of our awareness', the semi-abstract video is a poetic sequence with no discernible beginning or end, the narration of which at times sounding like a manifesto, and at others, a lamenting ballad. Magdy is particularly fascinated by the fact that oceans, unlike land, are nebulous by nature and have no borders—or at least not physically protectable ones. To him, this adds to the attractive mystery of water, but to nations facing waves of maritime immigration, it is an unsurmountable problem. While barely seaworthy vessels continue to wash up on the Mediterranean and the construction of physical border walls has largely driven an American presidential campaign, it is important to remember that nations can never entirely close themselves off from what frightens them. As we've been reminded by images of drowned children on the front pages of newspapers this year, tragedy does not adhere to lines on maps.
Upstairs at the Jeu de Paume, the exhibition Soulèvements (Uprisings) (18 October–15 January 2017) is on view. Curated by French philosopher and art historian Georges Didi-Huberman, the extensive exhibition explores the conditions which cause individuals and nations to 'rise up'. Exploring the question through the physical act of ascension as well as political revolt, the show includes videos, drawings, photographs and sculptures ranging from the historical to the contemporary. Didi-Huberman arranged the exhibition according to themes, including the gestures, words, conflicts and desires of uprisings. France, of course, has a well-known long and bloody history of revolts and impassioned attempts to overthrow the ruling class. These histories are still important to reflect for their parallels to the struggles of today. Caused by dire economic problems such as financial crises and bad harvests, the anti-monarchist Paris Uprising of 1832 was reinforced by Polish, Italian and German refugees. The French Revolution of 1848 established the droit au travail ('right to work'), looking to employ skilled workers who were unable to find jobs. Though the players in today's drama are from Africa and the Middle East, their wants and needs are intrinsically unchanged—a desperate desire for an improved standard of living.
Patrick Zacmann, The army blocked by the crowd at the gates of the capital, China, (1989). Gelatin-silver bromide print on baryta paper, 50.4 x 60.9 cm. Courtesy Jeu De Paume.
Nearby was a somehow both obvious and brilliant pairing of hyperrealistic sculptures by American artist Duane Hanson with minimalist paintings by French painter Olivier Mosset at Gagosian Gallery (29 September–12 November). Operating at the extreme ends of the artistic spectrum, Hanson and Mosset's work sing together; the latter acting as saturated backdrops of colour to the former's obsessive detail. Lifelike representations of working class people such as cleaners, painters, window washers and landscapers are juxtaposed against Mosset's stark, unconventionally shaped monochromes. Boredom and melancholy exude from Hanson's subjects' faces and body language, suggesting a failure of the exalted American dream, a promise reserved for only those with privilege—or bluntly—white skin. What is particularly poignant about Hanson's working class subjects in Gagosian is that they are a demographic rarely seen in a palatial white cube gallery, in no small part because they are uninvited.
The figures are in stark contrast to the silent, well-dressed gallerinas behind the gallery desks. And perhaps this exhibition, because of its presentation in a commercial bastion of elitism, more than any other unwittingly represents one of the greatest issues facing this world: the increasing gap between the have and have-nots. It also represents an issue that the art world has failed to tackle, how to unravel its exclusivity to be inconclusive of a great portion of society who increasingly feel unheard and unimportant. Certainly governments have failed these people, but equally the art world can no longer stand by and pretend it hasn't also.
It was recently announced that French president François Hollande plans to temporarily move artefacts located from war zones such as Iraq and Syria to the Louvre Museum's storage facility for safekeeping. Hollande is set to discuss the idea in December at a conference on endangered heritage in Abu Dhabi with other representatives from around 40 countries. While a worthy endeavour, this announcement comes at a time when resources are still desperately needed to meet people's basic needs in France, and hastily constructed refugee shelters are well over-capacity. Hollande's gesture is a fitting metaphor for the week of elite art fairs in Paris: worship the objects, try not to see the people. —[O]