Feature
Rich Mix: A Report From Art Basel In Hong Kong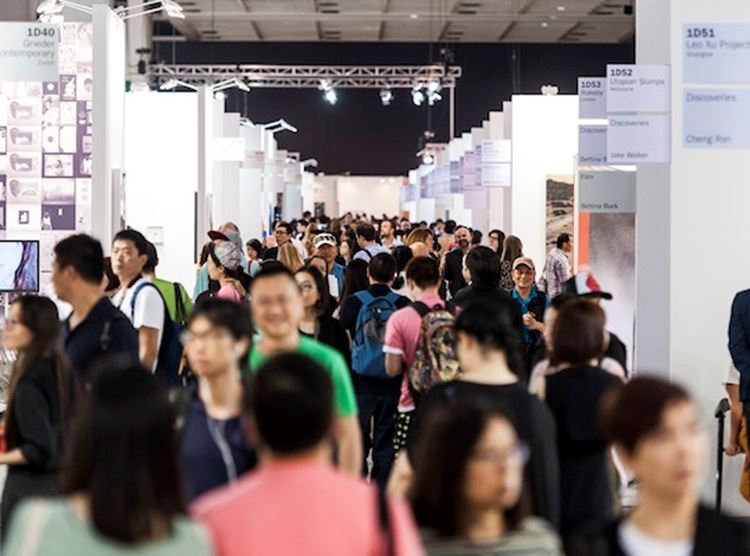 Image: Art Basel
It's all about being global at Art Basel. Such were the sentiments delivered at the Art Basel in Hong Kong press conference this year, in which Art Basel Director Marc Spiegler noted how the launch of ABHK in 2013 was the moment Art Basel went "truly global." In fact, "nowhere else in the world will you see such a rich mix of work from east and west," Spiegler continued—rich, and evenly distributed, maybe, given the fifty-fifty ratio Art Basel adopts in both Miami (fifty percent of galleries have spaces in the United States and Latin America) and Hong Kong (over fifty percent of the 245 participating galleries in 2014 have spaces in the Asia region).
This "equality," however, did not please some of the local fairgoers, who longed for the Asian flavor ArtHK had provided before its absorption. Nor did it please some Western gallerists, one of whom had grown so frustrated due to the lack of sales by the third public day they vowed—while gazing at their crowded booth swarming with the local public—not to do the fair next year, because "why give up New York if that's where people know me?" On the flipside, Asian galleries did well: Edouard Malingue's booth, presenting Yuan Yuan, apparently sold out on the preview day, during which a sense of an uneven floor was already palpable as certain sections of the fair bustled and others remained quiet.
Furthering this sense of a tipping balance was Marc Spiegler's observation of an improvement in the choices of works on show by the Western booths this year, who were no longer "second guessing" the Asian market, just as Magnus Renfrew (ABHK director) commented on the fact that Asian galleries had upped their game and "learned quickly". This suggested a meeting in the middle, even though in realty things felt more on a tilt. "It's weird seeing galleries you know from New York bringing work they wouldn't necessarily show back home," one visitor noted, suggesting that Western galleries had indeed second guessed the market, contrary to what was said.
Art Basel in Hong Kong 2014 Photo: © Anakin Young & OculaIs this why certain motifs were in abundance? Aside from the usual fare of abstraction, landscape, assemblage and historical works, there were flowers everywhere, from Liu Ye's yellow rose at Johnen Galerie, Marc Quinn's gaudy Arabian Sands (2011) at White Cube, Jonas Wood's Pink Plant Two (2014) at Gagosian, to Jennifer Steinkamp's video installation Garlands 4 (2014) and Hernan Bas's epic painting The Guru (2013–2014) at Lehmann Maupin. Then there was the ever-wonderful Ivan Seal showing with Carl Freedman in Discoveries, where Nicola Farquhar presented beautiful modern-post-modern studies into floral abstraction at Hopkinson Mossman.
Aside from Michael Lin's flower paintings, Eslite Gallery also showed another common Asian motif in the form of Zhang Wang's 45 Degrees Artificial Rock (2014), a monumental-sized slab of stainless steel positioned next to the artist's Glass Artificial Rock (2013): a glass rendering of a scholar's rock in green. Meanwhile, Rikrit Tiravanija moved away from the political statement he made at Shanghai Gallery of Art last year through Untitled (same but not equal) (2013), and instead presented a scholar's rock sculpture at Pilar Corrias: a white, coral-esque form positioned within an open steel cube.
And aside from flowers, there were skulls, too. From Yue Minjun's Floating (2013) at Galerie Daniel Templon; Ulrich Lamsfuss's Heike Ollertz/Ulrich Lamsfuss, Made In Germany III, Skull (2013) at Lombard Freid; Kesang Lamdark's Toten Kopf (2013) at Rossi & Rossi; and Tony Albert's depiction of a Mickey Mouse holding a skull-headed staff at Sullivan+Strumpf, Get Rhythm When You Get The Blues (2014). At Pekin Fine Arts, Kata Legrady's Skull, US - Dollars (2013) was presented along side a giant gun (another motif that came up a few times at the fair) titled Fire at Both Ends Automatic Handgun (2013) by Wang Luyan.
Almine Rech Gallery at Art Basel in Hong Kong 2014 Photo: © Anakin Young & OculaThat last work by Wang Luyan might explain why there weren't just works of skulls or flowers at the fair, but of skulls and flowers—from Toru Kamei's oil on canvas mounted on panel at Nanzuka, and Richard Mosse's skull surrounded by rich, fuchsia foliage (and white flower) at carlier gebauer. Was it the legacy of Damien Hirst's Swarovski encrusted sculpture that did it? Was it Alexander McQueen? Or, was it that link to the vanitas and nature morte: a reminder in a city that never sleeps (and never ages) that death (and violence?) is in fact part of life's natural flow?
This might explain why water was another common theme, with works that included Xu Qu's Conquer (rendering), (2013) as part of Encounters. These references to nature—the still life, the landscape, the elemental studies—somehow felt like reflections on mortality, which might also explain why Martin Boyce's sculpture Wolfe House Ghosts and Flowers (2013) felt so perfectly placed at Johnen Galerie. But in a practice that explores the collapse of nature and architecture, Boyce's work also invoked the hanging balances within an art fair space as a mountain of fetishes. This somehow recalls Hal Foster, who observed Dutch still life as something between "order and disorder, godliness and greed"—"a negotiation that helps to explain emotively conflicted tableaus."
The sense of a natural return at ABHK 2014—or an organic understanding of the art fair as a contradictory, conflicted and evolutionary space—was complexified in granular detail by Syaiful Aulia Garibaldi in the ROH Projects booth in the Insights section, through a series of works that explore microorganisms as symbols of generative processes in nature, including topological representations of various organisms identified under a microscope, as well as the presentation of a language developed through this study named "Terhah" (meaning "idea"). As Enin Supriyanto noted in the exhibition text for Garibaldi's current show at Pearl Lam Galleries in Singapore (to 31 May 2014), Garibaldi's microscopic work might be interpreted as a search for new media and artistic expressions, which is "directly related to the need for new languages."
Grayson Perry at Victoria Miro at Art Basel in Hong Kong 2014 Photo: © Anakin Young & OculaOr maybe other languages, histories, visual references and approaches, which brings us back to the overall feeling at Art Basel in Hong Kong this year, in which east and west commingled as harmoniously as a softly gradiated monochrome, a fair staple no matter what Basel you might find yourself in. In this, the most striking of the common motifs at ABHK this year was the Buddha. Renditions included Takahiro Yamamoto's [Statue of Buddha] (2013-2014): a topological study into various depictions of Buddha in printed archival images, which formed part of Gallery Kogure's excellent booth showcasing the artist in the Insights sector. Shi Zhiying's paintings were also on view, including Rock Craving of Thousand Buddhas 2 (2013) at Whitespace Beijing and White Marble Buddha No.5 (2014) at James Cohan Gallery. The latter was presented within close proximity to Nam June Paik's Reclining Buddha (1994)—an antique reclining Buddha positioned over two television sets beaming out the moving image of a blonde, reclining female nude.
In all, the effect of Paik's piece was the same as Xu Zhen's MadeIn Company sculpture at ShanghART, in which a headless classical roman body was joined, feet up, to the headless stump of a standing Buddhist figure so as to produce a single form aptly titled Eternity (2013). The work in turn recalled Michelangelo Pistoletto's Rem(a)inders (2010) at Galleria Continua: a version of Pistoletto's Venus of the Rags in which Venus was replaced by a laughing Buddha sat atop a mountain of clothes.
The running theme between these three works was that the two "sides"—the so-called East and West—have and will always been in dialogue and exchange. Indeed, the history of cultural exchange is nothing new, and this was eloquently represented by Tina Keng's marvelous selection of painters across generations, from Dayu Wu, Xiaobai Su, Huaiqing Wang to Yung Kee, an artist described as one who lived "in between spaces" who worked in the early-20th Century. Trained in San Francisco, Paris and New York, Yung Kee's paintings were remarkable in how they echoed the aesthetics of other modernists of the period from around the world, such as Parisian-educated Saloua Rouada Choucair in Lebanon, and even Etel Adnan's abstract canvases, which were on show at Galleria Continua. These views into alternative modernisms reflected an interest fair organizers have expressed in Asia's art scene over the past 100 years. This explains why during the fair, the de Sarthe Gallery space in Hong Kong presented fifteen works from the first and second generation of Chinese artists who moved to or worked temporarily in Paris from 1919 onwards, thus drawing a connection (or dialectic?) between Asia, Europe and beyond.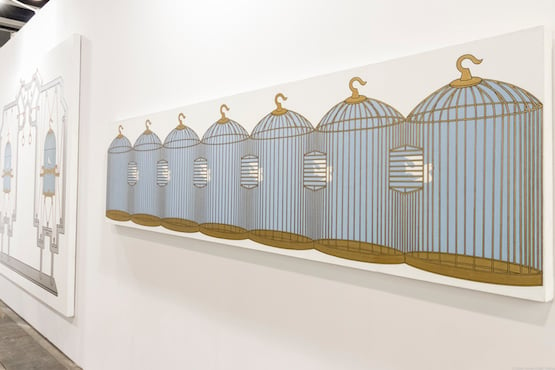 Pékin Fine Arts at Art Basel in Hong Kong 2014 Photo: © Anakin Young & OculaIn these connections, a common fact emerges: we need to recognize the reality that the canon is a lateral and pluralistic rather than linear and singular history. Such were the sentiments in Atul Dodiya's series of works at Vadehra Art Gallery, in which paintings depicting Gandhi in various scenes are juxtaposed against archival images depicting modern works of art by artists including Giacometti and Picasso, so as to reposition or recontextualize artists that played a formative role in Dodiya's development as a Bombay- and Paris-trained artist. Furthering the narrative at Chemould Prescott Road, Dodiya also presented Falling Ancestors in Naumann's Land (2012–13), which presented six archival portraits, including those of Marina Abramovic, Andre Breton and Marcel Duchamp.
This returns us to Wang Luyan's gun at Pékin Fine Arts, which invoked a kind of United Nations sub-theme given its visual connection to Carl Fredrik's Non-Violence sculpture: a knotted gun that stands outside the UN headquarters in New York City. But the message of globalism is ambiguous in the art fair space, especially when thinking about how Wang's gun is unknotted.
It is the ambiguity of such works that brings us back to the cultural tilt felt at ABHK this year, and those common tropes—flowers, skulls and buddhas—that are so often viewed on Hong Kong's antiques mile, Hollywood Road. Yet, in thinking about the Buddha works, something universal emerged from these visual clichés, as expressed in Birgit Jürgenson's 1990 Illumination, three illuminated heads of Buddha at Galerie Hubert Vinter, and in Yuji Honbori's cardboard sculpture Amitabha (2014), depicting the saviour Buddha known in sankrit as "Infinite Light."
Illumination—light—is a universal language, and has manifested formally and conceptually in different ways around the world (in the west, for instance, there is "Christ"). From this angle, it was interesting to look at the gouache and gold leaf on wasli works by Khadim Ali and Sher Ali at Gandhara Art, titled Transitions. In this series—in which Buddha's temptation by Mara is referenced—the use of gold elements in the illustrations and the depictions of mythological stories echoed Stelios Faitakis's use of gold as a key element in works that borrow from the Byzantine tradition to tell stories of the Greek reality at The Breeder. This was then followed by Glenn Kaino's image of a city in which the satellite dishes have been turned into gold orbs (Rooftop Studies, 2012) at Kavi Gupta—gold orbs not unlike those by James Lee Byars' that were mounted on a wall at Michael Werner: a work from 1995 titled Five Points Make a Man presented alongside Byars' sculptures The Lucky Stone and The Moonbook (both 1980).
Byars' works pointed to a certain truth at the fair: that form and light are two things that connect art production from all corners of the world, because they signify a kind of material transcendence—from life, from the city, and from reality itself. In fact, these two things, form and light, are what characterize the work of Monir Shahroudy Farmanfarmaian, Iran's premier modernist, who was presenting her signature mirror and reverse-glass painting works—in part inspired by the interiors of Islamic mosques—at ABHK with Ota Fine Arts. Indeed, one might say light and form are what directed Adrian Wong's wonderful Tatlin-tower-esque construction at Rhona Hoffman, which used Hong Kong's characteristic swirling barber pole lights as a key element: a unity between form and commerce, perhaps, transformed into the ideal shape of a mountain.