Feature
Tough love: documenta 14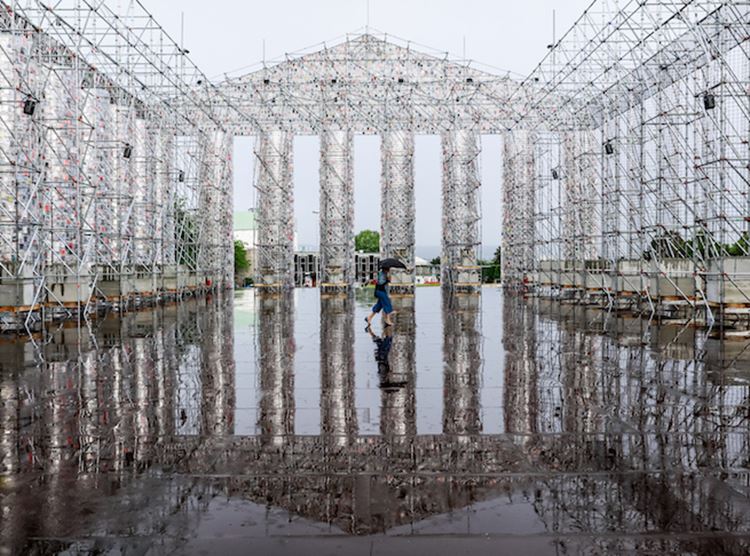 documenta 14, Kassel (10 June–17 September 2017). Courtesy Ocula. Photo: Charles Roussel.
To find 'Athens' in the Kassel chapter of documenta 14, Learning from Athens, is easy. At the Fridericianum, one of documenta's central venues in the German city, the National Museum of Contemporary Art in Athens (EMST) is presenting an exhibition of works from its collection, titled ANTIDORON. The title, which can refer to blessed yet unconsecrated leavened bread, is interpreted in the exhibition's wall text as the return of a gift or loan.
The concept is fitting when considering the split artistic director Adam Szymczyk created when he decided to stage the exhibition across two cities for the first time in documenta's history, each located at opposite ends of the European spectrum, geographically, culturally and fiscally—a 'gift' to crisis-inflicted Athens in terms of the redistribution of capital (both economic and symbolic) and an anti-gift to Kassel, which had to share its wealth with another place. (A gesture that mirrors Germany's role in managing Greece's economic crisis, and the divisive politics that have occurred therein.)
On a wall at the entrance to the Fridericianum there is a list of artists taking part in ANTIDORON, at the bottom of which are three names singled out as 'documenta 14 participating artists in the Fridericianum', making it unclear as to whether the artists of the EMST show are part of the main exhibition or not. The gesture recalls the discontent in Athens surrounding documenta 14's ambiguous approach to the city that has lent its name to the entire quinquennial event. A sentiment driven by the title's objectification and its subsequent effects on the ground in the Greek capital, made worse by the title's suggestion that documenta 14 would effectively be speaking not only for Athens but the city's art scene throughout the build-up to the exhibition's opening, and a controversial interview that took place after the Athens launch, in which Szymczyk stated never having an interest in working with the local art scene in the first place (which some commentators have pointed out to be untrue).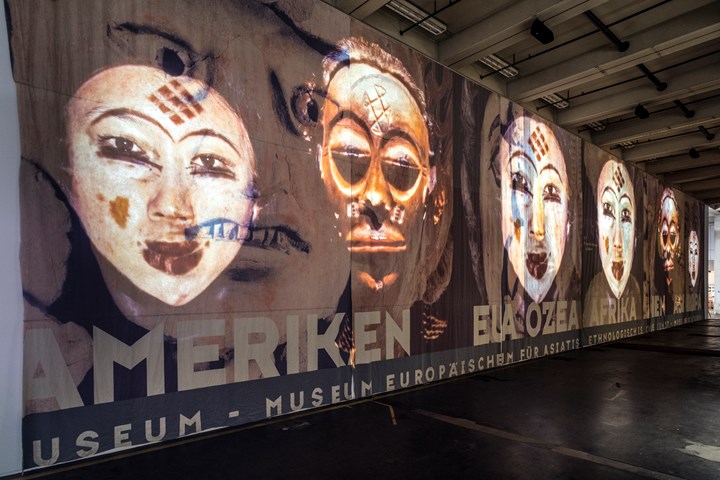 Theo Eshetu, Atlas Fractured (2017). Digital video projected on banner. Exhibition view: documenta 14, Neue Neue Galerie (Neue Hauptpost), Kassel (10 June–17 September 2017). Courtesy documenta 14. Photo: Mathias Völzke.
documenta 14's titular objectification is diagrammed in the Fridericianum, where EMST as a state institution is presented as an 'object' in documenta 14's Kassel curatorial—a process that was also reflected in certain points in the Kassel exhibition, with some irony. Take Geta Brătescu's short video Automatism (2017) at the Neue Galerie, which shows a man cutting through large vertical canvases positioned in a line, Fontana-action style, until he reaches a man at the end, who is theatrically stabbed. (A sketch depicting this scene nearby draws blood.) To abstract something, or make it iconic, you need to symbolically kill it first—this is the first step in understanding what Learning from Athens has demonstrated to those who have observed its 'lessons'. To reduce an entire context into a frame for an exhibition that doubles as a world stage is an inherently violent act, even when enacted with good intentions. (Which is why there is a sense that future curators will indeed be learning from Athens.)
But the politics of the exhibition's title and its impact in real terms is just the tip of the iceberg when it comes to the overlapping and underlying logics behind documenta 14. At least, this is what comes out in the Kassel exhibition, where all the loose threads left dangling in the Athens show come together. Take Theo Eshetu's Atlas Fractured (2017), a powerful video that presents a grand facial tour of culture, in which faces depicted in the art of various religions and societies, from Buddhist to Minoan (plus portraits of Bowie and Tupac), are projected onto living visages. In Athens, the work is shown at the Conservatory in a small black room with golden tinsel-lined walls.
In Kassel, another version is projected at the Neue Neue Galerie on a large banner draped over a huge wall depicting masks that represent Africa, America, Oceania, Asia and Europe. (The banner once hung from the front of the Ethnologisches Museum in Berlin-Dahlem.) The soundtrack for both versions of the video is the same: over an epic, sci-fi warp (which includes a stretched-out version of the Rolling Stones' 'Gimme Shelter') we hear voices. There's Angela Davis, Charlie Chaplin, and Maya Angelou, who recites the last section of her poem, The Human Family: 'We are more alike, my friends, than we are unlike.'
Angela Melitopoulos, Crossings (2017). Video and sound installation. Exhibition view: documenta 14, Giesshaus (University of Kassel), Kassel (10 June–17 September 2017). Courtesy documenta 14. Photo: Mathias Völzke.
That our differences are a thin line separating a shared, inherent likeness is also conjured at the former Giesshaus foundry, a rotunda whose interior dome feels like a cross between a miniature pantheon and a Turkish hammam, and which once operated as part of a Nazi arms factory. Here, Angela Melitopoulos' Crossings (2017), made with the participation of Angela Anderson and Maurizio Lazzarato, weaves oral and visual testimonies together in a four-screen and sixteen-channel installation. In focus are the ancient fort of Sounion and the Lavrion mines (the site of a slave rebellion), Greece's oldest refugee camp in modern-day Lavrio (in operation for some sixty years and effectively managed by the Kurdistan Workers' Party), the island of Lesbos (a focal point in the Mediterranean migrant crisis), and the forest of Skouries in Northern Greece, currently being developed by Canadian mining company Eldorado Gold (around which protests have focused on the exploitation of the region's natural resources). In one clip, a Skouries local admits that he will become a terrorist if he witnesses the pillaging of his land for much longer, implying that violence is the only way to go when all other options have been exhausted. In another, migrants are filmed declaring 'fuck you' to the European Union and everyone else while they watch their refugee camp burn to the ground.
A narrator describes these scenes in Crossings as the 'signs and sounds of an epochal reconfiguration'; expressions not of 'a clash of civilisations' but 'a war of subjectivities installed by capitalism.' As one member of the anti-mining movement in Skouries notes, capitalism does not only colonise lands; it colonises our souls, extracting every possible resource the natural world has to offer, including the human mind. This reality—and the struggle against it—is a key component of the Greek crisis: a fact that documenta 14 expands on by considering how various indigenous movements have experienced similar forces, including the Sámi, whose territory crosses from Northern Europe into Russia. Sámi artist Máret-Ánne Sara presents a series of works grouped under the title Pile o' Sápmi (2017) at the Neue Neue Galerie, which includes a curtain of reindeer skulls and two lightboxes presented side by side. One lightbox shows an 1892 image of a man sat atop a mound of buffalo skulls, reflective of a United States military tactic during the conquest of the American West to eradicate a crucial Native American resource. The other presents a photo of a pile of some 200 reindeer heads with a Norwegian flag placed at the top—documentation of an incident that occurred when legal proceedings were initiated against the Norwegian Reindeer Herding Act of 2007, an obligatory reindeer cull, by the artist's brother (a Sámi reindeer herder), who described the Act as 'tantamount to enforced bankruptcy.' (Sara's brother won the case, but the Norwegian government has appealed the ruling.)
Naeem Mohaiemen, Two Meetings and a Funeral (2017). Three-channel digital video installation. Exhibition view: documenta 14, Hessisches Landesmuseum, Kassel (10 June–17 September 2017). Courtesy documenta 14. Photo: Michael Nast.
Throughout documenta 14, peoples and places are connected by a common struggle: for access to common resources that larger powers seek to claim and limit, often violently. Naeem Mohaiemen's Two Meetings and a Funeral (2017) is an excellent three-channel video study of the Non-Aligned Movement—established in 1961 by a group of states from within the burgeoning Third World liberation movement to offer a third way through the Cold War binaries of the time. Shown at the Hessisches Landesmuseum, the documentary follows historian Vijay Prashad, leftist politician Zonayed Saki, and writer and activist Samia Zennadi into events and architectures associated with that history. It also features archival interviews with figures from within the movement, which are interspersed with footage from a 1973 NAM summit in Algiers attended by such figures as Che Guevara and Yasser Arafat. In one clip, Marcelino dos Santos, a founding member of FRELIMO for liberation of Mozambique, points out how important it is for Non-Aligned member nations to control their national resources and strengthen their economies in order to consolidate their political positions on the global stage.
The Non-Aligned Movement did push for a new world economic order that recognised the mutual reliance of the North and South, but this was blocked, as Vijay Prashad has written, by developing Reaganite and Thatcherist policies in the 1980s. This backstory seems crucial when thinking about one of documenta 14's core gestures. By redistributing half of the exhibition's 37 million euro budget to Athens, one of Europe's Southern states, documenta 14 effectively engaged with the idea of North-South exchange on both a practical and state level. On that note, it makes sense that a large stage built into Kassel's documenta Halle by Annie Vigier and Franck Apertet is presented alongside a wall text mentioning the common form of the 'Italian style' theatre, in which a single space is divided into two separate areas facing or confronting one another. Learning from Athens is a performance, or a staging, of an oppositional game of give and take, in which a concrete gesture of exchange has manifested as an abstract concept within the curatorial itself.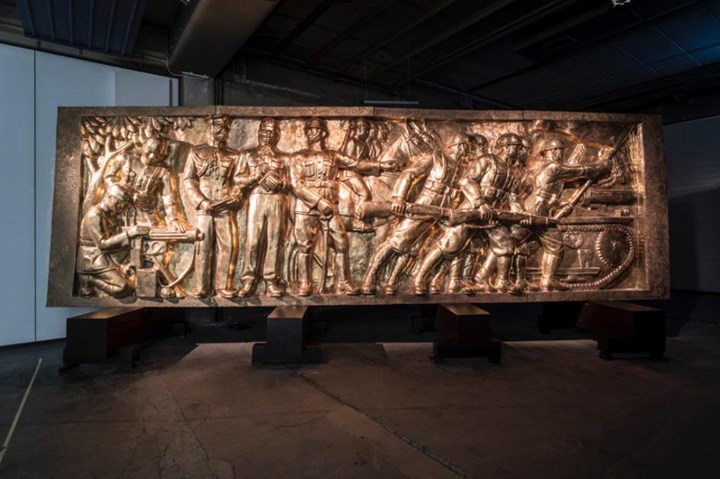 Arin Rungjang, 246247596248914102516... And then there were none (democracy monument) (2017). Wood and brass sculpture. Exhibition view: documenta 14, Neue Neue Galerie (Neue Hauptpost), Kassel (10 June–17 September 2017). Courtesy documenta 14. Photo: Mathias Völzke.
In both cities, a non-aligned expression of the world as it stands, complete with historical threads that converge and diverge, unfolds. At the Benaki Museum's Pireos Annexe in Athens, Arin Rungjang's installation of oil on paper works depicting newspaper spreads and a digital video, And then there were none (Tomorrow we will become Thailand) (2016), unifies two significant events that took place in 1973 just one month apart in Bangkok and the Greek capital—the Thanmost University uprising (October) and the Polytechnic Uprising (November), respectively; both against military dictatorships. In Kassel, Rungjang considers the ambiguous nature of a 1932 monument dedicated to the democratic revolution in the Philippines that became associated with fascism until that 1973 student movement reclaimed its symbolism. A partial reconstruction of the monument is shown alongside the film 246247596248914102516... And then there were none (2017), which narrates semi-fictional recollections by those from the student movement who fled Bangkok post-uprising, over a scene of a man and woman dancing by a Berlin tower block.
Some space is devoted to the themes of upheaval, war and its aftermath in Kassel. There are Sunil Jan's Gelatin silver prints from 1943–1944 documenting the Bengal Famine during World War II, and Karl Hofer's painting Mann in Ruinen (Man among ruins) (1973), which shows a body emerging from a scene reminiscent of the bombed-out model of Kassel depicting the results of an air raid in 1943, on view at Stadtmuseum as part of its permanent display. There, Hiwa K presents View from Above (2017), a video that focuses on that model while the artist narrates a story scripted by him and Lawrence Abu Hamdan about displacement from safe and non-safe zones and strategies that are produced to enter or escape them. (The story is told as the camera performs a slow and steady sweep over the model, which sits just beyond the room where the video is screened.) The overall effect is an inter-relation of histories, sites, and subjectivities, which feels like a key undercurrent of this exhibition, through which the underlying function of the Athens-Kassel split becomes apparent; particularly when thinking about the dynamics that occur when various entities are positioned to face one another.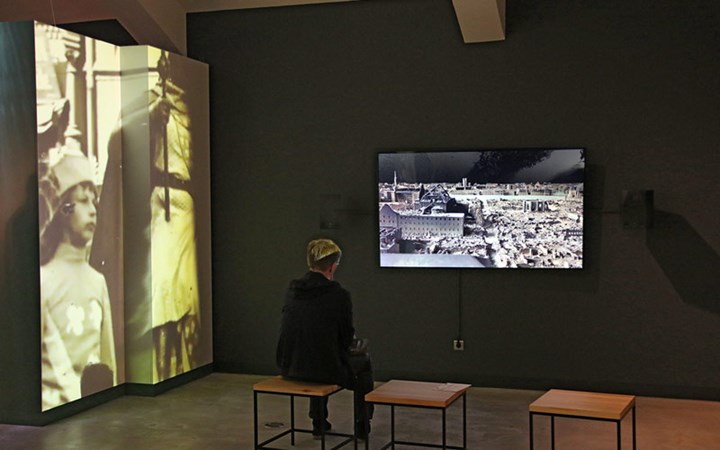 Hiwa K, View from Above (2017). Digital video, colour, sound. 11:23 minutes. Exhibition view: documenta 14, Stadtmuseum, Kassel (10 Jun –17 September 2017). © Photo: Haupt & Binder.
Certain works seem to act like portals between Athens and Kassel as an illustration of this point. Bouchra Khalili's The Tempest Society (2017) is presented in exactly the same way in both cities: in a dark room with theatre seats positioned in front of a large freestanding screen. The video shows three contemporary actors, who form 'The Tempest Society', tracing the steps of a group known as al-Assifa ('The Tempest'), started by two French students and a Moroccan migrant in 1970s Paris. At one point, there is a musical interlude in which a rembetiko song about a 'little refugee' draws parallels, through an association of present with past, between the displaced Greeks of Asia Minor coming to Greece in the 1920s (part of rembetiko's legacy as a form of political expression), the Greeks coming to West Germany between the 1950s and 1970s as part of a postwar guest worker programme, and the migrants in both places today. There is an appeal embedded into the gesture here, in which viewers are implored to see the world not as a site of clear-cut division, but as 'a fragmented image that connects all of us'—an image that emerges from histories told through lives, not books. (To quote and paraphrase one actor in the film.)
Bouchra Khalili, The Tempest Society (2017). Digital video. Exhibition view: documenta 14, Athens School of Fine Arts (ASFA)–Pireos Street ('Nikos Kessanlis' Exhibition Hall), Athens (8 April–16 July 2017). © Bouchra Khalili/VG Bild-Kunst.
History as an embodied experience is very much part of documenta 14's focus: an approach that rejects dominant, sanctioned narratives that act in the service of nationalism, empire, or capitalism, through which 'others' are identified in order to create and preserve a cohesive cultural—and thus, political—identity (and form). The exhibition pushes this rejection outwards and inwards by offering space for colonial and post-colonial representations and gazes to commingle and overlap without ignoring the inherent hierarchies and contradictions encoded into documenta's structure as an international exhibition funded by the German state—a European power that has been accused of neocolonialism. Aside from an edition of the Code Noir, there is Basil Wright's 1934 Song of Ceylon in Athens: an in-depth study of the Sinhalese and the impact of industrialisation on their culture, albeit in a film sponsored by the Empire Tea Marketing Board and the Ceylon Tea Board. At Tofufabrik in Kassel, Véréna Paravel and Lucien Castaing-Taylor's video and film installation Commensal (2017) presents a haunting interview with a Japanese cannibal who killed a white woman (he had a Grace Kelly fantasy), ate her, and created a manga comic about the experience. It is at once a compelling yet uncomfortably fetishistic study of objectification on multiple levels, depending on who is looking. (And given Japan's imperial history, and the nation's postwar associations with the United States.)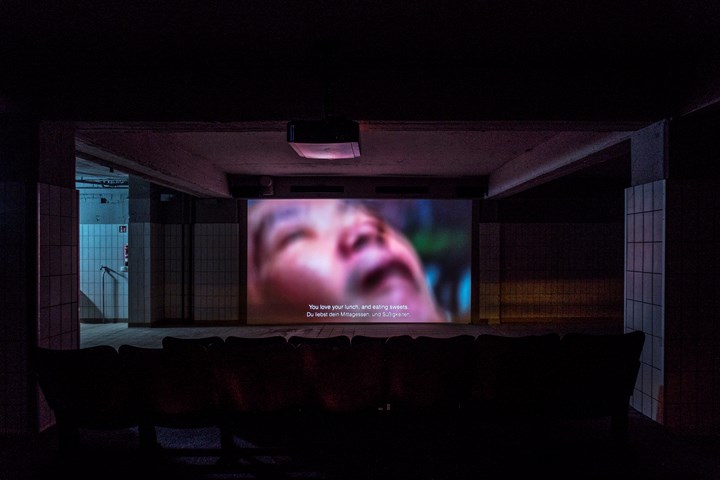 Véréna Paravel and Lucien Castaing-Taylor, Commensal (2017). Video and film installation. Exhibition view: documenta 14, Tofufabrik, Kassel (10 June–17 September 2017). Courtesy documenta 14. Photo: Mathias Völzke.
Presented in isolation, Commensal seems to reflect documenta 14's study of othering in all its forms—a multi-faceted view that collapses the 'us' versus 'them' binary into something multi-positional yet still fundamentally problematic, which might explain how unnerving documenta 14's decolonial-global gesture has been for many. For one, there is the deliberate visibility of the so-called white gaze throughout; even in the figure of its artistic director and the institution he embodies. But that violence—of the coloniser engaging in a decolonial conversation with the colonised—is the drama that Learning from Athens created, knowingly or not. And while there are those who say this exhibition has no humour, it does have one. At the Benaki Museum in Athens, one work by RH Quaytman shows artistic director Adam Szymczyk in hazy profile, pulling a quiet Hitchcock. This self-objectifying gesture says something about Szymczyk's approach to his role as a 'global curator' of a historical, world-renowned, western state-funded exhibition. It all seems set it up so that the politics of acting globally through the infrastructures of the art world would become the subject of a global exhibition whose contradictions form the conceit.
Exhibition view: RH Quaytman, documenta 14, Benaki Museum—Pireos Street Annexe, Athens (8 April–16 July 2017). Courtesy documenta 14. Photo: Stathis Mamalakis.
All of which brings us to critic Ben Davis' apt description of the Kassel show as a controlled demolition. With all the talk of documenta 14 being an act of neocolonialism, this scenario appears to have been turned into a logic that fed into the curatorial, which is at once a study of colonial processes and their implications in the present, and an illustration of how such binary concepts that characterise colonial impulses, including the division between 'North' and 'South', are being problematised as a result of increasing enmeshment. The result is a reappraisal of a unified global ideal often perpetuated in art world curatorials, since universalism as a cohesive aspiration is a colonial construct (think Exposition Universelle). documenta 14's view of 'universality' seems more in line with Terre Thaemlitz's Lovebomb/Ai No Bakudan (2003–05) at Kassel's Museum für Sepulkralkultur. This electroacoustic audio and visual installation compares, among other things, the totalising nature of western love songs with an anthropologist's work, describing the universality in popular ballads as a 'mentally invasive violence' that, like anthropology, 'begins where it hopes to end: with a conclusion' identifying the 'parameters of difference...'
It is this contradictory universalism—'there is no love song that extends beyond insulting reductionisms', to quote Lovebomb—that documenta 14 puts to task in order to reflect on the issues that lie at the heart of the universal, or global, concept. One text box included in Lovebomb's narration offers a rationale for this approach: 'when strategising co-existence in a global context love is not the answer'. documenta 14 seems to embrace this sentiment without apology, not least in the curatorial split it enacted between two cities and the impact it had on both—after all, it is violence, and not peace, that binds so many histories together. Lala Meredith-Vula's enlarged photographs from the series 'Blood Memory' pasted onto the walls of EMST in Athens offer a bittersweet punch to this point. Taken in 1990, the images depict reconciliation gatherings in Kosovo, organized by students and villagers against deadly medieval blood feud laws; and they are hopeful. Even if feuds live on, attempts at resolution are made. —[O]