News | Artists
Thai Artist Apichatpong Weerasethakul Wins Jury Prize at Cannes
The winning film, Memoria, was inspired by the filmmaker's experience of Exploding Head Syndrome.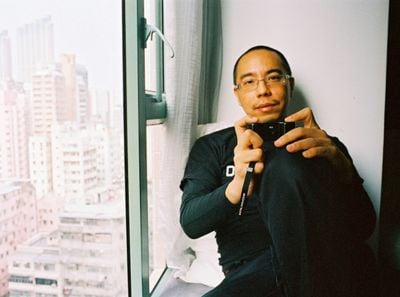 Apichatpong Weerasethakul. Courtesy Kick the Machine.
Artist and filmmaker Apichatpong Weerasethakul has won the Jury Prize at the 74th Cannes International Film Festival for his first English language feature film.
Memoria was inspired by a strange phenomenon in his own life.
'I was startled by the sound of an explosion,' he wrote in an introduction to the film. 'It was a bomb, at dawn, not from elsewhere but within my head. This, I later learned, is called the Exploding Head Syndrome.'
The filmmaker says he learned to initiate these explosions and tune them 'like a conductor or an animal trainer'.
He wondered if the way this spontaneous exploding sound interrupted his dreams and distorted their logic would be similar to experiencing other people's memories or making a film in a foreign country.
Memoria is the first film Weerasethakul has shot outside of Thailand.
The official trailer for Memoria. Courtesy Burning.
Tilda Swinton plays Jessica, an Englishwoman who travels to Bogota to visit her sisters. She experiences something like Exploding Head Syndrome and seeks to understand what it might mean.
In his acceptance speech, Weerasethakul thanked those who worked on the film, and singled out Swinton for special praise.
'Tilda, we talked a lot about this dream, and here we are. You are one of the most remarkable human beings, you have taken me under your wing and I'm very lucky to be with you,' he said.
Weerasethakul won the Jury Prize at Cannes in 2004 for his film Tropical Malady, and the Palmes d'Or in 2010 for Uncle Boonmee Who Can Recall His Past Lives.
In addition to making films, Weerasethakul makes video art and installations. His works are in the collections of: the Tate, London; Fondation Louis Vuitton and Centre Pompidou, Paris; the San Francisco Museum of Modern Art (SFMOMA); the Museum of Contemporary Art Tokyo; M+ Museum, Hong Kong; and others.
His major solo shows include Primitive at the New Museum, New York, in 2011; For Tomorrow For Tonight at the UCCA Center for Contemporary Art, Beijing, in 2011; and The Serenity of Madness at the Taipei Fine Arts Museum in 2019.
He has shown at galleries including Edouard Malingue, SCAI the Bathhouse, Kurimanzutto, and ShanghART. —[O]