News | Market
Art Assembly Acquires Auckland's Aotearoa Art Fair
New Zealand's premier art fair joins events such as Sydney Contemporary, Art SG, and the forthcoming Tokyo Gendai under the Art Assembly umbrella.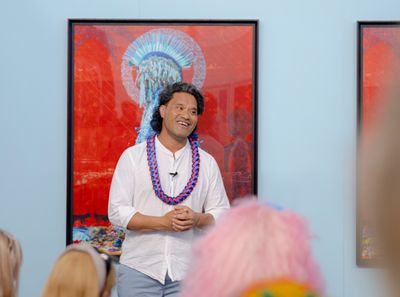 Artist Telly Tuita at the Bergman Gallery booth during the Aotearoa Art Fair, Auckland (2–5 March 2023). Courtesy Aotearoa Art Fair. Photo: Luke Foley-Martin.
Art Assembly has added the Aotearoa Art Fair to its existing portfolio of five art fairs in the Asia Pacific. They purchased the fair, previously known as Auckland Art Fair, from North Port Events.
'The Aotearoa Art Fair has changed hands and is now part of The Art Assembly Group, owned by Tim Etchells and Sandy Angus,' confirmed Hayley White, Fair Director of the Aotearoa Art Fair.
'This is an exciting moment for the fair, and a next stage in its growth,' she said. 'I'm pleased we are handing over the reins to a company with a greater international footprint and relationships across the globe that will only benefit the fair and our partner galleries.'
This year's Aotearoa Art Fair took place from 2 to 5 March. It gathered 40 galleries, 13 of them from overseas, at The Cloud on Auckland's waterfront.
Asked how the acquisition factors into Art Assembly's broader business strategy, Etchells said, 'the Art Assembly Group wants to build on its strengths in Asia Pacific.'
'We're looking forward to developing our relationships with the collector base in New Zealand and also encouraging Australian collectors to come to the Aotearoa Art Fair, [as well as] the reciprocal flow of collectors between New Zealand and Australia,' he said.
Etchells was unable to divulge financial details of the deal, but he did confirm that the acquisition includes the Aotearoa Art Fair brand, its staff, and its office.
Aotearoa Art Fair, Auckland (2–5 March 2023). Courtesy Aotearoa Art Fair. Photo: Luke Foley-Martin.
Hayley White is the daughter of North Port Events' co-founders Dona and Gavin White. Pregnant with her second child, she will step down as fair director to focus on her family.
'I remain committed to the success and growth of the Aotearoa Art Fair and look forward to supporting and working with the group in some way, shape, or form,' she said.
Etchells noted that White had worked for Art Assembly in London, and hoped she would continue to be involved in the Aotearoa Art Fair in some way. He said they would announce a new fair director 'in the coming weeks'.
He described Aotearoa Art fair as 'a great brand', but added that 'we will look at it and there may be some changes if we feel they're needed.'
Alison Bartley, founder and director of Bartley + Company Art—one of the galleries at Aotearoa Art Fair this year—was supportive of Art Assembly's acquisition.
'They are professionals, run a good art fair, know what they are doing, and local galleries who have participated in Sydney Contemporary will be familiar with them,' she said.
Bartley suggested Aotearoa Art Fair 'needs to stay small and boutiquey to differentiate from Sydney which is twice the size of Auckland.'
Gallerist Jhana Millers said, 'I am looking forward to working with Art Assembly on how we can better promote our artists and the gallery at the other fairs they organise around the Asia Pacific. We would love to present out artists in Sydney, Shanghai, Singapore, and Tokyo and this is an exciting prospect.'
'I love change, it keeps things fresh and exciting. But honestly, I can't see how a change of ownership will transform things that much for local galleries,' countered Scott Lawrie, founder of the eponymous Auckland gallery.
'We're in a low-sales, low-margin, high-cost market at the moment,' he continued. 'So the new owners will have a lot of work to do—many galleries didn't even break even at the most recent fair at The Cloud.'
'Here's hoping they come up with something spectacular—because they're going to need to,' Lawrie said. —[O]