News | Market
Magnus Renfrew's Art Assembly Announces New Japanese Fair
Tokyo Gendai will launch in July 2023, stealing some thunder from Art Week Tokyo, which continues its partnership with Art Basel in November.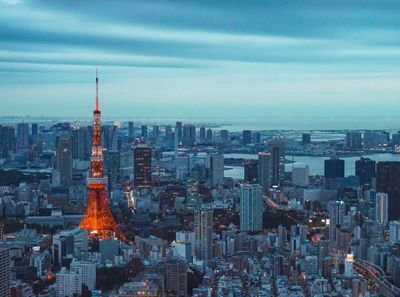 Tokyo. Courtesy Tokyo Gendai.
The Art Assembly will add a Tokyo event to its growing portfolio of art fairs in the Asia Pacific, which includes Taipei Dangdai, India Art Fair, Sydney Contemporary, PHOTOFAIRS Shanghai, and ART SG, which will launch in January next year.
Tokyo Gendai, which takes its name from the Japanese for contemporary, will launch at the Pacifico Yokohama convention centre from 7-9 July 2023.
It will be helmed by independent art consultant Eri Takane as Fair Director. Takane, who previously worked with art not-for-profits at the Japan Foundation in New York, will work closely with The Art Assembly's co-founder, Magnus Renfrew to develop the event's programming.
Tokyo Gendai will be a key hub for Asian and Western galleries while also serving as a site for collectors and visitors to not only discover exceptional contemporary art but also immerse themselves in Japanese culture,' Takane said.
The fair will consist of a core Galleries sector, and three specialised sections: Hana, Eda and Tane (meaning flower, branch and seed). Hana will offer solo and duo shows by mid-career and emerging artists, while Eda will present thematic exhibitions and solo and duo shows by established or historically significant Asia artists. Tane, meanwhile, will showcase digital media including NFTs, films, AR and VR, and gaming.
Tokyo Gendai's organisers aim to attract 80 to 100 exhibitors to the fair.
Renfrew, who founded The Art Assembly with Sandy Angus and Tim Etchells this year, was optimistic about gallery interest. He told Ocula Magazine 'we already have very strong support from the Japanese galleries who have expressed their excitement to be a part of things'.
Exhibitors will be selected by a committee comprising art world figures such as Pace Gallery President and CEO Marc Glimcher, Blum & Poe's Tim Blum, Director of Sadie Coles HQ John O'Doherty, and Each Modern founder Yaji Huang.
Tokyo Gendai Fair Director Eri Takane. Courtesy Tokyo Gendai.
Asked why Tokyo, Renfrew referenced the 'untapped potential of the market'.
'Tokyo is the second wealthiest city on the planet' he said, but 'there has not been an international level art fair in Japan for decades.'
Renfrew was not discouraged by the lack of activity in Tokyo's international art market since the Nippon International Contemporary Art Fair in 1992. He stressed that 'we can't compare the 1990s with the 2020s as the world has moved on a lot since then, especially the art scene in Asia.'
He pointed to a new generation of internationally-minded and experienced collectors joining Japan's established collector base, as well as Japan's current economic strength, and the country's continued influence on regional and global culture.
Opportunities have also grown significantly since the country revised its tax rules and import duties in 2021, to better enable international galleries to transact at art fairs and in free-port zones.
'We have great belief in the potential for the art scene in Tokyo based on our extensive researches and the strong support from stakeholders in the community' Renfrew said. 'We believe in Tokyo and are investing for the long term'.

PACIFICO Yokohama. Courtesy PACIFICO Yokohama.
Art Basel Persists With Its Art Fair Alternative in Tokyo
While Tokyo Gendai takes the plunge with a fully-fledged fair, Art Basel continues its more circumspect approach to the city's art scene by continuing its partnership with Art Week Tokyo.
Art Week Tokyo's director, and owner of Take Ninagawa, Atsuko Ninagawa told Ocula Magazine that their collaboration with Art Basel came about organically, partly through her role as a member of Art Basel Hong Kong's selection committee and through her involvement in discussions with colleagues in Japan on how to nurture the local art scene.
'Despite the size of the domestic art market here, the international contemporary art fair has historically not been such a successful model for Tokyo', said Art Week Tokyo's director, and owner of Take Ninagawa, Atsuko Ninagawa. 'I think everyone was interested in trying something different, with a strong educational and community-driven focus.'
Art Week Tokyo Director Atsuko Ninagawa. Photo: Katsuhiro Saiki.
Ninagawa noted the challenges in the 'independent spirit' intrinsic to the Tokyo Art scene which has created 'a constellation of microcosms' across the city. 'The intention of Art Week Tokyo is to bridge those different pockets of activity without homogenising them' Ninagawa said.
After a 'soft opening' last year that attracted over 20,000 visitors to 50 participating spaces across the city, Art Week Tokyo will return from 3 to 6 November with 52 galleries and institutions taking part.
Most of the galleries that participated last year will return, including Blum & Poe, Perrotin Tokyo, SCAI The Bathhouse and Takashi Murakami's Kaikai Kiki Gallery. Newcomers include KOSAKU KANECHIKA, SNOW Contemporary, and LEESAYA.
All six institutions participating last year will return, joined by five newcomers including the Museum of Contemporary Art Tokyo, The National Art Center, Tokyo, and Shiseido Gallery.
A full list of Art Week Tokyo exhibitors can be found here.
In a sentiment shared by Renfrew, Ninagawa said that when it comes to commercial art events in the region, including the launch of Frieze Seoul in September this year, 'the more we have the better'. —[O]