News | Galleries
ART SG Announces Over 150 Exhibitors for Inaugural Edition
The new Singaporean art fair, billed as Southeast Asia's biggest at launch, will debut in January 2023.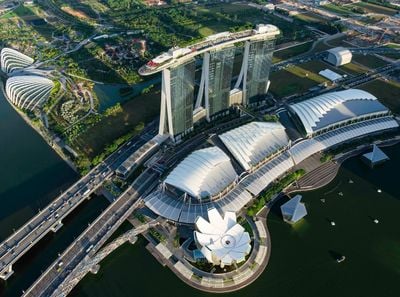 Marina Bay Sands, Singapore. Courtesy Marina Bay Sands.
The exhibitors have been announced for a major new art fair that will launch in Singapore early next year.
ART SG will showcase over 150 galleries at the Marina Bay Sands Expo and Convention Centre from 12 to 15 January 2023.
Among them are global giants Gagosian, Pace, and Perrotin, as well as regional heavyweights such as Pearl Lam, Yavuz, and ShanghART.
First announced in 2018, ART SG was postponed after Art Basel's parent company MCH Group rescinded their support. MCH Group has since acquired a 15% stake in the fair.
The event is being organised by The Art Assembly with lead partner UBS. The Art Assembly operates five other fairs across the Asia Pacific: Sydney Contemporary, the India Art Fair, PHOTOFAIRS Shanghai, Taipei Dangdai, and the newly announced Tokyo Gendai.
ART SG Co-Founder Magnus Renfrew and Fair Director Shuyin Yang. Courtesy ART SG.
'As Southeast Asia's most selective and largest art fair to date, the launch of ART SG will create a defining moment in Asia's cultural landscape and shine a spotlight on Singapore,' said Magnus Renfrew, Co-Founder of The Art Assembly and ART SG.
'The scale and calibre of our inaugural exhibitor list demonstrates a strong commitment and shared belief in the importance of the art market in the region,' he said.
Shuyin Yang, former director of Art Central in Hong Kong, will direct the new fair.
'With the return of large-scale events to Singapore, we have observed a heightened regional demand for stimulating engagements, conversations, experiences with art,' she said.
ART SG fills a void following the departure of Art Stage Singapore, which endured from 2011 until 2019, when it was cancelled just one week prior to its scheduled opening.
The new fair will take place alongside S.E.A. Focus, which is also backed by Art Basel, during Singapore Art Week. The full list of next year's ART SG exhibitors, including S.E.A. Focus organisers STPI - Creative Workshop & Gallery, can be viewed here. —[O]