News | Exhibtion
Art Toronto Introduces Discover Section
A total of 110 Galleries will participate in the Canadian fair's 24th edition in October.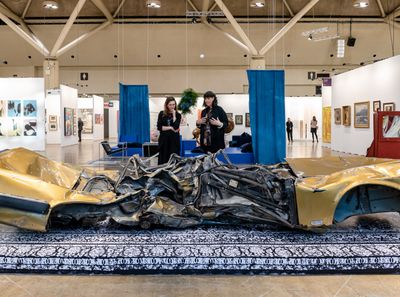 Installation view of Art Toronto, 2022. Courtesy Art Toronto.
Canada's largest and oldest international art fair returns to the Metro Toronto Convention Centre from 26 to 29 October.
In all, 110 Galleries will participate in Art Toronto, an increase from the 91 that took part last year. That includes newcomers to the fair such as local gallery Bonny Poon /Conditions, Chicago gallery Andrew Rafacz, and Paris-based Nil Gallery.
Returning regulars include Vancouver's Catriona Jeffries, Cooper Cole from Toronto, Pangée from Montreal, and The National Gallery of Canada in Ottawa.
'Over the past year, we concentrated on expanding our network with world-class museums and galleries to bring their programmes to Toronto,' said Art Toronto's director Mia Nielsen.
The fair has added a new Discover section dedicated to presenting emerging Canadian artists and championing the galleries that support them.
The section replaces the fair's 'Next Space' section, which was introduced in 2022 and offered free exhibition space to any gallery or collective in their first two years of operation.
Eight galleries from across Canada have been selected for the fair's inaugural Discover programme.
They include Fazakas Gallery, Macaulay & Co. Fine Art, and Unit 17 from Vancouver, and Montréal galleries, McBride Contemporain and Galerie Nicolas Robert.
Also taking part in Discover are Katzman Art Projects from Halifax; Lalani Jennings Contemporary Art from Guelph; and Buffalo-based Rivalry Projects, who will exhibit works by Brendan George Ko, David Hilliard and Hannah Secord Wade.
Art Toronto's programme is led by Canadian curator Kitty Scott, who will present the fair's Focus Exhibition, titled Good Foot Forward. Scott has curated Canada's Pavilion for the 57th Venice Biennale in 2017, co-curated the Liverpool Biennale in 2018, and served as chief curator at the National Gallery of Canada.
The exhibition will feature artworks by 15 artists that explore issues of sovereignty, healing, the politics of real estate, and contradictions of contemporary life.
At the entrance to the Focus section will be First Nation artist Duane Linklater's precarious sculpture I want to forget the english language (ulterior) (2020/2023). The work is a stack of objects: a museum dolly, tipi poles, Tupperware, a stone.
'It seems to ask "How are we to live today?",' Scott said. —[O]