News | Galleries
Cecilia Alemani, Curator of Venice Biennale, to Lead Art Toronto Talks
The fair will also debut a new exhibition format featuring works by Nan Goldin and Laurie Kang.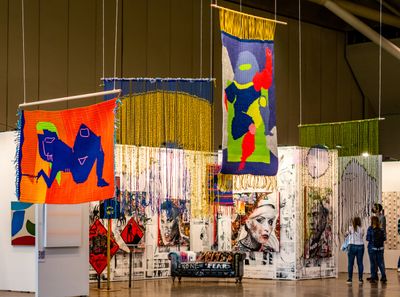 Art Toronto 2021 with works by Virgil Baruchel of Corkin Gallery.
Art Toronto has announced details of its 23rd edition, which takes place at the Metro Convention Centre from 27 to 30 October.
Cecilia Alemani, the 2022 Artistic Director of the 59th International Art Exhibition at the Venice Biennale, entitled The Milk of Dreams, will play a central role in the fair's talks programme.
Alemani will kick off the event with an invitation-only conversation with Gaëtane Verna, Executive Director of the Wexner Centre for the Arts at Ohio State University, followed by a public talk with Sky Goodden, founder of Canadian art publication Momus.
Patel Brown Gallery's booth at Art Toronto 2021.
The fair will also debut a new section, the Focus Exhibition. Organised by London-based curator Marie-Charlotte Carrier, the inaugural Focus, entitled held open, explores the ways we relate to other people and non-human entities. Fifteen artists feature, including Nan Goldin, Laurie Kang, and General Idea, the Canadian artist trio who put on over 100 solo exhibitions prior to two members' deaths in 1994.
A public art programme curated by fair director Mia Nielsen will include site-specific works and large-scale sculptures, by artists such as Ken Lum, Howie Tsui, and Native Art Department.
The vast majority of the 90 galleries participating in Art Toronto this year are from Canada.
'As Canada's art fair, it is important to reflect the voices that make up our nation and continue to support excellence in visual arts,' Nielsen said. 'We look forward to shining a spotlight on not only the diverse Canadian art market but a broader representation of global talents.' The full list of exhibitors can be viewed here. —[O]