News | Artists
Artists in China Endure Harsh Covid-19 Lockdown
'Life is always unpredictable, but art is everywhere,' said painter and animator Sun Xun, who is confined to a hotel room.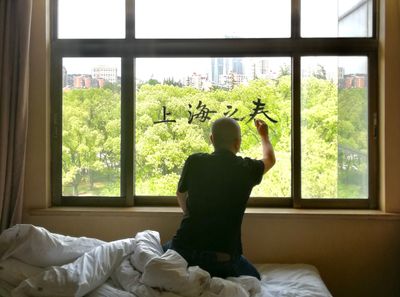 Sun Xun painting in his hotel room, 2022. Courtesy the artist.
Monday 16 May marks the eighth week of a lockdown that has seen Shanghai residents confined to their homes.
Extraordinary measures have been taken to combat the virus.
Individuals have been separated from their families and forcibly moved to quarantine centres, crews in hazmat suits are disinfecting private apartments, and commercial food deliveries have been suspended, leaving people to survive on Government rations.
The lockdowns have disrupted the lives of everyone in the city, including artists.
Sun Xun painting in his hotel room, 2022. Courtesy the artist.
'In April 2022, I should have been busy with my solo exhibition in Shanghai,' artist Sun Xun, who is represented by ShanghART, told Ocula Magazine. 'But instead, I have been living locked down in a hotel for almost 50 days.'
Sun shared images of his efforts to make art under confinement, painting lines from T. S. Eliot's 'The Wasteland' (1922) on a bathroom mirror and flowers in the basin.
'During these days, I am trying to create a new animation work by making use of the existing materials—a challenge to reach infinity within limited conditions,' Sun said.
Sun Xun painting in his hotel room, 2022. Courtesy the artist.
Sichuan-born artist Hu Yinping's first institutional solo, Weaving Realities, was scheduled to open at Shanghai's Ming Contemporary Art Museum on 7 May.
'The exhibition was delayed because of the epidemic in Shanghai, and the whole city came to a standstill,' she said. 'There was nothing an individual could do. I felt a lot of disappointment and sadness.'
Works from Hu Yinping's Weaving Realities exhibition. Courtesy the artist.
Hu's 'Xiaofang and Xiaohuan' series of woven figures, pictured above, has been ongoing since 2015. She also made work in response to the pandemic, including embroidered doctors' jackets and crowd control barriers she had knitted by local ayis.
One barrier reads, 'If someone gets Covid, their whole family will get sick too. Their money and property will belong to their relatives and friends.'
The lockdown has been criticised for its severity, especially as case numbers in Shanghai fall. New cases dropped to 1,500 on Wednesday 13 May, down from 26,000 in mid-April.
Hu Yinping, Everyone Is Responsible For Epidemic Protection (2019-present), wool, cotton, fibre, 120 x 6 cm (98 in all), courtesy the artist and Magician Space.
'When we talk about the "zero-COVID," we don't think that it's sustainable,' World Health Organisation director-general Tedros Adhanom Ghebreyesus said on Tuesday.
Mike Ryan, the WHO's emergencies chief, emphasised efforts to contain the virus should 'show due respect to individual and human rights'.
Photograph by Ma Haijiao, 2022. Courtesy the artist.
In Beijing, residents are undergoing mandatory testing to prevent an outbreak similar to the one in Shanghai. There too, artists are trying to make the best of things.
'Tracing shadows on the ground with chalk is a rather old-fashioned family game,' said Ma Haijiao, whose solo exhibition The North at Tabula Rasa is on hold due to government restrictions.
'We would go downstairs, find an open space within 50 metres in the neighbourhood and take advantage of the receding sunlight of the day to exercise, since after 20 minutes we would have to join the queue for a PCR test,' he said. —[O]