News | Market
Bored Apes Creators Acquire CryptoPunks and Meebits IP
Now that Yuga Labs owns the rights to Larva Labs' creations, what will they do with it?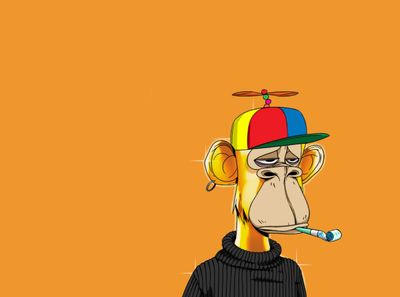 Yuga Labs, Bored Ape 8817 sold for US $3.4 million in October 2021.Courtesy Sotheby's.
Yuga Labs, the creators of the Bored Ape Yacht Club NFTs, announced on Friday that they have acquired the intellectual property rights to Larva Labs' CryptoPunks and Meebits collections. They also picked up 423 CryptoPunks and 1,711 Meebits in the deal for an undisclosed amount.
The acquisition is an unprecedented move that gives Yuga Labs ownership of several of the most valuable NFT projects created so far. Total sales of CryptoPunks have reached US $2.2 billion, while Meebits have racked up an additional $248 million.
Yuga Labs' own Bored Ape Yacht Club has sales of $1.1 billion, plus Mutant Ape Yacht Club sales of $670 million, and Bored Ape Kennel Club sales of $173 million.
One big difference between the two NFT laboratories is the way they've handled intellectual property. Larva Labs initially retained the intellectual property rights to their creations, while Yuga Labs granted collectors commercial usage rights.
Yuga Labs said that following the acquisition they would grant CryptoPunks and Meebits owners 'the same commercial rights that BAYC and MAYC owners enjoy.'
'By handing over these rights, we're further aligning CryptoPunks and Meebits with the web3 ethos, and we expect a wide range of third party developers and community creators to incorporate CryptoPunks and Meebits into their web3 projects,' they said.
The move nudges NFTs in a direction most contemporary art galleries and the artists they represent won't want to follow. Artists like Takashi Murakami, Damien Hirst, Urs Fischer, and Fang Lijun are unlikely to give collectors free rein to create derivative artwork based on their creations.
Larva Labs' co-founders Matt Hall and John Watkinson said they will continue to develop their own projects independent of Yuga Labs.
'Yuga Labs are the innovators of the modern profile picture project, and the best in the world at operating these projects,' they said. 'They are the ideal stewards of the CrytoPunks and Meebits. In their hands, we are confident that they will continue to be vital, thriving projects in the emerging decentralised web.' —[O]