News | Market
Digital Assets Shake Up Auctions at Christie's and Sotheby's
CryptoPunks and cryptocurrency were behind two of this week's most notable sales results — $13 million for a Banksy and $17 million for pixel portraits by Larva Labs.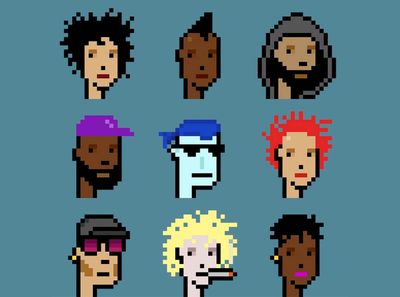 Larva Labs, 9 CryptoPunks: 2, 532, 58, 30, 635, 602, 768, 603 and 757 (2017). Non-fungible tokens. Each 24 x 24 pixels. Courtesy the artists and Christie's.
Jean-Michel Basquiat's Versus Medici (1982) was the top lot at Sotheby's Contemporary Art Evening Auction in New York today, fetching US $44 million, or $50.8 million including fees.
While that price was near the upper end of the $35–50 million estimate, bidding was considerably more heated for Banksy's spray paint and oil on canvas painting Love is in the Air (2005), which sold for $11 million ($12.9 million with fees) against an estimate of $3–5 million.
Several bidders in Asia pushed the price for the Banksy up early before a phone bidder represented by Sotheby's in New York joined the action at $6.25 million, and held on until the hammer fell.
Interest in the Banksy painting may have benefited from the option to purchase with cryptocurrency, the first time Sotheby's has accepted crypto for a physical work.
'I think there are quite a few overlaps between those who collected Banksy early in his career with those who saw the potential for cryptocurrency early on as well—both groups had to have a contrarian streak that didn't care what the old guard thought,' the previous owner of the work told Ocula Magazine last week.
The auction's other notable sales, with fees, include: Salman Toor's The Arrival (2019) for $867,000 (estimate: $60,000–80,000), Elizabeth Peyton's David Bowie (2012) for $2.1 million (estimate: $500,000–700,000), Robert Colescott's George Washington Carver Crossing the Delaware: Page from an American History Textbook (1975) for $15.3 million (estimate: $9–12 million), and Cy Twombly's Untitled (Rome) (1970) for $41.6 million (estimate: $35–45 million).
Altogether, the auction's 32 lots brought in $218.3 million, with two lots withdrawn.
Elizabeth Peyton, David Bowie (2012). Oil on aluminum veneered panel. 35.6cm x 27.9cm. Courtesy Sotheby's.
Christie's 21st Century Evening Sale
The $44 million that Basquiat's Versus Medici fetched at Sotheby's may come as something of a disappointment after In This Case (1983), one of only three large skull paintings by the artist, sold for a whopping $93.1 million including fees at Christie's on Tuesday.
That fell short of the highest price a Basquiat has ever fetched at auction, the $110.5 million paid for another of the skull paintings, Untitled (1982), in 2017.
Altogether, the 39 lots in Christie's 21st Century Evening Sale brought in $210.5 million.
After the Basquiat, the highest selling work at Christie's auction was Larva Labs' 9 CryptoPunks: 2, 532, 58, 30, 635, 602, 768, 603 and 757 (2017), which sold for $17 million. The algorithmically-generated pixel art faces, selected from 10,000 created in 2017 by Matt Hall and John Watkinson, were the first NFTs to appear at a Christie's evening sale.
The result was solid, but the price might have been higher. Earlier this year, a single CryptoPunk sold for $7.6 million on NFT marketplace OpenSea.
Other strong results from Christie's Evening Sale include Alex Da Corte's Night Vision (2018) for $187,500 (estimate: $60,000–80,000), Salman Toor's Best Friends (2019) for $475,000 (estimate: $100,000–150,000), and Jonas Wood's Two Tables with Floral Pattern (2013) for $6.51 million (estimate: $2–4 million).
Christie's contemporary art auctions continue with the 20th Century Evening Sale on 13 May and the Post-War and Contemporary Art Day Sale on 14 May, while Sotheby's Contemporary Art Day Auction takes place on 13 May. —[O]