News | COVID-19
Chinese Art World Begins Tentative Return After COVID-19 Peak
Art galleries and museums have made careful moves towards resuming normal operations following what is reportedly the worst of the COVID-19 epidemic in China.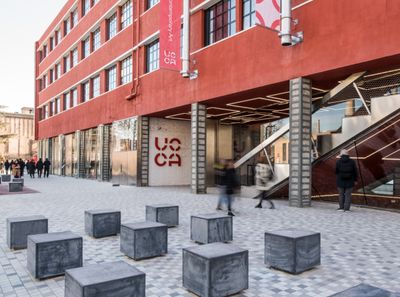 The UCCA Center for Contemporary Art. Courtesy The UCCA Center for Contemporary Art.
Beijing's leading contemporary art museum could reopen as soon as May according to director and CEO Philip Tinari. Shuttered since January 24, The UCCA Center for Contemporary Art (UCCA) is located in the 798 Art District, where Gallery Weekend Beijing has been rescheduled to open on May 21.
'We can only hope that this date is indicative of the moment when we can resume something approaching normal operations,' Tinari said in a statement. He added that the museum's curatorial team is preparing an exhibition to open then, which will 'reflect upon the current situation'.
The UCCA's approach is much more conservative than some galleries and museums in China, which reopened to the public as early as March 13, albeit with some extraordinary measures in place.
On March 12, just hours after the World Health Organisation declared COVID-19 a global pandemic, China declared that the virus had peaked in the country. Shanghai's Power Station of Art (PSA) reopened its doors the following day, but visitor numbers have been limited to 500 people per day, temperatures are being taken at the door, and quarantine areas have been established on each floor.
Similar measures are in place at 798, according to Sammi Liu, founder of Tabula Rasa Gallery, Beijing.
'Only the South Gate opens, and there are officials taking down every car's info, checking [passengers'] temperatures,' she said. With measures just as prohibitive for pedestrians, Liu said, 'it's very unwelcoming'.
Some private galleries in Shanghai have cautiously reopened to the public.
'We reopened carefully (masks, distance etc) around the same time as PSA, so people who wanted could have a look again at Lu Lei's work,' said Lorenz Helbling, founder of ShanghART Gallery, Shanghai.
MadeIn Gallery, Shanghai, also opened by appointment only from March 18 with staff taking visitors' temperatures and checking their identification.
'Even though the situation looks much better in Shanghai now, our utmost priority at this moment is still to keep our visitors and staff safe and protected,' said MadeIn Gallery's Ivy Zhou. 'That's why we still have the requirements for visiting.'
How close China is to fully easing preventative measures has been thrown into doubt by some recent decisions. On March 28, China barred foreigners from entering, including foreigners with Chinese residence and work permits. Helbling is currently in Switzerland and unable to reenter China.
Also, tourist attractions that opened in Shanghai three weeks ago including The Pearl Tower, Shanghai Tower and Madame Tussauds were closed again on Monday according to website Smartshanghai.
While its doors remain closed for now, UCCA has been active online, arranging: improvised music concert the 'Sonic Cure', which streamed on Kuaishou to an audience of over 100,000 on February 29; online screenings in collaboration with Tencent Video; and the UCCA Patrons Classroom, which connects patrons with staff, curators, and artists on video conferencing service Zoom.
'Though difficult, present circumstances have led us to rethink possible answers to the longstanding question of how as an institution we may integrate online and offline activities, and we believe the lessons we are currently learning will empower us long after UCCA re-opens to the public,' Tinari said. —[O]