News | Artists
Desert X Reveals Participating Artists for 2023
Tschabalala Self, Mario García Torres, and Rana Begum are among those commissioned to realise soul-preserving works in California's Coachella Valley this year.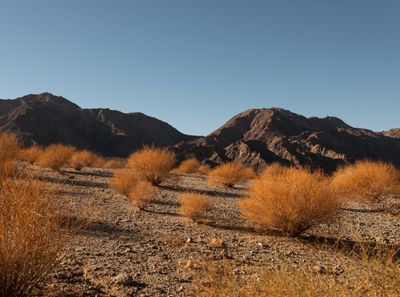 Coachella Valley. Courtesy Desert X. Photo: Lance Gerber.
In a statement announcing the artists for this year's Desert X, artistic director Neville Wakefield borrowed a saying from the Kwakwaka'wakw nation, an indigenous people of the Pacific Northwest Coast.
'Place is a story happening many times,' he said. 'Artists are an essential part of this understanding and the ideas they bring to it irrigate our perception of place, nourishing the narratives already there and propagating those that have yet to be told.'
Ten artists and one duo will add their stories to the Palm Desert, east of Los Angeles, for the fourth Desert X when it takes place from 4 March to 7 May.
Tschabalala Self, Home Body (2022). © Tschabalala Self. Courtesy the artist and Pilar Corrias, London. Photo: Mark Blower at Pilar Corrias, London.
The exhibition will feature Bangladeshi artists Rana Begum and Marina Tabassum, Mexican artists Paloma Contreras Lomas, Mario García Torres, and Héctor Zamora, and London-based duo Hylozoic/Desires. The American participants are Lauren Bon, Gerald Clarke, Torkwase Dyson, Matt Johnson, and Tschabalala Self.
Works in this year's exhibition respond to climate change, economic challenges, and social transformations.
Himali Singh Soin and David Soin Tappeser of Hylozoic/Desires will introduce a utility pole to the desert that's coated in salt left by the receding waters of an imagined flood. The sound of songs, myths, and conspiracies will accompany the work, suggesting the myriad narratives competing for our understanding of the changing climate.
Rana Begum, No.1104 Catching Color (2022). Courtesy the artist and Desert X. Photo: Angus Mill.
Other works include Rana Begum's No.1225 Chainlink (2022–23)—a pyramid of colourful concentric rings inspired by the ubiquitous twisted steel fencing, a herd of mechanical bulls by Mario García Torres, and an equestrian statue by Tschabalala Self that honours the role Native American and African American women played in building the American West.
'From deserts to floodplains, finding, building and developing tools and tactics to shelter our minds and bodies from the harshness of the world outside are essential to survival,' said Desert X co-curator Diana Campbell.
'Immersing ourselves in the stories of place also awakens us to its mythologies, whether they be religious texts and oral traditions across multitudes of belief systems that see us creating vessels to escape the flood as well as being cast into the arid wilderness to test the limits of existential and spiritual survival,' she added. —[O]