News | Artists
Graceland Shows Covid Horror Paintings in Haunted Motel
The British artist, who studied 3D digital design and animation at Hampstead Fine Arts, also designed the VR exhibition.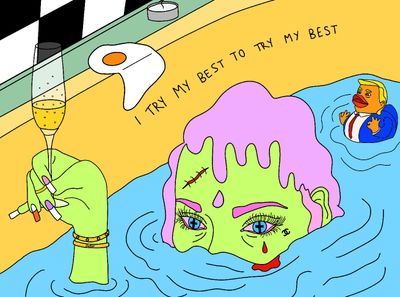 Graceland, Try My Best (2020). Oil and acrylic on canvas. Courtesy the artist and Maddox Gallery.
Graceland is showing new paintings in an online exhibition presented by Maddox Gallery, London, that continues until 20 November. Entitled 'As Above, So Below', the works are displayed inside a virtual abandoned motel with a bloodstained carpet and a horror movie soundtrack.
She designed the concept, floorplan, and neon light sculptures that line the hallways before handing the project over to Emperia, a British company that specialises in 3D environments.
'I had it in my head exactly how I wanted it to look and Emperia did a great job bringing the idea to life,' she said.
Grace McCalla, 'As Above, So Below' exhibition view. Photo: Sam Gaskin.
Based in Marylebone, the artist, also known as Grace McCalla, uses blocks of vibrant colour and clean lines in a style reminiscent of Michael Craig-Martin or Pendleton Ward, creator of cartoon series The Midnight Gospel (2020) and Adventure Time (2010-2018).
An imagined America looms large in her work, which references Día de Muertos designs, Rodeo Drive luxury, and Ed Hardy tattoo tropes. In a video about her practice, she likens these references to the use of symbolism in religious art.
Graceland, Cwarantine (2020). Oil and acrylic on canvas. Courtesy the artist and Maddox Gallery.
Viewed together, the paintings suggest the inadequacy of religion, hedonism and consumerism in the face of a profound, contemporary crisis.
'I am heavily influenced by the darker side of the human ego and psychology, and fascinated by the idea of "the unknown", which leads to a wonderland of questions—whether these be on the subject of human consumption or mental health,' she said.
Several works suggest anxieties induced by the pandemic and our efforts to alleviate them, including baths, bubbly, Birkin bags, and self-help slogans. But these palliatives never seem to be enough. Even in the bath, a rubber duck Donald Trump is poised to disturb. —[O]