News | Art Fairs
Hew Locke's 'Gilt' Trophies to Show at Art Basel Miami Beach
Commissioned for the Met's facade, they will be presented in the fair's Meridians sector along with 18 other monumental projects.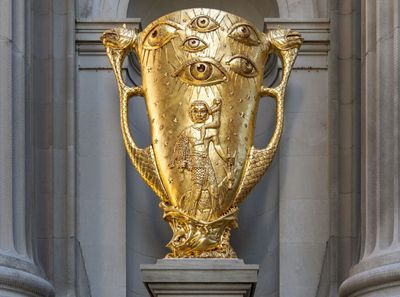 Hew Locke, Trophy 2 (2022). Fibreglass, stainless steel, gilding, and oil-based paint. Exhibition view: Hew Locke, Gilt, The Facade Commission, The Metropolitan Museum of Art, New York (15 September 2022–22 May 2023). Courtesy Hew Locke; Hales Gallery, London; PPOW, and The Met, New York. Photo: Anna-Marie Kellen.
Art Basel Miami Beach has announced highlights of its upcoming edition, which opens to VIPs on 6 December. There are 25 newcomers among the 277 galleries taking part this year, down slightly from a record 282 in 2022.
The showcase Meridians sector, which features large-scale installations, this year brings together works 'that speak to nature, to the land, and to various cultural and spiritual geographies in a world of changing boundaries and shifting identities,' according to curator Magalí Arriola.
Among the highlights is Gilt (2022) by Guyanese-British artist Hew Locke. Presented by Almine Rech, the suite of gold trophies references works in the Met's collection and puns on the guilt of those who added to it through nefarious deeds.
Jessica Silverman will present a diptych titled Our Bodies Our Choice (2023) by Julie Buffalohead, a member of the Ponca Tribe of Oklahoma.
And Paula Cooper Gallery will present Ja'Tovia Gary's response to Toni Morrison's novel The Bluest Eye (1970), which includes a 26-minute film screened in a space resembling someone's home.
Art Basel Miami Beach will also present 28 art-historical and solo exhibitions—including Elisabeth Kley, OSGEMEOS, and Keiichi Tanaami—in the Kabinett sector.
Meanwhile, Positions will gather young galleries' solo presentations of emerging artists such as fantastical painter Sedrick Chisom and Cynthia Talmadge, whose paintings include cards from the board game Clue (known as Cluedo outside the United States).
This year's Conversations series includes artist and MacArthur Fellow María Magdalena Campos-Pons, the directors of the Albright-Knox Museum, the International African American Museum, and The Bass Museum, and—as luck would have it—Chance the Rapper. —[O]