News | Artists
Hyundai Seeks Emerging Media Artists for the 5th VH AWARD

Sponsored | Hyundai Motor Group
Five shortlisted applicants will receive online residencies, US $25,000 production budgets, and exhibitions at leading art institutions around the world.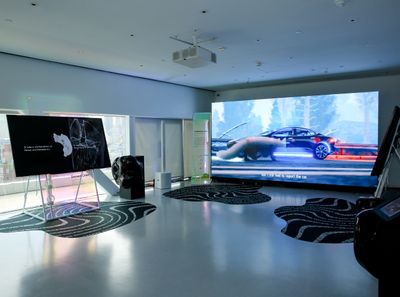 The 4th VH AWARD Private Screening at the New Museum, hosted by Hyundai Motor Group. © Max Lakner/BFA.com.
Hyundai Motor Group has announced an open call for the fifth VH AWARD, Asia's pre-eminent prize for new media artists.
Artists, collectives, and teams who engage with Asia and its future are encouraged to apply for this year's prize. There is no restriction on where applicants are based. Submissions can be made on the VH AWARD website until 3pm GMT on 28 July, 2022.
Finalists will be selected for their originality and aesthetics, compelling conception and innovation, quality of presentation, and sophisticated employment of technology.
Submissions will be reviewed by jurors including: Martin Honzik, Chief Curatorial Officer of Ars Electronica; Sook-Kyung Lee, Senior Curator of International Art at Tate Modern; Roderick Schrock, Executive Director of not-for-profit art and technology centre Eyebeam; Aaron Seeto, Director of Jakarta's Museum MACAN; and independent curator and art critic Yukiko Shikata.
The five shortlisted artists, teams, or collectives will each receive US $25,000 to produce new artworks. They will also receive an online residency with Eyebeam from October to December 2022.
The winner of the grand prize will be announced at an award ceremony in May 2023. They will receive an additional grant of US $25,000.
The fourth edition of the VH AWARD was won last year by London-based artist Lawrence Lek. In his video work Black Cloud (2021), an AI charged with surveillance of the fictional SimBeijing city holds a philosophical discussion with a distinct part of its own intelligence.
Describing his practice, Lek said 'virtual tools, such as computer-generated images and computer games, can enable contemporary artists to create environments that reflect some of the utopian ideas of architecture.'
'I enjoy the freedom that these virtual spaces offer, as they are not limited by the same financial or political considerations involved in creating real-life architecture,' he said.
Lek's fellow finalists in 2021 were Doreen Chan, Paribartana Mohanty, Syaura Qotrunadha, and Jungwon Seo.
Works by all five artists were shown at a private screening at the New Museum during Frieze New York on 18 May. They can be viewed online with Elektra through 1 June 2023, at the Ars Electronica Festival from 7 to 11 September 2022, and at Museum MACAN, Indonesia's preeminent institution for modern and contemporary art from 10 September to 18 November 2022.
Last year was the first in which artists outside South Korea were eligible for the prize. The previous winners are Dongjoo Seo, Hyungkyu Kim, and Je Baak. —[O]