News | Artists
Jordan Casteel and Daniel Lind-Ramos Named 2021 MacArthur Fellows
Other artists to receive recognition this week include Rashid Johnson and Julie Mehretu, who were inducted into the National Academy of Design.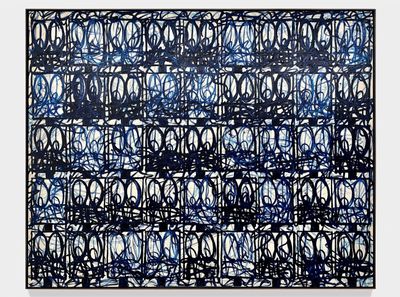 Rashid Johnson, Bruise Painting "Easy Street" (2021). Oil on linen. 239.4 x 304.8 x 5.1 cm. © Rashid Johnson. Courtesy the artist and Hauser & Wirth. Photo: Stephanie Powell.
Denver-born painter Jordan Casteel and Puerto-Rican sculptor Daniel Lind-Ramos are among 25 'geniuses' in the 2021 class of MacArthur Fellows.
The fellows were selected based on their exceptional creativity, promise of important future advances, and the potential the fellowship has to facilitate new creative work. Each receives a no-strings-attached stipend of US $625,000.
Casteel, who primarily paints portraits of people of colour, is represented by Casey Kaplan Gallery and Massimo De Carlo.
On her website, she wrote that the acknowledgement 'has left me breathless—genuinely stopped me in my tracks—laid me flat—had me confused—and brought me to tears.'
'While I try to embrace the reality of this moment and all the moments that have brought me here I can't help but see all of the people who saw my potential when I couldn't see it for myself,' she said.
Daniel Lind-Ramos paints and makes assemblages from everyday materials. He is a Senior Professor at the University of Puerto Rico at Humacao Campus.
Other American artists to receive major acknowledgements this week include Rashid Johnson, Julie Mehretu, Joanne Greenbaum, Peter Halley, Trenton Doyle Hancock, Joanna Pousette-Dart, and Gary Simmons, all of whom will be inducted into the National Academy of Design.
The National Academy of Design was founded in 1825 as America's first artist-led arts organisation. New Academicians are elected by existing members to form a community of up to 450 people representing the breadth of cultural practice across the United States.
Also this week, painter Sam Gilliam received a Distinguished Honour Award as part of Washington D.C.'s 36th Annual Mayor's Arts Awards.
The award is given to an individual or entity who has made substantial contributions to arts and culture in the District of Columbia for 20 years or more. —[O]