News | Artists
Sam Gilliam, Pioneer of Drape Paintings, Has Died at 88
David Kordansky shared his memories of working with the artist he nicknamed 'Big Tree'.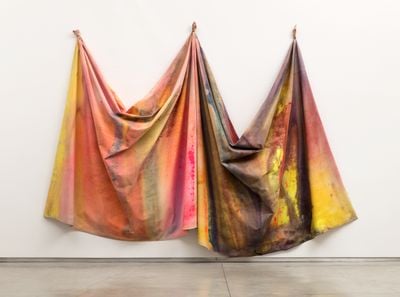 Sam Gilliam, 10/27/69 (1969). Acrylic on canvas. Approximate installation dimensions: 355.6 x 469.9 x 40.6 cm. Collection of The Museum of Modern Art, New York, NY. Courtesy David Kordansky Gallery, Los Angeles. Photo: Fredrik Nilsen Studio.
Painter Sam Gilliam died at home in Washington D.C. on Saturday 25 June, according to a statement from David Kordansky Gallery and Pace Gallery.
'Sam was an architect of colour whose vision propelled him into cosmic realms where experimentation and the moral compass provided by brave beauty were the only constants,' said David Kordansky, founder of the eponymous Los Angeles gallery.
Born in Tupelo, Mississippi, in 1933, Gilliam studied art at the University of Louisville in Kentucky before moving to Washington D.C. in 1962. There he became one of the key members of the Washington Colour School, creating abstract works that celebrated colour and metamorphosed into sculpture.
Portrait of Sam Gilliam. Photo: Fredrik Nilsen Studio. Courtesy David Kordansky Gallery.
In the late 1960s, Gilliam began producing draped paintings that broke free of the stretcher and floated like jellyfish. He showcased the groundbreaking technique as part of a group presentation by United States artists at the Venice Biennale in 1972.
Despite that recognition, textbooks and the art market were slow to acknowledge the contribution of Gilliam and other members of America's Black avant-garde.
'I first fell in love with Sam Gilliam's work when I was an MFA student at CalArts in the early 2000s,' Kordansky said. 'The dramatic and kaleidoscopic dance of his materials and his masterful retooling of the notions of paint and support were mesmerising.'
In 2012, Kordansky visited Gilliam's D.C. studio with artist Rashid Johnson and gallery partner Mike Homer to propose an exhibition.
There, Kordansky said, Gilliam 'responded to our proposal with what we thought was laughter, but soon realised were tears of joy. He quipped, "What took you so long?" and then we all cried together.'
Sam Gilliam, Untitled (2019). Watercolour and acrylic on washi paper. 185.4 x 96.5 cm. © Sam Gilliam. Courtesy Pace Gallery.
Kordansky connected Gilliam with Arne Glimcher of Pace Gallery, who added Gilliam to their roster in 2019.
'In recent years, I've cherished the experience of visiting Sam in his studio, often experiencing goosebumps when I walk in and encounter a fresh group of paintings,' Glimcher said. 'I've rarely had such an experience in an artist's studio. It reminded me of visiting Rothko in my twenties.'
Works by Gilliam are currently on view in a major retrospective at the Hirshhorn and in the group exhibition Cartographies of Colour at Galerie Thomas in Munich, Germany.
Gilliam's family have asked that, in lieu of sending flowers, donations be made to the NAACP Legal Defence Fund, The Children's Defence Fund, Rock Creek Conservancy, or an art institution. —[O]