News | Celebrities
Sharon Stone Wants to Fuck Her Paintings Up a Little
The Hollywood actress-turned-artist feels freer making less 'perfect' paintings.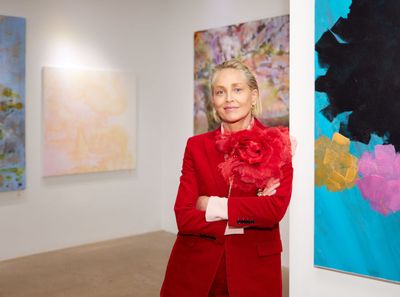 Sharon Stone with her art at C. Parker Gallery, Greenwich, Connecticut (2023). Courtesy C. Parker Gallery. Photo: ChiChi Ubiña.
Sharon Stone said her art has 'reached another level of freedom and abandonment' as she plans for a third solo show in New York this winter.
She came to a new realisation standing with a friend before a painting she had completed just the night before.
'I'm at the point where I need to fuck them up a little,' Stone said. 'They can't be so pristine. I need to go back in and get a palette knife and scratch up the canvas or I need to put more marks on them, make them look dirtier.'
'They have to have that good feeling like an old friend,' she said, like a fine wine or a worked-in pair of jeans.
Sharon Stone, It's My Garden, Asshole (2023). Acrylic on canvas. 121 x 121 cm. Courtesy C. Parker Gallery.
Stone said it took a while to get to that place where her paintings felt like they belonged.
'My friend and I were standing there and he said, "the imposter syndrome is gone",' she recalled.
Stone, who played iconic roles in films such as Total Recall (1990), Basic Instinct (1992) and Casino (1995), held her first solo exhibition at Allouche Gallery in Los Angeles earlier this year. Her second solo show, Welcome To My Garden, is currently running at C. Parker Gallery in Greenwich Connecticut until 3 December.
Welcome To My Garden presents 19 diptychs, triptychs, and other large canvases covering themes relating to nature, climate change, and politics, such as Jerusalem (2023), which reflects a prayer she made for peace at the city's Western Wall some years ago.
Sharon Stone, Jerusalem (2023). Acrylic on canvas. 182 x 121cm. Courtesy C. Parker Gallery.
Stone said her newfound freedom began with a painting of Jesus titled Yeshua Arising (2023) that she felt 'absolutely compelled to paint'.
'It's this painting that's not quite cubist, but quite a broken up painting of Jesus. You see the part of Jesus that is sort of being risen up, and the part of him that's falling away is the part of him that's still human.'
Similarly, she realised, 'If I let go of the doubt, I'll just be able to paint.'
'I've been trusting that and, all of a sudden, my art career has just taken off like crazy.'
'It just changed something in me,' Stone said. 'I can just keep going in this direction, and nobody has to be perfect. You can have broken parts and still be enough.'
Last month Stone sold two paintings for a total of U.S. $500,000 at a gala for the Barrow Neurological Institute. She will be interviewed by New York Magazine's Jerry Saltz—the only art critic she actually follows—at the Vulture Festival in Los Angeles on Saturday.
Saltz said he could see Stone is 'trying to find her voice. Will I say she's good? I will not. But I will say she seems to be a force of nature because of what she's been through.'


Sharon Stone, Pinstripe Dreams (2023). Acrylic on canvas, triptych. 60 x 182 cm. Courtesy C. Parker Gallery.
When she starts a new work, Stone said, 'I can pretty much see the painting already on the canvas. Then it's almost like a paint by numbers—I colour it in.'
She described how the colours will speak to her, saying, 'I'm the one, it's me, it's us, you have to mix us.' Brushes will go 'beep, beep, beep' and tell her what to use.
'I'm just following directions,' she said.
Colour holds specific significance for Stone, who said she has had a lot of access to colour since experiencing a stroke in 2001, as well as seizures.
'I really get why people say artists are crazy, because you're listening, you're just hearing it, and you're seeing it,' Stone said.
As well as listening to colours and brushes, Stone is keenly attentive to the work of other artists.
College art classes aside, she said her greatest education has come from spending the last 30 years 'climbing around in museums and artists' homes and studios.'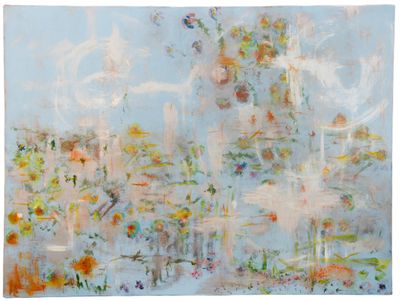 Sharon Stone, Giverny (2023). Acrylic on canvas. 243 x 182 cm. Courtesy C. Parker Gallery.
'This is what my fame has really given me,' she said, talking enthusiastically about spending hours alone with great masterpieces at times when museums are closed to the public.
She has explored the homes of artists like René Magritte, and Piero Fornasetti, and crawled through the weeds of Claude Monet's garden at Giverny guided by the caretaker's child, an experience that inspired the painting Giverny (2023), which Stone is currently showing at C. Parker Gallery.
Stone also possesses the last palette and paintbrushes of Balthus, which were still wet when he handed them to her in Switzerland during his final days. The palette is displayed in a lucite case in her L.A. home.
'I have it here in front of a giant painting of mine, just to say like, you can do it,' she said.
Regarding contemporary artists, Stone is a self-confessed 'Basquiat-obsessed freak', and a fan of Zhang Xiaogang, Louise Bourgeois, and Cy Twombly, among others.
She also seeks out unknown artists that inspire her on Instagram, often offering to trade paintings.
In December, Stone will travel to AlUla in Saudi Arabia, to participate in an art workshop there.
'I really want to take my art out into the bigger world, and I want to meet artists from all over,' she said. 'I don't think that we really can find ourselves until we meet people in other places and really get engaged in other worlds, and that's when we really become expansive'.
Sharon Stone, Protection, Peace, and Power (2023). Acrylic on canvas, diptych. 121 x 243 cm. Courtesy C. Parker Gallery.
'We can't presume when we look at someone that we have any understanding of them,' Stone said emphatically.
'People look at me, and they think, oh, you come from some sophisticated blue blood family and you went to some fancy school. No, we were really poor and my parents grew up as child servants.'
'Art is very much a reflection of communication,' she concluded.
As her art career progresses, Stone believes she may have found her purpose.
'I kept wondering, well I'm not really working as an actress, what am I,' she said. 'Of course, I'm still doing my humanitarian work and everything but what am I, why am I here? Like, I need a clue, give me a hint. But maybe this is it'. —[O]