News | Artists
Stranger Things' Maya Hawke Drops Music Video Inspired by Balthus Painting
With its nudity and sex, the video thumbs its nose at the moral panic caused by 'Thérèse Dreaming'.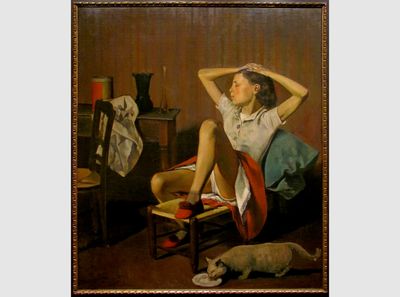 Balthus, Thérèse Dreaming (1938). Oil on canvas, 149.9 × 129.5 cm. © 2022 Artists Rights Society (ARS), New York. Photo: rocor.
Actress and singer Maya Hawke, who plays Robin in Netflix juggernaut Stranger Things, this week released a video for her song 'Thérèse'. In it, an orgy in the woods is broken up by the police.
The video develops themes explored in Hawke's song, a response to the Balthus painting Thérèse Dreaming (1938). The painting depicts a seated girl with her eyes closed, her hands on her head, and one foot up on her chair, oblivious to the state of her skirt.
In 2017, over 8,000 people signed a petition asking for the painting to either be removed from the Metropolitan Museum of Art in New York or displayed with text noting that some viewers find the work 'offensive or disturbing, given Balthus' artistic infatuation with young girls'.
A still from the music video 'Thérèse' (2022). Photo: Maya Hawke Instagram.
'Given the current climate around sexual assault and allegations that become more public each day, in showcasing this work for the masses without providing any type of clarification, The Met is, perhaps unintentionally, supporting voyeurism and the objectification of children,' wrote the petition's author, Mia Merrill.
The Met refused to remove the painting.
'Moments such as this provide an opportunity for conversation, and visual art is one of the most significant means we have for reflecting on both the past and the present and encouraging the continuing evolution of existing culture through informed discussion and respect for creative expression,' said chief communications officer Ken Weine at the time.
'Thérèse' is the lead single from Hawke's forthcoming album Moss. In it, the singer imagines the girl in the painting dreaming of 'an Appaloosa', 'a Shelby Cobra', and 'Marlon in Austin'.
On The Tonight Show, Hawke told Jimmy Fallon the girl in the painting, 'in my head, is me'.
Maya Hawke's music video for 'Thérèse'. The video was directed by Brady Crobet, best known for his acting in films like Funny Games and Melancholia, and shot on 35mm film by cinematographer Trevor Tweeten.
That's a sentiment shared by a number of writers who have defended the painting.
In the Paris Review, novelist Jen George wrote that, 'Thérèse's skirt was like mine. My hair was longer. I liked her shoes. I liked that she was both in this room and not; she was dreaming, but I couldn't see where she'd gone.'
Critic Lauren Elkin said it's not the painter's rendition of his subject but Thérèse herself that's unsettling.
'Our culture is terrified of sexually-awakened young girls,' she wrote in an article for Frieze. 'Our rush to "protect" them is sometimes just a bid to protect ourselves from their monstrous nubile desire.'
'By trying to control the way people look at this young girl, we rob her of an interior life,' Elkin argued. —[O]