News | Artists
South South, Devoted to Art in the Global South, Goes Live
More than 50 galleries are participating in the platform's first event, entitled SOUTH SOUTH VEZA, in February.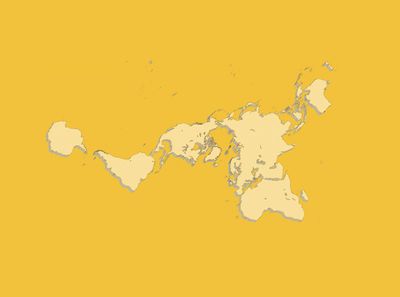 A South South graphic based on Buckminster Fuller's Dymaxion map. Courtesy South South.
A new online platform highlighting art made in the Global South launched yesterday. First conceived by Johannesburg's Goodman Gallery, SOUTH SOUTH will host sales events as well as featured content and an archive of past exhibitions dating back to 1984.
'SOUTH SOUTH responds to an acute need,' said Goodman Gallery director Liza Essers. 'It aims to redress an imbalance in the mainstream Western axis of the art world, creating a space to reveal artistic production from regions across the globe and for urgent and nuanced conversations of the Global South to be amplified.'
Along with Essers, SOUTH SOUTH's chief collaborators are: Marcio Botner from A Gentil Carioca, Rio de Janeiro; Daudi Karungi from Afriart Gallery, Kampala; Shireen Gandhy, from Chemould Prescott Road, Mumbai; José Kuri from Kurimanzutto, Mexico City; Atsuko Ninagawa from Take Ninagawa, Tokyo; and Mary Sabbatino from Galerie Lelong & Co, New York City.
'A unified voice of the Global South in art is long overdue,' said Karungi.
Content currently featured on the South South website includes works by Mexico's Minerva Cuevas and Thailand's Rirkrit Tiravanija, and a dialogue between artists Helena Uambembe and Sandra Poulson about art and censorship in Angola.
SOUTH SOUTH will hold its first event, SOUTH SOUTH VEZA, from 23 February until 7 March. The event, which takes its name from the isiZulu for 'to show, produce or reveal', will kick off with an auction. It also comprises an online viewing room, an exhibition, talks, and films.
Participating galleries include: El Apartamento, Havana; Dastan's Basement, Tehran; First Floor Gallery, Harare; Gypsum, Cairo; and Rele Gallery, Lagos. —[O]