News | Exhibitions
Taipei Biennial to Show Online With Ocula

In Collaboration With Taipei Fine Arts Museum
Images of every artwork in the exhibition will appear online, along with artist profiles and more.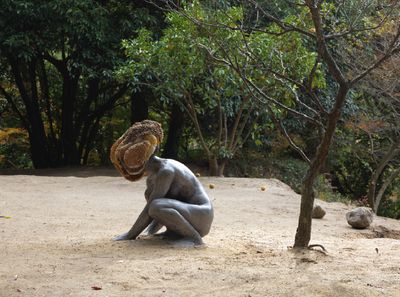 Pierre Huyghe, Exomind (Deep Water) (2017-ongoing). Concrete cast with wax hive, bee colony, orange tree, plum tree, plants, sand, stones, calico cat, ants, spider, butterfly, concrete pond with water lilies, koi fish, axolotl and insects. Courtesy the artist; Taro Nasu, Tokyo; The National Museum of Modern Art, Tokyo; and the Dazaifu Tenmangu Shrine.
Ocula and the Taipei Fine Arts Museum (TFAM) have entered into an exclusive collaboration to present the 12th edition of the Taipei Biennial online. The digital presentation will feature every artwork in the exhibition and go live from Thursday 26 November. The Biennial continues in person until 14 March 2021, while the online presentation will remain up indefinitely.
The exhibition, entitled You and I Don't Live on the Same Planet is curated by French philosopher Bruno Latour, French curator Martin Guinard, and Taiwanese curator Eva Lin, who will lead the public programme in Taipei.
The curators describe the exhibition as a planetarium, with each of the 57 participating artists and artist groups exerting their own gravitational pull. They highlight the tension between those aligned with the Planet TERRESTRIAL, who seek to operate within the Earth's constraints, and those aligned with the Planet GLOBALIZATION, which demands relentless modernisation.
'People around the world no longer agree on what it means to live "on" Earth,' the curators said in a press release, hinting at the rise of flat earthers. 'As we come closer to a series of tipping points, we simultaneously witness a division between those who seem to have abandoned planet Earth, those who try to make it more inhabitable, and those whose cosmology never fitted within the ideals of the globalising project in the first place.'
Highlights of the exhibition include: Norwegian artist Marianne Morild's paintings of suspended landscapes torn from the ground; indigenous Taiwanese artist Cemelesai Takivalet's newly commissioned Virus Series (2020), depicting imaginary, oversized viruses released into the wild due to human intrusion; and French artist Pierre Huyghe's installation Exomind (Deep Water) (2017–ongoing), a concrete statue of a crouching woman with a real beehive on its head, a work whose form is intrinsically entangled with its environment.
Register here to be notified when the Taipei Biennial opens online. —[O]