News | Market
World Photography Organisation Acquires 25% Stake in Photo London
The new partnership will see more exchanges between Photo London and the World Photography Organisation's PHOTOFAIRS Shanghai.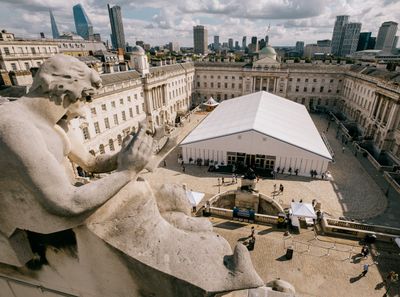 Photo London 2021. © Graham Carlow.
The World Photography Organisation, which organises the Sony World Photography Awards and PHOTOFAIRS Shanghai, has acquired a 25% stake in Photo London.
The partnership, announced today, aims to create a joint programme of curated content and presentations across PHOTOFAIRS Shanghai and Photo London that will highlight emerging talents in both regions.
'This collaboration will further the reach of the [London] fair through our network in Asia whilst also widening the scope for Asian artists and galleries to showcase in Europe,' said Scott Gray, founder and CEO of the World Photography Organisation.
Photo London 2021. © Graham Carlow.
'We have been humbled by the widespread support we have received from the photography community over the last two incredibly difficult years,' said Photo London's founders Michael Benson and Fariba Farshad.
'During this time it became clear to us that we had a responsibility to the diverse range [of] constituencies that support the fair to devise a plan to strengthen what is an important and much loved cultural asset,' they said.
A spokesperson for the World Photography Organisation said they could not disclose the exact details of the deal, but they could 'confirm it was structured in a way in which the full percentage of acquisition will be invested back into resourcing the fair.'
Photo London returns to Somerset House from 12 to 15 May for its seventh edition, while PHOTOFAIRS Shanghai will take place at the Shanghai Exhibition Center from 22 to 25 September. —[O]