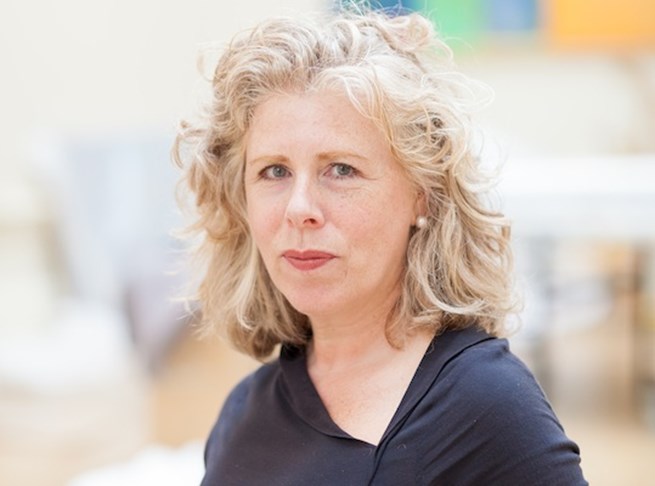 Kathleen Soriano began her career at the Royal Academy of Arts over 20 years ago. In 1989 she joined the National Portrait Gallery, where, as Head of Exhibitions & Collections, she also took on responsibility for the gallery's national and international programmes. In 2004 she became one of the first cohort of Clore Leadership Fellows, with periods spent at both the South Bank Centre and the Art Gallery of New South Wales, Sydney. In February 2006, after 18 years at the National Portrait Gallery, Kathleen Soriano took up the post of Director at Compton Verney in Warwickshire where she succeeded in securing designated status for the collections, as well as programming and raising the profile of its imaginative temporary exhibitions including projects such as The Fabric of Myth; Georges de la Tour; The Shadow and Van Gogh in Britain
. In January 2009 she returned to London as Director of Exhibitions at the Royal Academy of Arts.
She has sat on a number of arts related boards and is currently a Trustee of the House of Illustration and Student Hubs, an organisation that works to transform student involvement in social action. She is a patron of the homeless charity Crisis, and is currently a steering group member of the Women Leaders in Museums Network. She sits on the Wellcome Collection exhibition advisory group, the Visual Arts London Strategy group and is a member of the National Trust's Contemporary Art Panel. She has mentored on the Clore Leadership and Cultural Leadership programmes and has lectured and written on exhibitions, leadership and the cultural sector. Her broadcast activities include a new series for Sky Arts, Portrait Artist of the Year, which is due to be screened in November 2013.
Australia, currently at the Royal Academy, marks the first major survey of Australian art in the UK in 50 years. Spanning more than 200 years, from 1800 to the present day, the exhibition seeks to uncover the fascinating social and cultural evolution of a nation through its art.
Why Australia and why now?
It has been too long since we looked at Australian art seriously and a longer overview needed to be made rather than another in focus consideration. Only the galleries of the Royal Academy could accommodate something on that scale and with our tradition of survey exhibitions such as
British Art in the 20th Century
and
German Art in the 20th Century
, we have a tradition of presenting these projects to our audiences.
Why do you think Australian Art has been under the radar for so long?
There are elements of familiarity and unfamiliarity that mean that Australian art is present and not present at the same time. Our relationship with it on the international circuit is therefore complex but it has had an increasing presence on the contemporary scene in recent years – as it deserves.
The exhibition spans 200 years of Australian art. Is it possible to do justice to a nation's artistic traditions in an exhibition such as this?
No. The alternative was not to do it at all.
Landscape, or the connection between Australian people and place is the central theme of the exhibition. Why?
If you talk to some of the contemporary artists practicing both in and out of Australia they will talk to you about how the land and the landscape is at the heart of their work. Whether it is depicted in their work, or informing it, the story of Australian landscape and the story of Australians', both Indigenous and non-Indigenous, relationship with the land and with each other, can be read through this unifying theme. There are many other themes that could have been taken. We chose to focus on this one as being most definitive, and most … Australian …
As the title suggests, the scope of the exhibition is ambitious but the criteria for works to fit within a narrative of landscape has surely excluded a number of artists, particularly contemporary artists. Does the exhibition adequately address the concerns of contemporary Australian artists today?
In covering 200 years we had to provide a framework around which to make that selection. Even with the 18,000 square feet of the Royal Academy (hard to rival anywhere) we were going to struggle to contain the wealth of artistic output of a continent. In constructing that framework, the idea of using land and landscape as a criterion for selection in telling the story of Australian art history and Australian history seemed appropriate on many levels. There were clearly artists who were not therefore included (although we did take landscape to its extreme definition – see the John Brack painting included in the show), and many wonderful contemporary artists who work on a scale that would have required us to give them entire galleries to themselves. We were unable to justify that with a survey exhibition – for better or for worse. I am also hopeful that the wonderful contemporary artists would be celebrated further in a more contemporary show in London at some point soon in the future, as is currently under discussion.
The British press has not been particularly positive. Is there some kind of colonial superiority complex at play?
The British press has been mixed, it is true. It often is mixed which can be viewed as a good sign that debate is being stimulated and that people are being challenged to think about their own views on a subject. I think that the criticism is not a reflection of any colonial baggage but down to two things. Firstly a lack of understanding and familiarity with Indigenous art that makes their appreciation of it harder, and secondly that lack of familiarity and thereby approbation from the larger art world is less forthcoming. The more we get to know these artists, the more we will come to value and understand them.
What about the future for Australian art?
We'll have to wait and see … To a large extent, it's back to the Australians now … it's in their hands.
Image: © Benedict Johnson