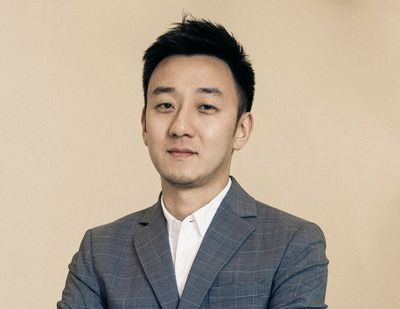 Lu Xun. Courtesy ©️ Sifang Art Museum.
Launched by Chinese collector Lu Xun and his father, Lu Jun, in 2003, the China International Practical Exhibition of Architecture (CIPEA) was an invitation to 11 Chinese and 13 international architects to create buildings in the Pearl Spring area in Nanjing, China. The real estate developing duo intended to showcase exemplary contemporary architecture in China; the complex now includes a conference centre by Arata Isozaki, a recreation centre by Ettore Sottsass, a hotel by Liu Jiakun and houses by David Adjaye, Alberto Kalach and Ai Weiwei, among others.
The Sifang Art Museum is just one building amongst these 24 architectural commissions on the CIPEA site. Designed by American architect Steven Holl, the 20,000-square-foot museum serves as a centrepiece to the complex. The museum utilises recycled materials such as bamboo and Hutong bricks from the destroyed courtyards in the centre of Nanjing. The building seemingly hovers over the landscape and boasts a spatial sequence that affords guests views of the lush green landscape and the city in the distance.
Lu Xun regularly features in lists of the most influential young collectors in China. Today, his activities include commissioning permanent artworks across the site and the development of Sifang's contemporary art collection, which includes both Chinese and international artists.
This conversation between Rose Lejeune and Lu Xun began at Delfina Foundation in London in June 2017 and has been updated here for Ocula Magazine. At that time, Lu was a collector-in-residence at the Foundation, as part of 'Collecting as Practice'—a thematic programme curated by Rose that explored urgent questions around the philosophy, psychology and politics of collecting. During his residency, Lu contributed to these discussions through both the programme's events and conversations with the Foundation's artists-in-residence, with whom he lived. The residency asked Lu to reflect on, amongst other things, the development of the Sifang Art Museum, his collection and the contemporary museum scene in China.
Sifang Art Museum. Courtesy ©️ Sifang Art Museum.
RL

Can you please introduce the Sifang Art Museum?

LXI founded Sifang Art Museum in 2013. There are three categories of work that I'm involved in: first is commissioning architectural works; second is commissioning permanent artworks around the architectural campus—either indoors or outside; and finally, the third part is building a collection for the museum. That only started in 2009, so it is quite a young collection at this point.

Since 2013, the Sifang Art Museum has been running a consistent rotating programme of both solo and group exhibitions. We've done some reially special, unique projects. For the 2016 exhibition Mountain Sites: Views of Laoshan, we commissioned 20 Chinese artists to make site-specific works. This project extended beyond the boundary of the museum into the mountains, into the waters, into the lakes, into nearby temples. Many Chinese artists are very studio-based, so we wanted them to try new things, be more collaborative. In 2018, we launched a new collaborative residency project involving over 20 artists and musicians such as Absolute Purity, Gao Mingyan, Mountain River Jump! (Huang He & Huang Shan) and Nathan Zhou. This project invited those artists to detach from their everyday, urban routines to be closer to nature and to live a 'dormitory life' in Light Box Studio at Sifang Collective.

In this most recent project, we encouraged the artists to remain anonymous, to achieve collective creation and explore the natural landscape. The artists used a range of art forms, from painting and sculpture to animation. They discovered new ways of working and sharing ideas—interactions between the artists brought about new projects too, such as a lake projection, a doll parade and an immersive theatre production, which converged to create a fantastic auditory and visual world for a huge audience. We didn't set up a specific budget or ask for an exhibition proposal or any set outcome—we just provided the soil for the creation to grow. We hope that this is a way to break away from the existing art system, especially in China.

Sifang Collective. Courtesy ©️ Sifang Art Museum.
RL

I'm interested not only in the activities of the museum itself, but how that relates to the broader questions about what is happening in China. How do you respond to the architectural and real estate conversations in China? What is the context of the museum in relation to the broader architecture project?

LXThe project began when my father was offered the land to create luxury housing, but was convinced to do something more ambitious that would address the bigger questions around China's rapid urbanisation and super-fast real estate development with its profit-maximising mentality. As the landscape of Chinese cities is altered by the construction of many repetitive cheap architecture designs, we felt obliged to do something different, to break the mould and inject new architectural and artistic breath. We feel originality and creativity are integral parts of people's lives, and these are the core underlying values we aim to convey via such a project. One of the reasons the project has taken so long, and is not yet finished, is that we have often had to work with construction workers beyond what they could do. They had to learn new techniques to create the bespoke and unique buildings we wanted. Often, this meant long processes of development, but we didn't want to import the materials or workers; we wanted to work with Chinese construction companies, so we took the long way around.

Huge Huge, special project as part of the Artist-in-Residence Program, Sifang Art Museum (13 October 2018). Courtesy ©️ Sifang Art Museum.
RL

Among the reasons we were interested in speaking to you as part of Delfina Foundation's 'Collecting as Practice' programme was the evolution of your collection and its on-site commissions. You often commission artists to make work for an exhibition that then also gets acquired in the collection.

LXIn the beginning, my collection was very blue chip-focused and went after big names. The first two artists in it, for example, were Marlene Dumas and Yayoi Kusama. Later, I started to look at local Chinese artists and became focused on emergent Chinese artists for a few years. Now, I'm going back to the international scene again—it's a kind of back-and-forth process—an international collection with a very strong focus on China. Most of the collection is in storage if it's not on display, and then there are the permanent art commissions, of which I try to add about two or three every year. They also become part of the collection. A lot of the projects from Mountain Sites: Views of Laoshan went into the collection, though many were very difficult to collect. There were negotiations between me and the artists, sometimes involving their gallery, regarding how an ephemeral work can stay in the collection, whether it be in another form, in documentation or in different kinds of things.

In 2016, the artist Tang Dixin was in residence when he developed an idea to cut a trail in the forest by himself with a very sharp Japanese knife. So, he spent a month basically cutting this very beautiful trail in the forest, carving out the way that he wanted us to view the mountain. On the opening day, he did a performance for which he made all kinds of tools and things for us, including a sound piece that we listened to as we walked with him on that trail. So that was a performance, but he was able to give us instructions on how to re-enact it, as well as five beautiful photographs that he took that day. So that becomes the scope of the work that goes into the collection.

Light Box, Artist-in-Residence Studio, Sifang Collective. Courtesy ©️ Sifang Art Museum.
RL

Where does your work fit into the broader cultural scene of Nanjing, and more widely in China? As I understand it, in the last decade, there has been a great development in the number of museums developed by the government but very few of these are focused on contemporary art. Instead the growth of contemporary art museum has largely been through private collectors?

LXThere are a lot of government initiatives that mandate that every city should have a museum. So of course, they have a lot of money and they do things very quickly; a lot of these spaces were built very quickly, but most of them don't have a collection. That aside, the private museum scene is China has been extremely vibrant; everyone knows that there's been a wave of private museum building construction in China in the past five, ten years.

I think there are ten recognisable, important private collections that have opened their own spaces in China. There are very few public contemporary art museums in China—the Power Station of Art in Shanghai and one or two in Beijing—so most of the responsibilities and obligations are on the private collectors' side. Some of the best museums in China are private initiatives, like UCCA [the Ullens Centre for Contemporary Art], the Rockbund, Yuz Museum, Times Museum in Guangzhou and the Long Museum. The landscape is very varied. A lot of them take on different positions and responsibilities: some of them are more research-based; some of them have very powerful, wealthy collectors behind them who like blockbuster shows, so they always do blockbuster shows; and some of them are more low-key, more research-based, like Times. For us, I think you might say our contribution to the landscape of Chinese private museums is as a place that concentrates on architecture. Unlike in the art centres of Shanghai or Beijing, we take things a bit more slowly.

Huge Huge, special project as part of the Artist-in-Residence Program, Sifang Art Museum (13 October 2018). Courtesy ©️ Sifang Art Museum.
RL

Do you think that many of the private museums are consciously thinking about their relationship to the overall development not just of the cultural sphere, but also to society and social change?

LXDefinitely. There's no publicly supported collecting of contemporary art in China and the public museums don't have any contemporary art collections. All the works that are being made by these amazing artists in China are collected by private collectors. In 100 years, if you want to study the works of this era, it will be from one of the current private collections. Maybe some of them will become public in the future, like what happened in Europe, and we'll see that kind of evolution of the museum landscape. Maybe some of the museums will combine, some of them might even split, but it's a great thing that these works stay in collections so they will be preserved and kept together.

For us, it's also important that when local audiences come they ask questions, because a lot of what we do is different from the normal Chinese thinking. What I mean is, the mentality in China is very homogenous; everyone wants to make money. Everyone wants to be a bit richer, and culture is not really the primary goal for most people. So, a lot of people come here and they ask questions. Why would anybody do something like this? Why would anybody initiate such a project? What is the goal behind it? Is there an agenda? The art world is a very distant world to most people and so they ask how it works. What are the rules? What are some of the regulations and ways of thinking within the art world or architecture? We find it very interesting when people ask those kinds of questions because the whole idea of the project is to provoke interest, to inspire. I like to think that it can inspire the next generation, to get them more interested in what this generation of artists or this generation of architects can offer, because in China we're always looking at history.

We're always looking at what history can offer us, but we kind of ignore the now because we are overwhelmed by it. This means that we don't go and try to find what's the best in today's world. We felt that bringing all these great architects from our era is beneficial because then these things can be preserved. Just like any collection in the history of mankind, its merit exists as long as it is being put together and preserved.

Fo-Shou, Artist-in-Residence Studio, Sifang Collective. Courtesy ©️ Sifang Art Museum
RL

Are you consciously thinking about how sustainable the project is? What might the future of the project be?

LXYes, that's the ultimate question—what's next, where am I going?

When we first started in 2003, I think it felt more like a project suited to China in 20 or 30 years' time. It's definitely a project ahead of its time. I think I've always wanted to make it a model that could be flexible and not just be in Nanjing but also introduced in a lot of other places. I also think a lot about what is missing in China—because China has a lot of space and it's easy to build, people don't think about the fact that there are more ways of using that space than generic development.

I want to explore and see how my activities can branch out to have a more comprehensive approach to patronage and helping artists. You can see that development in the more recent projects, and I want to continue that. I might for example, only do one show a year and then have a lot more things around it like the workshops and residencies. The relationships with artists could extend beyond the three-month residencies to keep on supporting their work. More and more, I want to use the centre as a place for bringing people together to just chill and to hope that things can come out of it. I think it's great to have an exhibition space, but at the same time not to be too reliant on the exhibition alone. —[O]