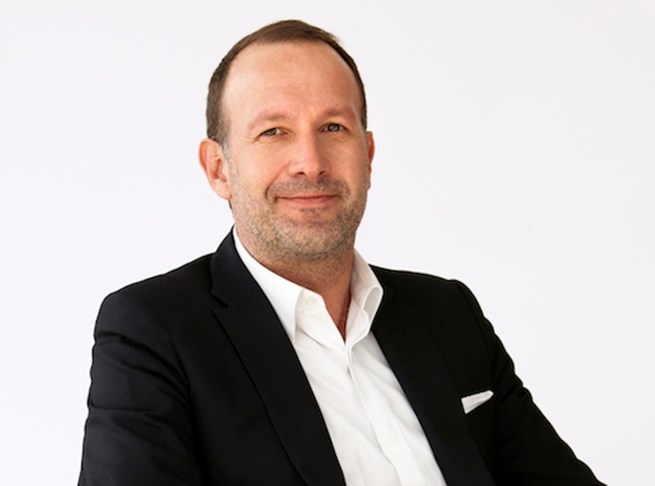 Image courtesy Simon Lee Galley
, arrives for our interview, he appears very relaxed. With 30 years of experience under his belt, including time at the Guggenheim and then as Director for many years at Anthony d'Offay Gallery – he exudes the confidence of a person who has seen and done it all, and has nothing to prove. After graduating with a degree in Art History from Melbourne, Lee moved to Paris in the late 80's to work for the French Ministry of Culture and in 1989, he moved to London after having worked at the Guggenheim in Venice. By 1994 he was the Director of Anthony d'Offay Gallery and in 1997 he set up his own gallery, '11 Duke Street.' In 2002, he acquired a premises on Berkeley Street and became involved in a partnership looking after artists such as Barbara Kruger, Fischli & Weiss, Cindy Sherman, Jenny Holzer, Joseph Kosuth, George Condo, Larry Clark, Robert Therrien and John Baldessari. In September 2006, Simon Lee Gallery was officially founded.
In this conversation I talk with Lee about Simon Lee Gallery's beginnings, what his time with d'Offay and the Guggenheim taught him about art, and how his space in Hong Kong evolved. Ultimately, Lee and I talk about the Hong Kong gallery's current exhibition, Walk the Line. The exhibition features eight artists, who across disparate practices share an interest in conceptual abstraction. The works included reflect each artists' process-oriented approach to conceiving and making work, which frequently involves the translation, transformation and reconstitution of an image from one medium or form into another. Each work is roughly the same size – large rectangular canvases of approximately 180 cm x 120cm (some larger, some smaller); and a passer-by would be forgiven for assuming the works were part of an abstract painter's solo exhibition. Yet to do this would be to ignore the widely ranging processes and approaches used to constitute ultimately very different works.
From your beginnings in Melbourne, you went to Paris, and then to the Guggenheim and then to work for Anthony d'Offay. How do you think that trajectory reflects in the gallery that Simon Lee Gallery is today?
How does it affect it? Well, I suppose I still have an academic side to me. I made the transition from the institutional world to the private world out of necessity, really. My parents decided they couldn't subsidise me anymore and I think having the opportunity to work for and be the director of Anthony d'Offay's gallery at that moment was the really great opportunity. It was the best school for a gallerist. He was at that time at the peak of the gallery world and they had carte blanche in London, and so I had the opportunity to work with all of the great artists at the end of the 20th century.
Is there one particular aspect that you took away from that experience with d'Offay that you now call upon as a gallerist?
Oh I think he was by far the most professional and driven gallerist that I have ever encountered. The one thing that I would take away from it is that - the artist is the most important thing about the gallery. More important than anything else – even the collectors.
You have recently opened a space in New York, and described it really as a space for artists to meet?
Yes, that is right. It is not going to be a gallery per se where we will do rotating exhibitions. The idea began as a place where we could serve our artists. We represent ten or twelve artists now, who are based in New York, and it was a means of being in touch with them – a way of giving them a platform to meet. It was about giving them some sort of base. We won't do exhibitions, but we hope it will be a place where ideas can fertilise. Obviously we can show work there and we will. It will be far more informal.
Why would a gallerist open a space in Hong Kong before New York?
Well you know Katherine Schaefer – our Director here in Hong Kong. Katherine worked very closely with me in London. And Katherine arrived at the office one day with tears rolling down her cheeks and it was her announcement that she was going to have to relocate to Hong Kong and leave the gallery. So I suggested to her that she become our Asia representative. And so she spent a year and a half here working for us without a space, and working from home and being out and about and meeting everyone. It worked very well and she established a great network of people, and then was offered this space in the Pedder Building and so we said: "Let's do it". And I suppose in a lot of ways that has been the key to our success here – the lack of anxiety, not having to worry about who is doing what. We had a close working relationship. So it evolved very organically. It was ideal. In a sense, that is exactly what is happening in New York. Manuela Mozo will be working with me in New York, and we have had a close relationship over the last twenty years and it is the same sort of situation. My theory is that eventually I won't have to travel so much.
Did you imagine that it would be like this – all the travelling?
I had a frantic working schedule when I was with Anthony. But I think it has become even more intensive recently because competition amongst gallerists is so intense.
Also, being a gallerist seems to be more event-driven now – institutional openings, art fairs, spaces in different countries, and so on.
Yes, the fact is that you do a lot of travelling to support and have a presence appearing at an exhibition and being supportive and looking after relationships.
Is that how you would define Simon Lee Gallery – as a gallery driven by relationships?
Yes, in essence that is what the art world is about – a relationship driven business. It would be difficult to imagine selling a gallery on in the way another business might be bought and sold. I would be happy to be proven wrong, and I have been proven wrong in the past. I thought it would be very difficult to roll the brand of a gallery out internationally, and yet some of our colleagues – for example Gagosian – have been able to do that reasonably successfully. It isn't something that I necessarily aspire to. It is a relationship business – it's about our relationships with artists, collectors and institutions. It is the Simon Lee Gallery – not some other name.
Is there something that unites or connects artists from Simon Lee?
Well, all of the artists probably have a conceptual approach to making work. Whether it is painting, sculpture, video or photography – there is an over-arching conceptual approach. But we represent figurative painters and abstract painters, and artists who have very diverse practices. Ultimately though, there is not a school of artists these days – maybe in the late sixties where there were strong pronounced movements in art, it was easier to have a gallery that represented a sensibility. Whereas, since the explosion of post modernism and the diversity of practice, the only overarching thing that can bind a group of artists together is the extent to which they strive for quality. I think that rigor and quality is what defines the artists that are part of this gallery.
The Guggenheim recently held the very successful exhibition of Christopher Wool's work. Christopher Wool is included in this exhibition, but there are also some very interesting younger artists who equally are exploring similar themes to Wool – was it Wool that drove this exhibition?
Well Christopher has been around for a while and certainly is a lynch pin of my gallery, its personality, and its identity. His work is greatly admired and it inspired a younger generation of artists to make abstract painting at a time when it seemed it was running into a coal pit. Now, it seems very open again.
Well many of the works in this exhibition draw on technology, so they certainly extend the possibilities for painting?
Yes it is fascinating to see a plethora of ways to make a painting. And I think this is something which groups these artists nicely together – this notion that you can make an abstract painting in many different ways, involving different types of media in what we all think of as classical painting - classical abstract painting for that matter.
We recently showed David Ostrowski and there was an enormous demand for his work in London, and a strong demand for his work in this part of the world too. And it seemed it was a good moment to show that aspect of the gallery to the public here and it turned out well. Toby Ziegler is also in the show, and well, it's a little bit of an advent en blue for him, as we will show him at Art Basel Hong Kong. Bernard Frize had a show here before in the Hong Kong gallery. Drawing strands together, it is a very coherent and impressive group of artists representing a broad spectrum of practices.
Why the title, Walk the Line? A reference to Johnny Cash?
Well we were talking about "Walking the Line" and I didn't want it to be misconstrued as the sort of meandering line of Paul Klee. I thought of the Johnny Cash attitude. If you analyse Johnny Cash's music – there are some complicated and important ideas explored in the most simple form - musically. And there are big questions and big issues being discussed in those songs and so I thought that was correct. In these works, sometimes you see very simple means and sometimes a very complicated process as well.
All thoughtful, but also all a bit 'Rock and Roll'?
Yes absolutely – these guys are all a bit 'Rock n Roll'.