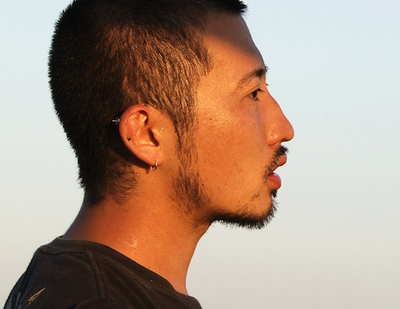 Tsubasa Kato (b. 1984) is a performance artist whose work relies largely on the participation of others. He is most well known for his Pull and Raise
project, an ongoing series of performances that require the assistance of friends, colleagues and the public to be executed.
Tsubasa Kato studied at the Tokyo University of the Arts. He has exhibited extensively within Japan and has executed several large scale projects internationally. He is represented by MUJIN-TO Production in Tokyo and the gallery showcased his work at Art Basel Hong Kong 2015.
Ocula talks to Tsubasa Kato on the occasion of his recent solo exhibition at MUJIN-TO Production.
How would you define yourself as an artist?
I am an artist focusing on human relationships, and I do so via performance.
And what is your background? How did you first become interested in art?
I don't remember when I decided to be an artist. Just that I liked to be outside of my familiar environment and I was very much focused on discovery and new experiences. I studied painting, but soon began to question the medium which led me to start working outside of the studio.
You are most well known for your Pull and Raise works: a long term series of projects in which large scale wooden structures replicating buildings or other monuments are pulled up from the ground using ropes by a large number of participants. When you started making these works they operated in the reverse, Pull and Down. Can you share your thinking behind these works and why you changed to pulling them up?
In the early stage, the motifs for the Pull and Raise projects were mainly houses, based on my house as well as other people's houses. I make the structures to exact scale, and also models on smaller scale too. My idea was to create new experiences and in a sense history in the action of pulling down the structure.
Then the Great East Japan Earthquake happened on March 11, 2011. As you know, the Tsunami destroyed countless houses. After experiencing such incredible loss and observing the recovery effort begin, which in a sense heralded a new era, the circumstances of Pull and Down drastically changed. I was planning to perform the Pull and Down project in front of Osaka Castle, but I cancelled the event and changed it to Pull and Raise, which involved slowly raising the structure by pulling the ropes.
And they are documented by photography and video, which, alongside scale models of the structures, make up the body of your exhibitions?
Yes. The installation includes my first Pull and Raise work right after the disaster and the project I held in Fukushima.
Communication and collaboration are central to your work; the success of the performances relies on people coming together to achieve a common aim. You have referred to these events as "hard-core communication". Can you talk to us about this with respect to modern society and the breakdown of traditional communication and relationships?
For example, when the organised participants couldn't move the structure during the Pull and Raise event, observers joined voluntarily and helped to pull at the ropes. I think this is related to reflective action, rather than being about people sharing the same goal. No doubt there is something physical, almost reflexive, about the observers joining unintentionally.
And what about the significance of place in your work? You have executed Pull and Raise projects around Japan and internationally, including major projects in America, Australia and Malaysia.
I created works with Native Americans in the U.S.A and people without nationality in Malaysia. An important part of the Pull and Raise project is to shed light on the nuances of different realities in the world which lie beyond the shared action.
When races and languages differ there are some changes to the way my works are made and the reaction to them. I also am interested particularly in how common the phenomenon of observers unintentionally joining in the performance in the different places.
I understand you will move to Seattle this year for a two-year scholarship granted by the Agency for Cultural Affairs in Japan. Please tell us about the scholarship and what you hope to achieve?
I've been to number of countries for exhibitions and other projects but this will be the first time that I will have an extended stay (2 years) in a foreign country. I'm very excited about it. And am thinking about how to show my past works and how to create new works.
What did you show at Art Basel Hong Kong?
I constructed an installation with the works themed on "post catastrophe Japan" and "border." It's not that I wanted to present these keywords, but more question what can be done to the reality these words reflect.
And do you have any other exhibitions planned for 2015?
I will participate in an exhibition called Time of Others at the National Museum of Art, Osaka from 25th July to 23rd September. This exhibition is directed by four Asian curators and will tour to the Singapore Art Museum and the Queensland Art Gallery. My work is not included in all of the touring exhibitions, but the exhibition is formed by the artists from numerous Asian courtiers and it's a must see!—[O]