Feature
Memory and Reconstruction: Japanese photography and architecture in two exhibitions
Toyo Ito. Sendai Mediatheque, Miyagi, Japan. 1995–2001. © Naoya Hatakeyama.
On 11th March 2011, a catastrophic earthquake struck northeast Japan, triggering a tsunami and nuclear power-plant explosion at Fukushima. Known as '3/11', this environmental, political and socio-economic disaster has been met with widespread artistic and social responses—not least from Japanese photographers and architects. Two exhibitions in New York mark the 5th anniversary of the disaster: at the Japan Society, In The Wake: Japanese Photographers Respond To 3/11 (11 March–12 June) explores photographic memory; and at MoMA, A Japanese Constellation: Toyo Ito, SANAA, and Beyond (13 March–4 July) celebrates the architectural reconstruction of contemporary Japan by focusing on work of architects and designers orbiting Pritzker Prize winners Toyo Ito and SANAA.
In The Wake: Japanese Photographers Respond To 3/11
11 March – 12 June 2016
Japan Society, New York
International artistic, social and charitable responses to 3/11 have abounded. On the morning after 3/11, New York's Japan Society created the Japan Earthquake Relief Fund, raising more than USD14,000,000 since its inception to support the Tohoku region's community and entrepreneurial enterprises. Building upon this charitable gesture, and opening five years to the day since 3/11, Japan Society is staging a photographic survey organised by the Museum of Fine Arts in Boston. In The Wake presents over 90 works by 17 photographers, both well-known and emerging, whose varied practices respond to the earthquake, tsunami or nuclear disaster.
Living outside of Japan and therefore witnessing 3/11 from abroad, many who had Japanese relatives and friends made phone calls, checked Facebook, and followed the wake of the disaster from a painful distance. Photographer Tomoko Yoneda found herself watching the news footage of the tsunami at home in London, but promptly travelled back to Tohoku, and photographed the aftermath. Her work, Horse, Evacuated Village, Iitate Fukushima (2011) depicts pastoral blowing grasses grazed by a horse; a seemingly peaceful scene. The title however alerts the viewer to the fact that this animal is one of many abandoned after Fukushima's radiation zones were evacuated.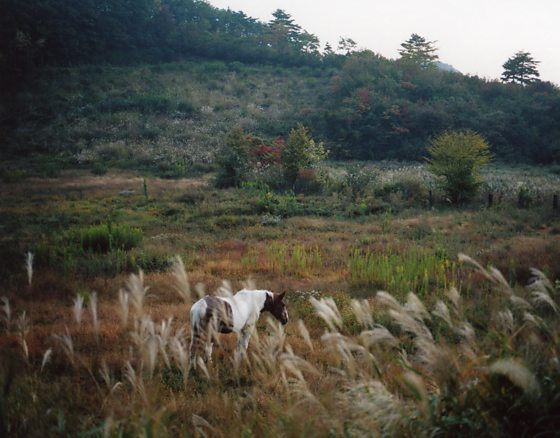 Tomoko Yoneda, Horse, Evacuated Village, Iitate Fukushima from the series Cumulus, 2011. Photograph, chromogenic print. © Tomoko Yoneda, Courtesy Shugo Arts.
Animals feature elsewhere in the exhibition, often pictured inhabiting a landscape that can no longer be occupied by humans, serving as reminders of their absent owners and how the lives of those from the region were changed in the course of a day. Take for example, Yasusuke Ōta's photograph of an ostrich standing in a street (Deserted Town, 2011). The image seems festive (even humorous), but for the unnerving lack of human presence. The wall caption explains that the bird was the pet of the nuclear power plant company, and that Ōta's photograph is part of The Abandoned Animals of Fukushima series to raise funds for feral pets. In Rinko Kawauchi's Light and Shadow (2011), two domesticated pigeons circle a ruined house in Tohoku, seemingly trying to find their way home—a poignant reminder of the many displaced residents of the region.


Yasusuke Ōta, Deserted Town from the series The Abandoned Animals Of Fukushima, 2011. Photograph, pigment-based inkjet print. © Yasusuke Ōta.
In the aftermath of 3/11, photographers also focused upon other parts of Japan—including Hiroshima and Nagasaki. Yoneda makes annual visits to Hiroshima, and views Fukushima's disaster as a continuum of the ecological, humanitarian and political devastation of the atomic bombs dropped in those cities. Her series Cumulus (2011) takes its name from a cloud form reminiscent of the Fukushima nuclear explosion, and includes a studio photograph of two immaculate white Chrysanthemums, both an image associated with ideas of Japanese nationalism and a visual reference to nuclear mushroom clouds. Hiroshima Peace Day captures the concerned faces of youth volunteers listening to a memorial speech in 2011. Given what the nation witnessed five months earlier, the apparent anxiety on their faces is understandable. Japan reopened the fourth of its nuclear reactors last month—five years since 3/11, and 71 since Hiroshima and Nagasaki. Although In the Wake's photographs predate this reopening and focus on 3/11, their subtext suggests a profound unease over the future of Japan's nuclear investment and radiation.


Tomoko Yoneda, Hiroshima Peace Day from the series Cumulus, 2011. Photograph, chromogenic print. © Tomoko Yoneda, Courtesy Shugo Arts.
One of the most exceptionally poignant photographic projects in the exhibition is that of Lieko Shiga. Based in Kitakama, Miyagi prefecture (one of the villages impacted directly by the disaster), before the earthquake, Shiga combined working on her own projects with documenting her community's festivals and gatherings. Following 3/11, her home, work, and many of her neighbours perished in the tsunami. A survivor of the disaster, Shiga's photographic response to 3/11 is testimony to the power of community. Picking her way through the debris in the days after the disaster struck, Shiga rescued photographs from the rubble. Occupying a community shelter nearby, she cleaned and displayed thousands of found photographs that survivors could view and reclaim. In the Wake includes a large-scale image of this photographic archive, alongside 12 greater than life-size colour photographs taken from Shiga's own practice. These photographs are staged rituals and events that satire prevailing stereotypes of Tohoku as place of tradition and ritual. Still Unconscious (2010) depicts a young girl being carried over many peoples' heads as if she has collapsed. The scene is at night and only illuminated by camera flash. Its exact context is unclear, but the photograph appears to capture a moment of turmoil—almost as if a body of water has capsized the crowd. While predating 3/11, the image's dark intensity takes on a meaning that the photographer could not possibly have imagined when she took it—perhaps a portent of the region's subsequent fate?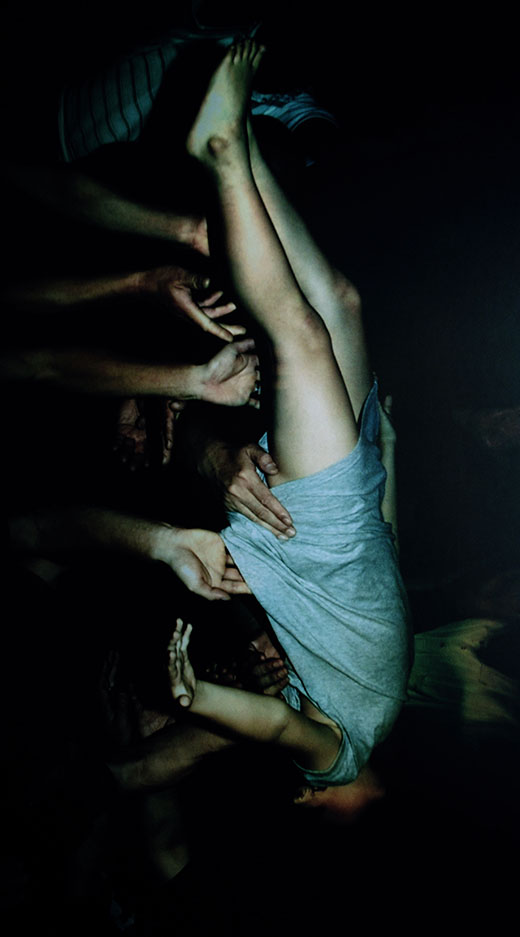 Lieko Shiga, Still Unconscious from the series Rasen Kaigan (Spiral Shore), 2010. Photograph, chromogenic print. Courtesy of the artist, © Lieko Shiga. Courtesy Museum of Fine Arts, Boston.
The exhibition also draws attention to the power of photographs to act, as a kind of media archaeology of past and future, memory and reconstruction. Kozo Miyoshi's objective black and white documentary approach, as seen in 2011:04:02, Minamisanriku, Motoyoshi, Miyagi Prefecture No.4 (2011), captures the delicate tangle of metal, soil and concrete left when a train track was washed off its bed by the tsunami. It points to the power of a photograph to impart information, in a very simple way, for contemplation. Google Maps took time updating its images after 3/11, meaning that rail tracks such as Minamisanriku's lingered online like ghost trains. Miyoshi's image also suggests the existence of something no longer there, marking what has been lost through an absence.


Kozo Miyoshi, 2011:04:02, Minamisanriku, Motoyoshi, Miyagi Prefecture No.4 from the series North East Earthquake Disaster Tsunami, 2011 Portfolio, 2011 © Kozo Miyoshi. Courtesy Museum of Fine Arts, Boston.
A Japanese Constellation: Toyo Ito, SANAA, and Beyond
13 March – 4 July 2016
MoMA, New York
Responding both to the 3/11 disasters and longer term challenges facing the region—including depopulation, an aging society, and economic downturn—Tohoku has began to be seen as a model for community reconstruction, both in and outside Japan. While photography is often thought of as a mode of retrospection, it can also be a constructive means of bringing communities and stories together. Architecture too has the potential to combine artistic and social responses, and bridge past and future.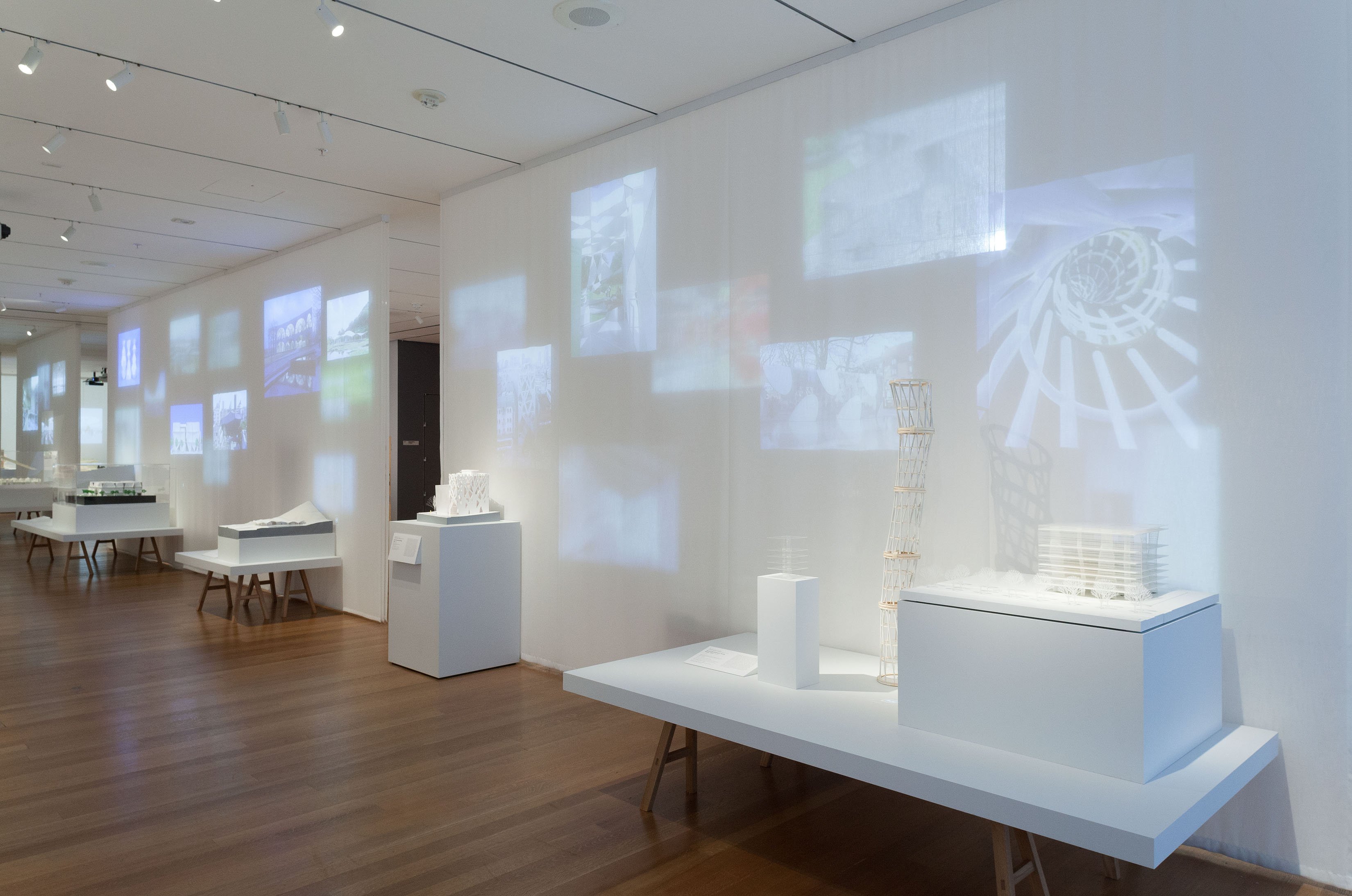 Exhibition view of A Japanese Constellation: Toyo Ito, SANAA, and Beyond. The Museum of Modern Art, New York, March 13-July 4, 2016. © 2016 The Museum of Modern Art. Photo: Thomas Griesel.
Taking as its starting point designs by architects Toyo Ito and SANAA, A Japanese Constellation: Toyo Ito, SANAA, and Beyond visits projects of two younger generations of contemporary Japanese architects, to trace a pattern of mutual influence and learning. The exhibition includes architectural models, plans, wall-mounted photographs, and projected slideshows of buildings from conception to completion, literally mapping a constellation of architectural practice. Given the rising phenomenon of 'starchitects' building second Louvres and Pompidous in Abu Dhabi, for example, A Japanese Constellation's emphasis on collective intergenerational inspiration is immensely refreshing.
A wall of photographs and plans documenting Tohoku's reconstructive efforts made in the wake of 3/11, greets visitors as they enter the show. The project of five Japanese architects, including Toyo Ito and Kazuyo Sejima, Home for All: Reconstruction after the 2011 Great East Japan Earthquake (2011-ongoing), aims to build simple communal structures for meetings, social events and temporary housing. Designed with local residents, students and builders, each project responds to a town's particular needs; 15 projects are currently completed or under construction. Photographs of construction sites and completed projects in this section illustrate a preponderance of lightweight and readily available materials (aluminium and timber structures), evidencing their architects' practical resourcefulness. What also becomes apparent, particularly in the site photographs that include people, is that the buildings' proportions respond directly to the human body, helping their temporary inhabitants feel as comfortable as possible. The images also document an appreciation of natural resources including daylight—maximised through extensive fenestration.
An awareness of nature illustrated in the Home for All section anticipates themes carried through the exhibition. Architectural models that include landscaped backdrops encapsulate their architects' sensitivity to body, environs, and relations between the two. The membrane-like materials and curved forms of many of the models also suggest their built counterpart's intelligent absorption of daylight and air. Toyo Ito's celebrated Sendai Mediatheque (1995–2001) exemplifies this. The Mediatheque is a public facility that combines library and art gallery functions, and is located in the city of Sendai, Japan. Its light and open social spaces, represented in the exhibition by an intricate model, photographs and plans, celebrate a continuum of architecture, user and environment. Such thinking heralds the open and curved spaces of Ito's most recent project, the National Taichung Theater (2005–16), the plans of which are also included in the exhibition.



Toyo Ito & Associates, Architects, Sendai Mediatheque, Miyagi, Japan, 1995–2001. Model: acrylic, 10 5/8 x 31 1/2 x 29 1/8″ (27 x 80 x 74 cm). The Museum of Modern Art, New York. Gift of the architect in honor of Philip Johnson. © 2015 Toyo Ito.
Kazuyo Sejima trained in Ito's office before establishing her own in 1987, when Japan's economic bubble had burst and architects needed to respond to a new social environment. Again exploring the idea of architecture and the body, her projects critically examine both collective and private experiences of space. Sejima collaborated with Ryue Nishizawa to form SANAA in 1995, the three practices share one studio to encourage open conversation. Unlike Sejima and Nishizawa's individual practices, SANAA focuses on larger cultural and international projects, working from simple forms and, again, thinking of walls as porous skin. This emphasis on phenomenal and sensorial effects of materials, including the reflective and refractive properties of layered glass, blurs boundaries between public/ private, and interior/ exterior. Kanazawa's 21st Century Museum of Contemporary Art (1999-2004), an early project which opens the exhibition's SANAA section, embodies this thinking to perfection. The plans displayed detail the way the museum's circular form creates a non-hierarchical continuity between the galleries and the surrounding environment. A model of Taichung City Cultural Center, Taiwan (2013-16), sits nearby, and comprises only a lithe swirl of acetate and metal—again exemplifying SANAA's philosophy of openness and tactility.


SANAA, 21st Century Museum of Contemporary Art, Kanazawa, Japan, 1999–2004. © SANAA.
A Japanese Constellation is designed to mirror this philosophy too. Slides are projected onto soft partitions of semi-translucent white fabric, mimicking SANAA's walls. While the concept is strong, because MoMA's spaces are bright, sadly little more than tantalising ghosts of images can be seen. The architectural models, on the other hand, are superbly varied, and guide us from architectural concept towards built reality. They range from Sou Fujimoto's highly intricate model for the 2013 Serpentine Pavilion, to stacked cardboard boxes that form SANAA's initial concept model for New York's New Museum (2003-07). Junya Ishigami's model for a House and Restaurant (2013-ongoing) takes a similarly simple form, comprising a dense concrete mould that evokes molehills and the excavation of soil. Akihisa Hirata's multiple clay and paper concept models, meanwhile, evidence the organic and discursive studio practices underpinning each construction.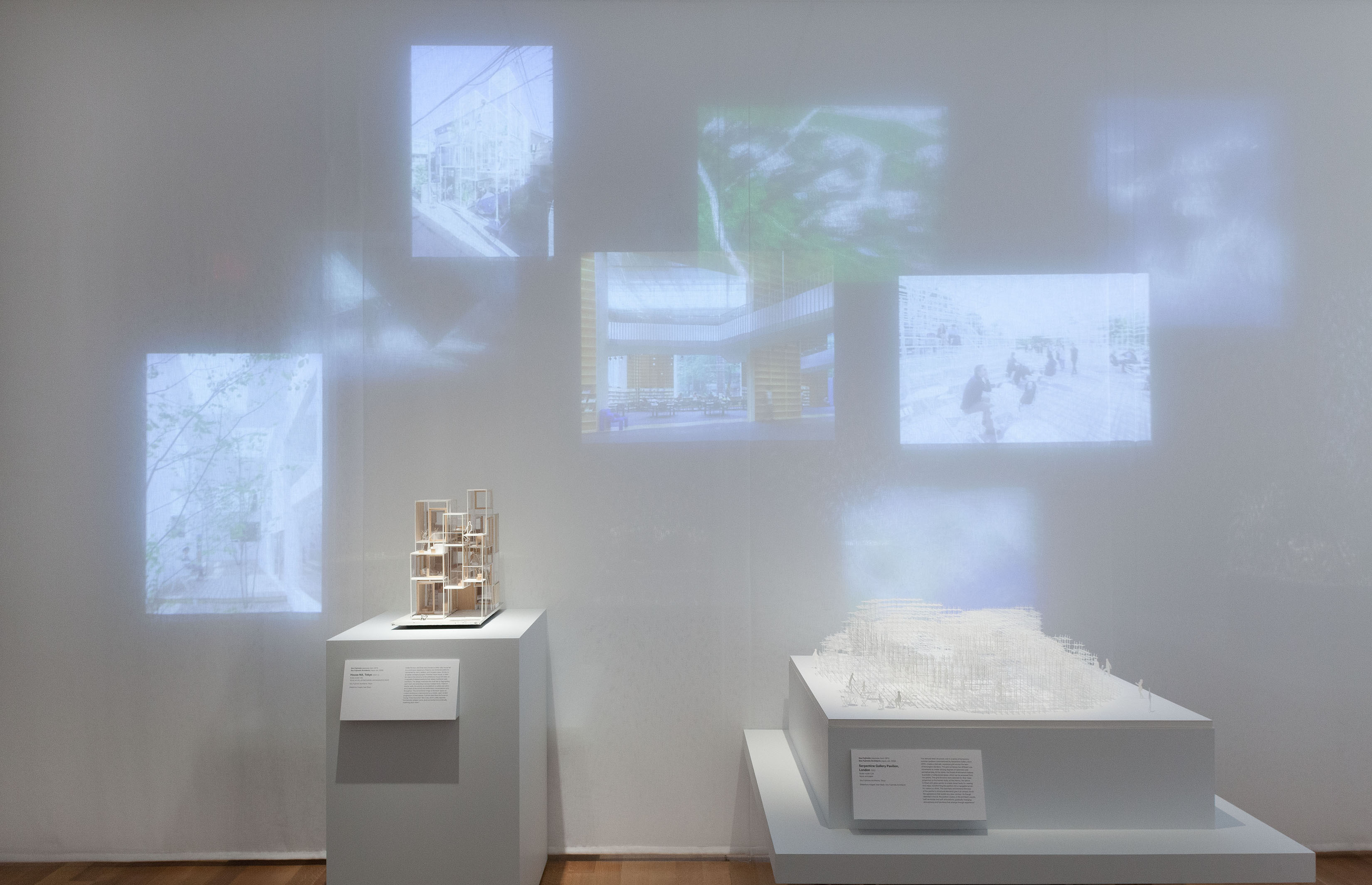 Exhibition view of A Japanese Constellation: Toyo Ito, SANAA, and Beyond. The Museum of Modern Art, New York, March 13-July 4, 2016. © 2016 The Museum of Modern Art. Photo: Thomas Griesel.
Thinking of architectural models as seeds, some of which germinate into built completion, we might also think of photography. Photographs are taken, and some are developed. They form through exposure to light and chemicals. Models and photographs are thus emblems of possibility—forms that develop through sensitivity to an environment. A Japanese Constellation and In the Wake celebrate architecture and photography that work precisely from this double premise of vulnerability and potential. Coming together with communities and landscapes, Japanese photographers and architects propose a germane ethics of memory and reconstruction. —[O]