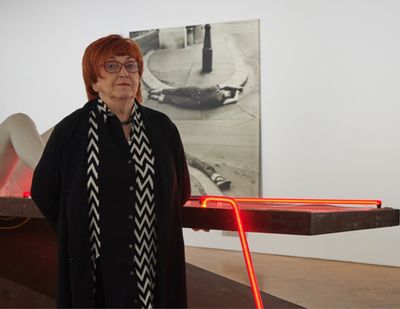 © VALIE EXPORT. Courtesy Galerie Thaddaeus Ropac.
Born Waltraud Lehner in Linz in 1940, VALIE EXPORT was inspired by the branding of Smart Export cigarettes to modify her nickname Walie alongside Export, thus exporting new ideas to new grounds. Written in capital letters, her own bold branding rejected the name of both her father and former husband, and catalysed one of the earliest waves of feminist art.
Against the backdrop of conservative Austria tainted by the aftermath of Nazism, the artist took a political stance from the start, making performances that were confrontational, but that rejected the violence that defined the work of the male-dominated Viennese Actionists, whose explicit performances involved bodily and animal mutilations, among other gruesome formats, in an attempt to radically deconstruct mainstream culture. In her early avantgarde performances and photographs, EXPORT used her body to confront the male gaze. In Action Pants: Genital Panic (1969), for instance, six silkscreen posters capture the artist seated barefoot and frizzy-maned, her jeans exposing her bare crotch and a machine gun resting in her hands defiantly, to match her gaze. A year earlier, the artist performed Genital Panic in an arthouse cinema in Vienna. Walking through the rows of seats with crotch on display, EXPORT asked viewers that they look at a 'real woman' instead of images of women on the screen. Through her body, EXPORT removed the screen and intercepted space to create 'expanded cinema', exploring media's parameters and dissemination. In 1968, Tap and Touch Cinema saw EXPORT walk the streets with a miniature Styrofoam 'movie theatre' attached to her chest, with a curtain in front and inviting passers-by to reach inside and touch her breasts. 'The tactile reception stands against the deception of voyeurism', the artist explained, to create an 'activation of the audience through new interpretation'.
Further reaching into space, EXPORT's series of 'Body Configurations' (1972) capture her contorted body in the urban environment, crouched against a wall or lying against the side of the curb while bold, graphic lines mirror her movement. In doing so, she renders the city's rigidity visible, accentuating its imposing structures. A series of the works are now on view at Galerie Thaddaeus Ropac in London for the artist's solo exhibition, The 1980 Venice Biennale Works (28 November 2019–25 January 2020), showing the artist's 1980 Venice Biennale presentation in its entirety for the first time in almost 40 years, including the imposing Gerburtenbett sculpture—a slanted, rusty-coloured bed of steel supporting a pair of severed white legs from which two thin red neon lights stream outwards. Behind the figure, a television plays a recording of a Catholic mass.
In this conversation, VALIE EXPORT discusses her formative works and the thinking behind them.
VALIE EXPORT, Einkreisung (1976/1980). Black and white silver gelatine print on baryta paper laid on chip board. 79 x 130 cm. © VALIE EXPORT / Bildrecht Wien 2019. Courtesy Galerie Thaddaeus Ropac.
Your current exhibition at Galerie Thaddaeus Ropac includes a recreation of the installation that you first presented at the 39th Venice Biennale, which includes images of your body contorting into the urban environment. Why present the installation now?
The multimedia installation has not been reproduced; the works are originals that were shown at the Austrian Pavilion of the 1980 Venice Biennale. This installation was only shown at the 1980 Venice Biennale, not at any point afterwards, nor at any other location. It is very exciting to re-exhibit historical works of art, as they are seen with different eyes and taken up with different senses. They speak of a certain artistic period and of my artistic development, and they allow that moment to be in focus again.
In what ways have your interrogations into 'the drama of human self-realisation' shifted over the years, and how does the installation at Galerie Thaddaeus Ropac embody those shifts?
This 'drama' of self-realisation is embodied in the visitors'—or recipients'—perceptions, and how they connect this historical presentation with presentations of reality today.
Exhibition view: VALIE EXPORT, The 1980 Venice Biennale Works, Galerie Thaddaeus Ropac, London (29 November 2019–25 January 2020). © VALIE EXPORT. Courtesy Galerie Thaddaeus Ropac.
The film Poems (1966–1980) includes a poem written in two stanzas—the first series of lines denote things you did and the structures to which they belong, for example, 'I was born at the hospital which belongs to the city of Linz' and 'I suckled the breast which belongs to my mother'; while the second stanza consists of bodily actions that belong to you, such as 'I screamed the voice that belongs to me'. Both stanzas end with, 'That's the life that belongs to me.' How does this work sit within your practice?
This poem is connected to my artistic practice and to the rules of society, for instance, 'I was afraid of the bombs that belonged to the state of England', or, 'I cried for my father, whose death belonged to the fatherland'. These are rules that one wants to fight, break, and rise up against. All the while, the voice belongs to me. Much later, in 2007, I gave a performance at the Venice Biennale, where I showed the voice as a body, titled, The voice as performance, act and body.
Poems began in 1966, a year before you changed your name to VALIE EXPORT. What triggered a turn to film and performance? I read that you were working as a scriptwriter and editor.
Yes, I wrote scripts, alone and with others, but I was never an editor. I wanted to make art in space, as expanded cinema.
Exhibition view: VALIE EXPORT, The 1980 Venice Biennale Works, Galerie Thaddaeus Ropac, London (29 November 2019–25 January 2020). © VALIE EXPORT. Courtesy Galerie Thaddaeus Ropac.
Some of your early works hint at a kind of violence, such as Action Pants: Genital Panic (1969)—a series of photographs that capture you seated with gun in hand, legs apart, and jeans torn at the crotch. Action Pants came after Genital Panic (1968), a performance in which you walked the aisles of an art-film house, your crotch bare and at eye level of the audience. Where do you situate violence in your work, and how has your approach to provocation changed over the years?
Genital Panic was not violent—I walked through the rows of cinema chairs, but the visitors were afraid to see female genitals; to see the vulva and be too close to it. The fear of the vulva is present in mythology, where it is depicted devouring man. I don't know if this fear has changed.
How does this concept of violation relate to works—like Export's Eros/ion (1971), a performance that saw you roll naked across broken glass—that challenge the male gaze and liberate the body from it? Kausalgie (1973), for example involved you lying on a male figure's outline in melted wax, transforming the figure into your own.
You describe my handling of the male gaze very well, and in short, it complies exactly with my intentions. Eros/ion challenges the male gaze, especially when the female body is used as a sign of context variations. One can dedicate oneself to the naked body in different variations combined with different materials, although not permitting voyeurism, unless one includes the desire to see the female body as a victim. In this case, the shards of glass represent a sacrificial mark, in which the female body is represented as violated, or a violating subject, that does not subordinate itself to the rules of the sociocultural gaze, but demonstrates the concept of the representation of human reality. Here, violating means to violate the rules and norms—inflicting wounds upon them in order to present fragments in different contexts. I believe this has led to a gain in bodywork.
VALIE EXPORT, Die Geburtenmadonna (1976/1980). Exhibition view: The 1980 Venice Biennale Works, Galerie Thaddaeus Ropac, London (29 November 2019–25 January 2020). © VALIE EXPORT. Courtesy Galerie Thaddaeus Ropac.
The city of Linz acquired your archive in 2015, which is now part of the LENTOS Kunstmuseum holdings, and consists of a vast quantity of materials that you have amassed since the 1960s, from artworks and documents to drafts. How does it feel to have such a vast archive of your practice inhabiting the space of a public museum?
The publicness of the museum creates a broad, significant area of perception. The VALIE EXPORT Center has also developed its own distinctive structures to meet the demands of free scientific research, which go beyond the museum's space and expand it. I am very happy that my archive with its works and library is conducive to interdisciplinary research. The best thing is to subscribe to the newsletter: [email protected] —[O]