Feature
52 ARTISTS 52 ACTIONS Symposium Brings Ideas Offline

In collaboration with Artspace Sydney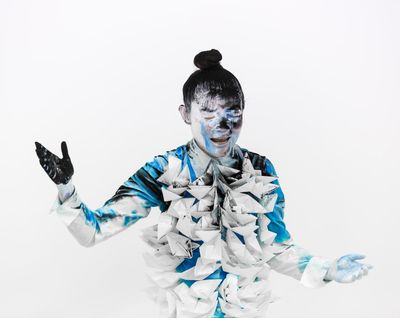 Echo Morgan (Xie Rong), 海.Sea (2019). Performance as part of 52 ARTISTS 52 ACTIONS symposium, Artspace, Sydney (20–21 July 2019). Courtesy Artspace, Sydney. Photo: Anna Kucera.
From 20 to 21 July 2019, Artspace Sydney held a two-day symposium that brought artists in conversation with leading curators, writers, activists, academics, diplomats, and journalists from across Asia. The symposium was the final chapter of the 52 ARTISTS 52 ACTIONS exhibition, publication, website, and Instagram project.
Instigated and curated by Artspace, 52 ARTISTS 52 ACTIONS comprised a year-long online exhibition running from January 2018 to January 2019, and as the title suggests, commissioned 52 artists and collectives each week. Artists were invited to create 'actions' and were open to interpret that in a multitude of ways including performance, documentation, community activism, interviews, and storytelling. The project enabled artists to have autonomy over content and language, allowing them to speak directly to audiences, thus reclaiming social media as a powerful tool for communication and shifting the nature of spectatorship, turning the medium back onto audiences who were invited to become active participants rather than passive spectators.
Exhibition view: 52 ARTISTS 52 ACTIONS, Artspace, Sydney (18 May–4 August 2019). Courtesy Artspace, Sydney. Photo: Docqment.
Overall, 52 ARTISTS 52 ACTIONS operated in a decentralised space that dematerialised traditional forms of exhibition-making within a new ontological language. The act of making the project physical through an exhibition and symposium reshaped the material nature of the project.
In May 2019, the Artspace gallery hosted a physical exhibition of works by all 52 artists from the Instagram project, expanding on the online component by activating ideas that had been developed through it. For example, artists Rabbya Naseer, Bhenji Ra, Shivanjani Lal, Fazal Rizvi, and Amin Taasha presented new moving image works that were developed directly from their action but had been restricted by the Instagram format to one-minute videos. Other artists wanted to show new or existing works that reflected on their actions, such as Ritu Sarin and Tenzing Sonam who included their controversial series 'Last Words' (2016), which documents five letters written by Tibetan monks who self-immolated in protest again Chinese occupation. The work was censored when it was originally shown at the 2016 Dhaka Art Summit when a Chinese ambassador to Bangladesh found the works offensive, so the ability to present those works in full was important to the Artspace exhibition as a response against self-censorship.
A number of artists also created take-home ephemera based on their actions, including posters designed by Heman Chong that list Gene Sharp's 198 Methods of Nonviolent Action (1973), stickers from Deborah Kelly's manspreading campaign during International Women's Week and indigenous plant seeds that James Tylor encouraged audiences to replant across the city.
Exhibition view: 52 ARTISTS 52 ACTIONS, Artspace, Sydney (18 May–4 August 2019). Courtesy Artspace, Sydney. Photo: Docqment.
The symposium was constructed by reflecting on key issues raised throughout the Instagram project and exhibition. Artspace partnered with Asialink Arts and Asia Society to produce a list of key speakers and collaborate on research. Funding from the Department of Foreign Affairs and Trade (DFAT) and Create NZ gave Artspace the capacity to invite 13 international artists to participate in the symposium.
The first panel discussion, 'Artists in Action' included nine artists who spoke about their work commissioned for 52 ARTISTS 52 ACTIONS and the social, cultural, and political implications of working in their particular contexts. Hit Man Gurung, Enkhjargal Ganbat, and Hasan Hujairi explored the impact of the geographical contexts in which they are working: Nepal, Mongolia, and South Korea/Bahrain respectively, and how their practices are intrinsically bound to a sense of place or a return to place. Shivanjani Lal, Nasim Nasr, and Tanu Gago and Elyssia Wilson-Heti (representatives of FAFSWAG) brought attention to the inherent contradictions of historical colonisation, particularly in relation to the politicisation and othering of their bodies and how they navigate this within the value of system of the art world.
Mike Parr, Give your Fee to Refugees (2019). Edition of 200 silkscreen print sets signed and sold as part of 52 ARTISTS 52 ACTIONS, Artspace, Sydney (January 2018–January 2019). Courtesy Artspace, Sydney.
The second panel, 'Art as Activism: This is not a moment, it's a movement', focused on artists whose practices blur lines between art and activism, exploring what it means when artists work collaboratively with organisations and communities to propel pressing issues into the public realm. The catalyst for this conversation was a question about how art as an action or a form of political activism can have the power to generate social and political change, if at all?
This panel included artists who often work in collaborative ways with different communities or organisations. Richard Bell's action launched 52 ARTISTS 52 ACTIONS in January 2018 in response to the then Prime Minister of Australia, Malcolm Turnbull's refusal to congratulate Australia's first Nobel Peace Prize winners on their International Campaign to Abolish Nuclear Weapons (ICAN), in which a Treaty on the Prohibition of Nuclear Weapons has been signed by 122 countries; Australia is not one of them. Bell considers the proliferation of nuclear weapons and waste to be the most urgent issue facing the region, and his action excavated archival images of nuclear disasters from Hiroshima and Maralinga to the Marshall Islands. Gem Romuld, the Australian director of ICAN, participated in the panel discussion and highlighted the importance of grassroots movements and that the campaign requires different communities to come together for a common interest. For Romuld, Bell's action highlighted the issue of nuclear disarmament to new audiences, which is a positive outcome.
Shivanjani Lal, 53rd Action performance for the 52 ARTISTS 52 ACTIONS Symposium, Artspace, Sydney (20–21 July 2019). Courtesy Artspace, Sydney. Photo: Anna Kucera.
As part of the exhibition, Mike Parr created 200 print sets titled Give your Fee to Refugees (2019) that were for sale over the duration of the exhibition, with the proceeds going directly to the Asylum Seekers Centre in Newtown. Artspace invited Frances Rush, CEO of the Asylum Seekers Centre to participate on the panel and speak about her experience of artists who work with asylum seeker communities.
Given the debate surrounding Christoph Büchel's project in the 2019 Venice Biennale, Barca Nostra, in which the artist bought and displayed the hull of a fishing boat that sank to the bottom of the Mediterranean Sea in 2015 killing up to 1,100 refugees, there are questions about the responsibility of the art world to ensure that when works are dealing with the refugee crisis they do so ethically, sensitively, consultatively, and accountably. Rush and Parr spoke about the significance of sharing resources and finding inclusive opportunities to engage with refugees in accumulative, ongoing, and generous ways. Safdar Ahmed, a founding member of the Refugee Art Project, put it succinctly when he stated that refugees are more than the reductive status of their citizenship.
Panel Discussion, 'Art as Activism: This is not a moment, it's a movement'. Left to right: Michelle Newton (Deputy Director, Artspace); Mike Parr, Frances Rush (CEO, Asylum Seekers Centre); Safdar Ahmed (Refugee Art Project); Gem Romuld International Campaign to Abolish Nuclear Weapons (ICAN); Rosanna Raymond; Bhenji Ra; Richard Bell; Ashmina Ranjit, 52 ARTISTS 52 ACTIONS Symposium, Artspace, Sydney (20–21 July 2019). Courtesy Artspace, Sydney.
The final panel, 'Unmapping Asia' drew upon the complicated and constantly shifting landscape that defines the region. Speakers included curator Tarun Nagesh, who spoke about the ground-breaking Asia Pacific Triennial (APT) at the Queensland Art Gallery & Gallery of Modern Art (QAGOMA). Nagesh curated the most recent APT9 in 2018 and he explored how the exhibition has evolved over the past decade and the changing debates about what is and isn't included when attempting to encapsulate practices from the Asia Pacific. Expanding on this, Professor Devleena Ghosh from the University of Technology, Sydney, reflected on the etymology of the term Asia, which she found was invented to refer to everything beyond Ancient Greece and Rome, revealing the arbitrary way Asia has been defined through history as a homogenising name for the 'other'.
Ghosh's research explores the history of mapmaking as embedded in a form of colonial violence placed upon topographies. Artist Taloi Havini underscored this by discussing the impending Autonomous Region of Bougainville independence referendum from Papua New Guinea. Havini reminded us that Australia has an invested history in Papua New Guinea and have long acted as colonial powers to sway political agendas.
Ashmina Ranjit, Open Mic organised as part of 52 ARTISTS 52 ACTIONS Symposium, Artspace, Sydney (20–21 July 2019). Courtesy Artspace, Sydney. Photo: Anna Kucera.
In her keynote presentation, Ocula Magazine's editor in chief, Stephanie Bailey also touched on the notion of 'unmapping' the region by reflecting on the historical processes and assertions of power that have defined the contemporary significance of borders, mapmaking, and language. As Bailey noted, 52 ARTISTS 52 ACTIONS defined Asia and its diaspora as endlessly evolving with sub-cultures and subjectivities that defy traditional or rigid narratives. She went on to discuss the complicated hybridity of words, bodies, objects, meanings, and spaces as sites of constant negotiation that do not comfortably fit within the traditional accounts of empires and nation states.
Bailey made reference to the Samoan philosophical term 'Va' outlined by Rosanna Raymond, which describes a hyper-relational space that is 'active' and binds people together through the act of being present and maintaining relationships between one another. Raymond was speaking about the importance of claiming a space for herself and her community in the language she has fought for, referring to the Māori activists who campaigned the Aotearoa New Zealand government in the 1980s to, among other issues such as land rights and recognition, establish Māori as an official language. Raymond also founded the SaVAge K'lub, a collective of Pacific artists and local communities that come together to activate spaces.
Enkhjargal Ganbat, 53rd Action performance for the 52 ARTISTS 52 ACTIONS Symposium, Artspace, Sydney (20–21 July 2019). Courtesy Artspace, Sydney. Photo: Anna Kucera.
Bailey went on to describe the act of coming together, being present, and allowing space that made 52 ARTISTS 52 ACTIONS a significant and meaningful project across its different iterations. In keeping, the symposium brought to life ideas and issues raised by artists from across 32 countries and contested territories in the region. From its starting point, 52 ARTISTS 52 ACTIONS sought to create a new platform for commissioning works that had respect for the context that each artist worked within to scaffold a bigger picture. The Instagram component remains a living, accumulative archive of social and political artistic practices across Asia.
On the second day of the symposium, Artspace held the 53rd Action, which was an afternoon of performances by Pati Solomona Tyrell (FAFSWAG), Enkhjargal Ganbat, Echo Morgan (Xie Rong), Hasan Hujairi, Shivanjani Lal, Bhenji Ra, and Mike Parr held in the exhibition space. Concluding the symposium, Ashmina Ranjit facilitated an open mic with over 20 interdisciplinary participants who came from across the state to speak for five to ten minutes each. Opening the floor to other people to share their stories and build on the communities created around this project was a significant way to end the project. In her introduction, Ranjit said, 'my voice is our voice', which for me felt like a reminder of the importance of collective spaces created by projects like 52 ARTISTS 52 ACTIONS to allow more people to come together, be present, and offer each other space.
—[O]
---
Elyse Goldfinch is assistant curator at Artspace, Sydney, and co-curator of 52 ARTISTS 52 ACTIONS with Alexie Glass-Kantor, Michelle Newton, and Talia Linz.