Feature
Global Resonance: A Report from Art Basel in Hong Kong 2016
Art Basel in Hong Kong 2016. © Art Basel.
Defending its brand standards across Basel, Miami, and Hong Kong and offering its various clients access to new markets, whilst leveraging both conservative and younger regional talents, is all part of the balancing act Art Basel performs. The youngest fair to date and in its fourth episode this year, Art Basel in Hong Kong (ABHK) gathered 239 galleries from 35 territories (and 16 large-scale 'Encounters' installations) from 22nd to 26th March.
This year's edition offered more spacious ground and deeper historical layers with which to showcase the varied territory of Asia's art scenes. The 'Encounters' sector (curated by Alexie Glass-Kantor) included museum quality installations, such as Cargo and Decoy (1989-2010) by late artist Roberto Chabet. Known as the founding father of conceptual art in the Philippines, his work consisted of an expanse of V shaped blue-painted plywood boards between wooden sawhorses. The title refers to cargo cults practiced amongst some Melanesian islanders which focus on certain European goods and their supposed supernatural powers. Thus the installation plays on art's capacity to bait through illusion and material while circulating messages of geopolitical tension.
Roberto Chabet, Cargo and Decoy (1989-2010), at Osage Gallery, Encounters sector, Art Basel in Hong Kong 2016. © Art Basel.The work of another founding father of conceptual art, Lawrence Weiner's The Middle Of The Middle Of The Middle Of. This was repeated across both levels of the fair as part of the 'Encounters' sector. It is a re-edit of his text-art-sculpture commission for the 2012 dOCUMENTA, but here translated in both simplified and traditional Chinese in addition to English. (Glass-Kantor recalled responding to Weiner's question, 'What is Encounters anyway?' with: 'It's in the middle!' when visiting his studio in New York).
Lawrence Weiner, The Middle Of The Middle Of The Middle Of, at Marian Goodman Gallery, Encounters sector, Art Basel in Hong Kong 2016. © Art Basel.Echoing the universal values and concerns that framed this section, the Bandung collective Tromarama rose to the occasion with a stunning installation, Private Riots (2014-2016). A floor to ceiling tower of childlike images with a playful visual narrative (drawings of open hands, clocks and moving feet, for instance) in which protest became a series of expressive, almost naïve, or joyful, gestures undertaken—as one would imagine—in the safe, and un-rushed space of a kindergarten playroom. The notion of passing time was an obsessive one around the fair. White Space presented the Berlin-based Chinese artist He Xiangyu's Time (2016), a series of silver marker-on-paper works the artist made in one-hour a pop by writing the successive minutes. At A Thousand Plateaus Art Space, Chengdu-artist Li Lang's 30219 days (2014) also had time handwritten—each date of his father's life precisely—which he then scratched off the canvas' surface (leaving the dust on the floor below). More process scraping was done by Alvin Zafra, whose realistic limestone on sandpaper Manila landscapes at Artinformal revealed the scope of his meanders through the urban space and the tension between taking a snapshot and the month-long process each work required.
Li Lang, 30219 days, 2014. Two channel video, edition: ed 2/10. Courtesy of A Thousand Plateaus Art Space.Referencing cross-geographical experiences was another undercurrent in the fair, from Sao Paulo's Casa Triângulo and Manila's 1335Mabini, through to Istanbul's Pi Artworks, offering fresh presentations to the mix. Sies+Höke, for instance, showed a work by Berlin-based Swiss artist Julian Charrière, Polygon (2015): a black and white photography triptych of a former nuclear testing site in Kazakhstan which were sparkled with dust from the site while processing the slides. Showing a very local research effort was Workplace in Discoveries, presenting installations by Joel Kyack, an artist from LA, who spent a short (two-week) residency in Sham Shui Po prior to the fair. During this time, Kyack created irreverent paintings of a monkey-like figure eating its parts (penis, foot, hand), and installations made of locally sourced metal racks and other materials—from styrofoam, hose, water, and bamboo—mixed with gory props brought over from the Hollywood's movie industry such as a dismembered toe, hand and head. (The reference to dis-membered limbs was seen in other works spotted around the fair, too. Formally more exquisite—and mature—but equally gruesome were Michaël Borreman's oils on canvases at David Zwirner, including The Limbs, 2016, in which an executioner-like figure holds a foot and a hand in beautiful classical soft brush portraiture.)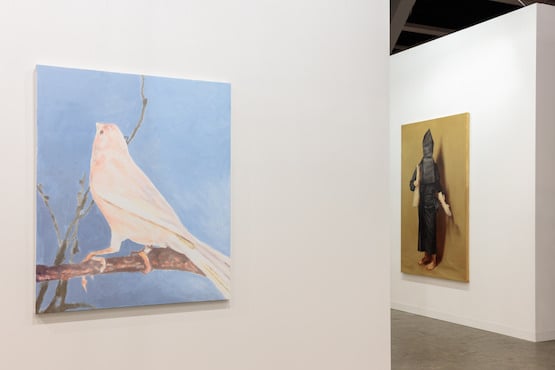 Exhibition view, David Zwirner at Art Basel in Hong Kong 2016. Photo: © Mark Blower & Ocula.But if some artists alluded to a damaged human psyche, other artists identified precise sorrows. The 2011 Fukushima nuclear disaster, still a real and present trauma in Japanese society, was reflected in Tadasu Takamine's video Japan Syndrome (2011-2013) at ARATANIURANO, showing in the 'Insights' sector. The work re-stages, in neutral settings, (black background and grey clothes) casual conversations the artist had with shop owners in Kyoto, Yamaguchi, and Mito, addressing disconnections between the official discourse surrounding the disaster and the impact on individual lives. ('Most peaches come from Fukushima at this time of year', claimed one interaction). More blended trauma appeared in Dinh Q. Lê's Light and Belief at 10 Chancery Lane, with his gathering of personal drawings by Vietnamese artist-soldiers during the Vietnam War. First shown during dOCUMENTA (13) in 2012, the works present peaceful scenes and peripheral portraits of war passing.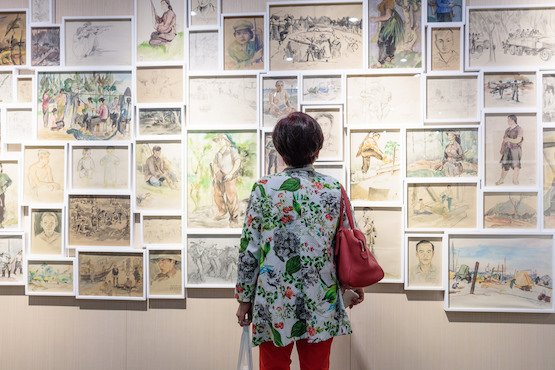 Exhibition view, Dinh Q Lê's Light and Belief, at 10 Chancery Lane Gallery atArt Basel in Hong Kong 2016. Photo: © Mark Blower & Ocula.Perhaps it is such traumas that fed into a palpable trend at the fair, which was the lack of screens. Apparently, we already are in post-screens times, if artist Paul Chan's conscious move away from screens is anything to go by (according to his gallerist at Greene Naftali, they invade our lives enough as it is). Chan's Pseudo-Pathethicus (2015) consists of a large black glove-like humanoid made from nylon banging its head into a wall repetitively thanks to a fan that kept the body in movement. Presented within the booth, this was one of the best works to contribute to the blend of dark humour, irony and surrealism that ran through many works within this year's fair.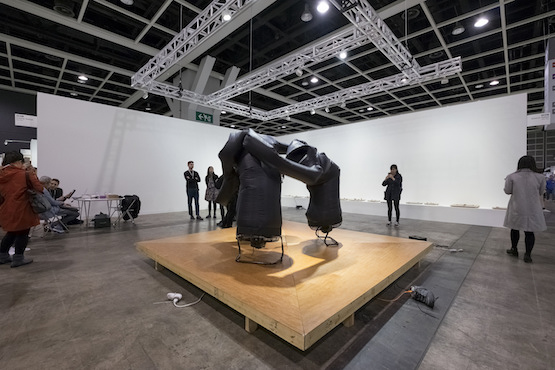 Exhibition view, Greene Naftali at Art Basel in Hong Kong 2016. Photo: © Anakin Yeung & Ocula.But of course, despite the lack of screens, there were in fact some 70 films to watch as part of the Film Sector. Notable historical pieces were included in Chi-Wen's presentation of videos, Chen Chieh-Jen's Dysfunction No. 3 (1983), whereby he filmed guerilla-style street interventions during Taiwan's martial law; and Yuan Goang-Ming's Out of Position (1987), a mixed installation of a plunging man half sculpture half image on a screen monitor. These works offered an opportunity to delve into a deeper understanding of the region's art histories. In some instances, those feel like the result of cultural cross-hatching and blending. Take the solo presentation at Eslite of works by David Diao, exploring his memories as a child in Asia, in particular a six-year stretch in Hong Kong, and a life later lived in the United States. In Kowloon & Manhattan (2014), Diao juxtaposes acrylic and oil drawings maps of both districts with yellow annotations revealing his experiences in both. Fixing memory, migration and geography into one personal interpretation, Diao's work is representative of the cross-mapping and inter-archival trends that have characterised contemporary art practice in recent years.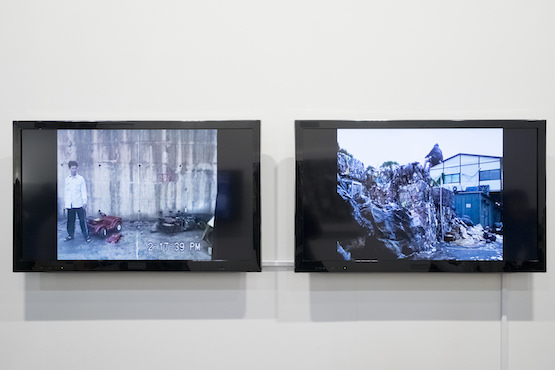 Exhibition view, Chi-Wen Gallery at Art Basel in Hong Kong 2016. Photo: © Anakin Yeung & Ocula.A stellar example of this trend was offered at Tyler Rollins, with the debut presentation of the (long-term) research-based project The Vietnam Exodus by Tiffany Chung. Chung's work focuses on the experiences of Hong Kong's Vietnamese refugee community. Using infographics, Chung followed the international flows of refugees by peeling off layers of statistics and visually fixing the network of detention centers and refugee camps in Hong Kong through a process of mapping. If anything, the work speaks of not being limited by national identity, on both a political and personal level. An idea that could be stretched to the approach Art Basel in Hong Hong has been taking as a fair that mixes countries together through propositions rather than locale (even if ABHK always proudly claims that half of its participating galleries come from Asia). By doing so, personal stories have the opportunity to find global resonance. —[O]