Feature
Living With Pop: A Reproduction Of Capitalist Realism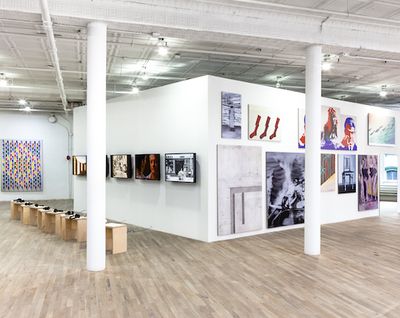 At the door of the Artists Space main gallery in Soho, two papier-mâché figures of John F. Kennedy and Alfred Schmela (a German gallerist) respectively—approximately life-size and rendered in greyscale—stood watch over the second half of Living with Pop: A Reproduction of Capitalist Realism. A group effort, the project was organised by a team of curators in Düsseldorf and the US.
Fittingly it had been first exhibited at the Kunsthalle Düsseldorf before arriving in both Artists Space's main location and its adjacent bookstore. The exhibition serves as a captivating recount and an absorbing resource, tracing key exhibitions and projects that unfolded within a particularly tight group of artists in the zeitgeist of Germany's post-war 'economic miracle'.
The first half of Living with Pop, held at Artists Space Books and Talks, served as a kind of window into their formative influences and experiments, particularly during their time studying together at the Art Academy in Düsseldorf. This study scrutinised the influential Fluxus artists of the early 1960s, with particular links drawn between Fluxus happenings of the Rhineland and those younger artists in Düsseldorf still in a nascent period of study. The collection of archival materials—including invitations, newspaper clippings, letters, and interview excerpts—bracketed a smaller selection of materials from the self-proclaimed first exhibition of Capitalist Realism that included those artists who would become its key protagonists. Renting a vacant butcher's shop at Kaiserstaße 31A (the address also being the title of the exhibition) in Düsseldorf, Sigmar Polke, Gerhard Richter, Konrad Lueg, and Manfred Kuttner presented "not a commercial undertaking but purely a demonstration." From this very first project these artists reflected the influence of Fluxus preoccupation with exhibition display mechanisms and demonstrative tactics, as well as interfering with PR materials such as the guest book to falsely insert comments.
At Artists Space's main space on 38 Greene St, this concern for the combined effects of advertising strategies and systems of display was brought together more clearly. Temporary walls were built to resemble shop front spaces or air fair booths, with piles of works leaning between floor and window like dead stock. These walls divided sections which covered exhibition projects and key galleries, beginning with the Möbelhaus Berges project shown alongside Galerie Parnass, Museum Morsbroich, and Galerie h, then Galerie Schmela and lastly with sustained attention directed at Galerie René Block. With not just a heavy but a fundamentally structural focus, these galleries emphasised the pivotal support that a particular handful of gallerists achieved in encouraging and showing the work of these young artists. This is also significant when considering the development of Capitalist Realism as not just the shared project of a group of artists, but as an art movement to be framed within the canon, for it becomes important to note the way that a figure like René Block paid crucial attention to distinguishing this movement as specifically not an extension of American Pop Art, but something of its own.
This wealth of archival materials provided a very welcome insight into this crucial period of growth for artists who now appear among the ranks of the repeatedly and breathlessly high hammer draws at auction today. Anchoring this exhibition was a high-risk, but highly successful curatorial coup in that no actual art was present in this show. In place of real paintings stood life-size photographic facsimiles, still telling of the work and how it fitted into the broader discourses and exhibition structures of the time, but without allowing the highly mythical status of these examples any sway. In this strange flattening these works were still entirely accounted for and presented fully. Their odd non-absence allowed them to slip right into the discourses on commodity and display which for these artists held a fascination in the 1960s. They also rephrased such questions in the present tense to reflect, in our own slippery comprehension of these non-artworks, the rampant economic speculation and commodity fetishism that continues unregulated in the art world today.
Rounding off this project together in both its locations was a selection of films organised by Los Angeles artist Christopher Williams, that ranged from Tokyo Drift to The Society of the Spectacle to A Single Man. This film section brought a warming sensation, important in livening even further a bright and energetic point in time. Fifty years on these artists still burn bright, although it's in a sense altogether different, (or is it really one and the same?) to their first intentions; but one can't help but feel a sense of irony walking away from this show. However to leave it at that would be too simple, one also leaves with a renewed sense of the tools at hand, since co-opted but also with a special resurgence happening in their use.