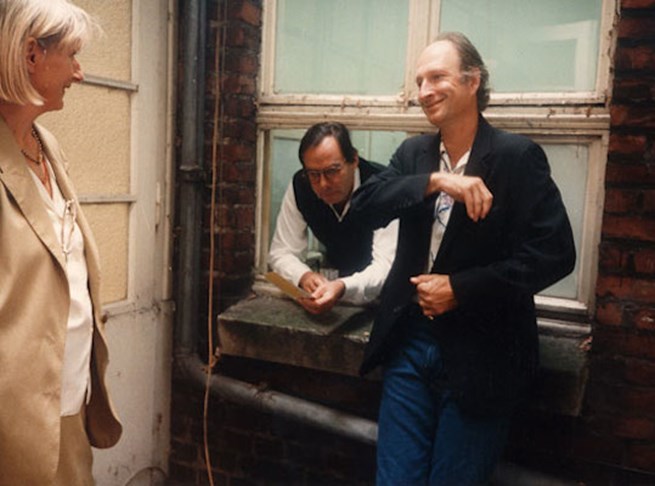 Image: Dorothee and Konrad Fischer (centre) with Bruce Nauman
Thomas Rieger is associate director at the legendary Konrad Fischer Galerie in Dusseldorf: an exhibition space founded by Konrad Fischer and his wife
Dorothee
in 1967. The Fischer's intention was to realise site-specific exhibitions, and the gallery opened with a floor sculpture, Altstadt Rectangle, by Carl Andre. The gallerists were early supporters of Minimal, Post-Minimal and Conceptual art, giving many leading American artists, such as Andre, Sol LeWitt and Bruce Nauman, their first European shows. Fischer was also involved in some of the key exhibitions of his time, namely, the annual Prospekt exhibtions - originally started as a response—or retort?—to Kunstmarkt Koln. As a close associate of Harald Szeemann, he also curated a section of the seminal Documenta 5 in 1972.
Fischer himself started as an artist known as Konrad Lueg: a student of the Kunstakademie Dusseldorf from 1958 to 1962 (under Bruno Goller and Karl-Otto Götz) who, together with Gerhard Richter, Sigmar Polke and Manfred Kuttner, coined the term "Capitalist Realism." The history of this movement, which defined a certain post-war approach to art practice in the Rhineland, was recently presented in an exhibition titled Living with Pop: A Reproduction of Capitalist Realism. The exhibition—which explores the influences of Joseph Beuys, Nam June Paik and the Fluxus movement on Lueg and his fellow students, as well as the impact of the Rhineland's gallery scene and various collectives including Gruppe 53—was first shown at Kunsthalle Düsseldorf in 2013. In the summer of 2014, it travelled to Artists Space in New York City (marking the first major exhibition exploring this movement in-depth staged in the US). The exhibition took its title from a 1963 happening Lueg staged with Richter—Living with Pop – A Demonstration for Capitalist Realism—at the furniture store Möbelhaus Berges in Düsseldorf. Rieger joined the gallery in 2007 after he was headhunted by Dorothee Fischer from Kunsthalle Düsseldorf, where he served as Assistant Director/Curator together with Peter Gorschlüter.
In this interview, Rieger explains how he came to be involved with art and also reflects on the history of the gallery and his role in continuing the legacy of one of the most important, highly respected and influential gallerists to date.
First, could you tell me about your own background and how you became involved in the arts?


My start was, well, quite unusual. I grew up in the GDR and was not allowed to enlist at Leipzig University to study art history. Instead, I joined a workshop in Leipzig specializing in the preservation of historical monuments and became a plasterer, restoring Baroque churches, castles, and monuments. Later on, after having left East Germany, I studied art history, archaeology and history in Bonn, Zurich, and New York City, and worked for the Museum of Contemporary History in Bonn and for the Osthaus Museum in Hagen where Michael Fehr was the director, doing shows and projects with Olaf Nicolai, Mark Dion, The Museum of Jurassic Technology, Alice Creischer & Andreas Siekmann, IRWIN, Nils Norman, and others. Parallel to this, I co-ran an art space in Cologne together with Heike Kropff and Peter Daners, and taught art history and theory of architecture at RWTH in Aachen.


What has it been like carrying on the work of Konrad Fischer, given his role in the Düsseldorf art scene and the art world in general?


When I was asked if I'd be interested in working for a commercial art gallery, I immediately rejected the idea. This had the off-taste of defecting to the Dark Side! But, of course, the situation completely changed when I found out it was Konrad Fischer Galerie. This is like following in the extra-large footsteps of one of your heroes. Honestly, I accepted with great pleasure. But working at Fischer's today means teamwork, so it's not just about me and my ideas. And in our team, we're very much aware of the gallery's huge legacy of nearly 50 years of history.
Right. In many ways you not only direct a gallery, but you are also curating its legacy and continuing its vision. In this light, how has the gallery continued the approach Konrad Fischer towards art dealing?
The art market has changed a lot since the late 1960s compared to now. Back in 1967, collectors and curators only had a handful of galleries working in the field of cutting-edge contemporary art. Vice versa the same: only some few critics, curators and museum directors really had an idea what contemporary movements like Land Art, Minimal or Conceptual Art were about. So, Fischer's approach has to be truly considered as an absolutely pioneering one. Nowadays, we're facing a multifaceted and diversified market. Take, for example, the growing influence of auction houses, consultants and the online market. Our approach still is a more classical one: a gallery, like a family, developing artist careers from the beginning—following their oeuvre and their ups-and-downs over a life-time. And, of course, I do not believe that Konrad's kind of non-communicative attitude towards the art market—as distilled by Gilbert & George saying: "You could buy things, but he would not sell them."—would not work out today.


There are a number of fascinating historical anecdotes surrounding Fischer, including his role in the development of Capitalist Realism with Kuttner, Richter and Polke. How do you view Fischer's switch from artist to gallerist in this light?
You should have better addressed this question to Dorothee Fischer—she's a walking encyclopaedia: a mine of information concerning the early years of the gallery! Konrad Lueg was quite a successful artist, showing not only with Richter and Polke, but also with Palermo, Dibbets, and Long. He showed with celebrated galleries like Schmela, Maenz, Friedrich, too. But 1968 was a time of radical changes. Just think of Charlotte Posenenske's famous manifesto declaring her complete retreat from the art scene, or Lawrence Weiner's Statements, the early days of Land Art and Arte Povera, and the rise of artist books and magazines (Carl Andre's One Hundred Sonnets or American Drill, Seth Siegelaub's Xerox Book, Hans-Peter Feldman's booklets, Heubach's Interfunktionen). Then there were the feminist approaches into the art scene (Eva Hesse, Martha Rosler, Nancy Spero, Yayoi Kusama), the farewell to painting (Buren, Baldessari, McCracken) and so on. It is a list that could be continued over pages and pages.

So, Fischer's decision to become a gallerist seemed to mirror the zeitgeist perfectly: radical, uncompromising, up-front avantgarde, political, visionary, and somehow utopian. And, please keep in mind that the Fischer enterprise in 1967 did not identify as a gallery but as "Ausstellungen bei Konrad Fischer" (Exhibitions at Konrad Fischer), which in some way avoided and neutralized the ideologically suspect label of "gallery."
Could you tell me more about the fair Konrad Fischer started in response to Kunstmarkt Köln in '68?


The Kunstmarkt Köln, organised by Hein Stünke and Rudolf Zwirner in 1967, attracted a number of important galleries—among them Schmela, Mayer, Brusberg, and Block. Germans only. For keeping up to date with the international scene Konrad Fischer and Hans Strelow invited galleries to Düsseldorf where Karl Ruhrberg adopted the idea and entrusted both with the now-legendary Prospect '68 show, which opened just a few days before Kunstmarkt Köln in 1968. It was more a curated exhibition instead of a fair, with more than 14,000 visitors showing up in only 10 days. The list of participating artists reads like a who's who of contemporary art: Anselmo, Beuys, Boetti, Broodthaers, Christo, de Maria, Dine, Jensen, Kitaj, Lamelas, Latham, Merz, Morris, Nauman, Palermo, Panamarenko, Ruthenbeck, Thek, and so on. And so did the list of contributing galleries, like Lambert, Sonnabend, Sperone, Bischofberger, Dwan, and Wide White Space. A first-class jury was involved in selecting the artists, too—among them Pontus Hultén, Alan Bowness of TATE, Paul Wember of Museum Krefeld and Enno Develing of The Hague Museum, the organizer of the first show on Minimal Art. Prospect as a concept was so successful it was continued until 1976, with shows that included the influential PROSPECT 71 / PROJEKTION introducing works by Hanne Darboven, Stanley Brouwn, the Bechers, Boltanski, Broodthaers, Dibbets, Dan Graham, Gilbert & George, Oldenburg, Nauman, Richter, Polke, Rückriem, Serra, Uecker, and Warhol...


Could you tell me more about Fischer's role in Documenta 5?


Harald Szeemann and Konrad knew each other before—already in 1968 Konrad showed in Szeemann's Environments show in Bern, and in 1969 he worked on Szeemann's coup-d'état show When Attitudes Become Form travelling from Bern via Krefeld to London. At ICA, Lynda Morris remembers, Konrad nearly did the complete exhibition scheduling and installation till Szeemann, somewhat belated, arrived for the vernissage speech. Also, in 1969, Szeemann was one of the jury members for Prospect 69, and in the same year, Fischer organized the show Konzeption Conception for the Museum Schloss Morsbroich in Leverkusen showing, among others, Sol LeWitt, Sandback, Nauman, Kosuth, Huebler, Buren, Smithson, Ruscha, Weiner, Penone and Ruppersberg. For Documenta 5—still believed to be the most influential post-WWII art exhibition—Szeemann invited Konrad and Klaus Honnef to curate their own section, titled IDEA (Konrad showed 25 of his artists at d5). Just imagine a gallerist as a co-curator of a Documenta today—I can hear the rebel yell of the German feuilleton from Hamburg to Munich! 


How do you view the Düsseldorf art scene? Do you agree with this view that the city lost its status as an art world centre post-1980?


Good question, though I remain at a distance when it comes to debates about the supremacy or hegemony of art melting pots and the marginalizing of movements on the periphery. The mono-focus on art-cities like Berlin, Cologne or Düsseldorf has often underrated the sometimes-close collaborations between these cities, let alone the art market, collectors, critics, and the institutional scene. But I understand your inquiry—especially within the context of, for example, Peter Schjeldahl's review of David Zwirner's No Problem show in The New Yorker, the Rhineland special issues of frieze, or, maybe, Texte zur Kunst's recent "Berlin Update." I'd rather like to direct our attention towards joint initiatives like the dc open—the Düsseldorf Cologne Open Galleries event, or the Brussels Cologne Contemporaries. The focus is more on collaboration, joint ventures, and exchange.
Coming back to Düsseldorf: Does it still make sense to ask for a specific local scene? For a leadership-role or status data of a city within the context of a, more or less, globalized art world? Maybe not. But still, one shouldn't stop to forward critical questions about the networks in the art world, their preconditions, their satellisations, their habits, and their potentials. Taking a look at the Kunstakademie Düsseldorf today under the direction of Rita McBride - with professors like, for example, Katharina Grosse, Christopher Williams, Tomma Abts, Rosemarie Trockel, Katharina Fritsch, Peter Doig, Andreas Gursky, Marcel Odenbach, Eberhard Havekost, Rebecca Warren, Richard Deacon, Max Dudler and Tony Cragg - and the initiatives, projects and off-spaces of their students, I see a lot of potential, and even more to come.
 — [O]