Feature | In Focus
Louis Soutter: Signs Ahead of Time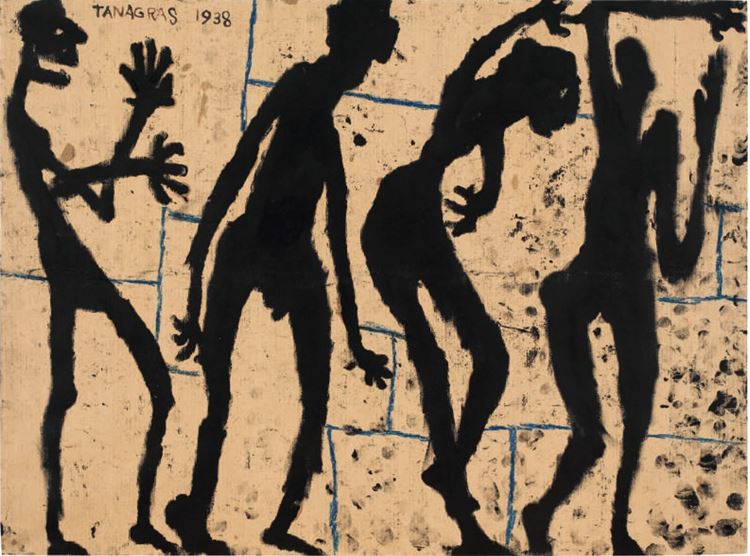 Louis Soutter, Tanagras (1938). India ink and blue wax crayon on paper. 43.5 x 57.5 cm. Courtesy Galerie Karsten Greve, Paris / Köln / St. Moritz. Photo: Markus Mühlheim. Photo: Markus Mühlheim, Switzerland.
On 20 February 1942, at the age of 70, Swiss artist and violinist Louis Soutter died at a hospice in Ballaigues in Switzerland, having produced a body of work that was both ahead of its time and out of step with it, amassing a handful of followers, notably his cousin, Le Corbusier.
The inventory of Soutter's works reveals no more than 50 drawings and paintings produced prior to the 1920s. Born in 1871 in Morges, Switzerland, Soutter's peripatetic early life began with a spell studying architecture in Geneva, before becoming a violin virtuoso at the Royal Conservatory of Brussels under the tutelage of Eugène Ysaye.
It was in Brussels where Soutter was exposed to stylistic currents of the time, including Art Nouveau and Symbolism, of which Les XX were part—a group of Brussels-based painters whose work was closely tied to music and literature, united by a common interest in Symbolism's inward-looking qualities, as opposed to the descriptive surfaces of Impressionism. Although Soutter's work would develop its own symbolism, his early creations were more academic, as seen in a portrait of Beethoven in India ink that the artist gifted to composer and conductor Yasye in 1898, and the photorealistic rendering of his wife Madge Fursman (1984)—who also studied under Yasye—in pen and ink on paper.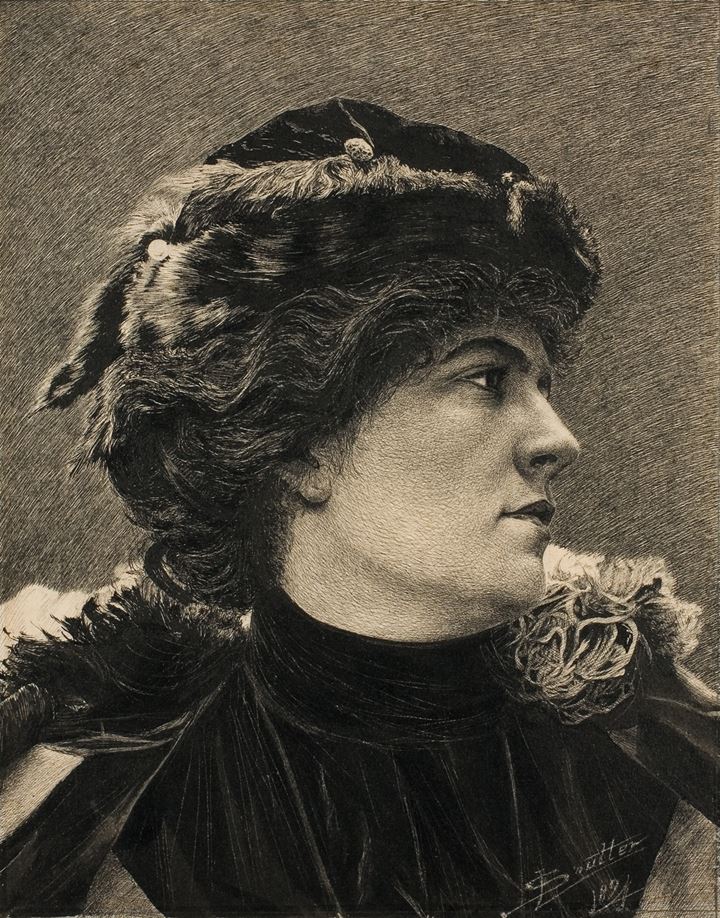 Louis Soutter, Portrait de Madge Fursman (1984). Pen and India ink on paper. 34.8 x 27 cm. Courtesy Grisebach GmbH.
Brief studies in painting were undertaken in Lausanne, under the painter Charles Koëlla, followed by Léon Gaud in Geneva, before Soutter left for Paris to study architecture while taking lessons from painter Jean-Joseph Benjamin-Constant and Jean-Paul Laurens. In 1897 he landed in the United States, marrying Fursman in Colorado Springs, where, giving violin and drawing lessons, he quickly became head of the art department at Colorado College.
But Soutter's time in the United States was short-lived, too. In 1903, he returned to Switzerland and his marriage came to an end. With the death of his father in 1904, the artist's mental health began to decline, compounded by a bout of typhus. Of the few works he is recorded to have made at this time is Deuil (Mourning) (1904), a portrait of his sister in mourning; it was exhibited in the Exposition nationale Suisse des Beaux-Arts, yet its fateful end is rumoured to have come when Soutter's sister-in-law, embarrassed upon seeing it in the exhibition, tore it up.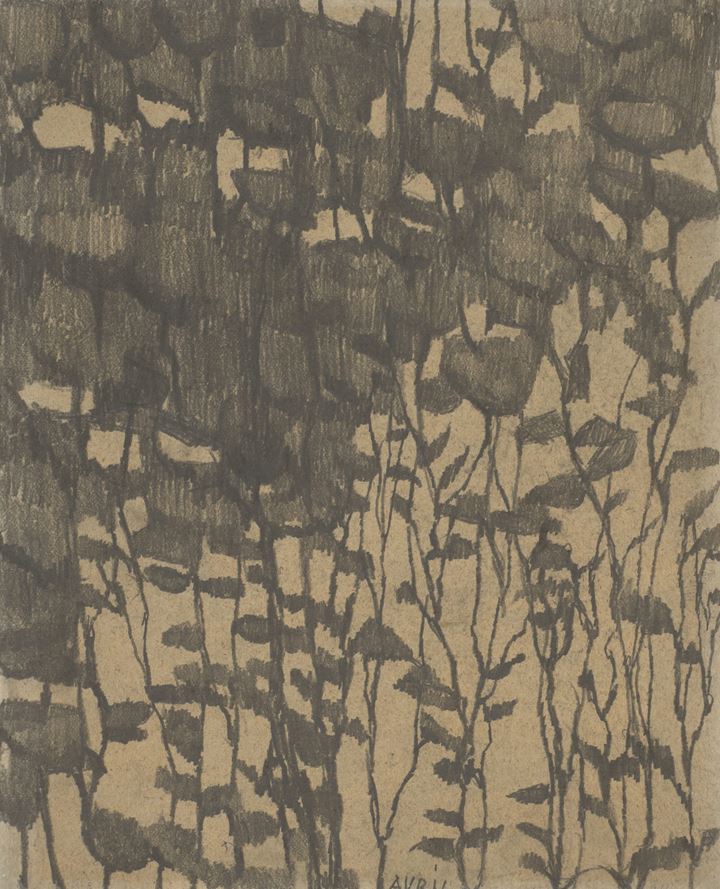 Louis Soutter, Avril (April) (c. 1923–1930). Pencil on paper. 21.9 x 17.6 cm. Acquisition, 1956. © Musée cantonal des Beaux-Arts de Lausanne.
Perceived as an eccentric vagabond with expensive tastes, Soutter was somewhat of a burden to his family, and in 1923—seven years after his sister's death, with whom he was close—the destitute artist was interned against his will in an old-age hospice in Ballaigues, a small village in Jura Vaudois. The natural beauty of the region is visible in Soutter's drawings from the period, which he rendered in cross-hatched silhouettes in pencil and ink on envelopes, scraps of wrapping paper, and in school notebooks. In Avril (April) (c. 1923–1930), for instance, the trembling stems of flowers and their heads meander across a page of paper.
Soutter's art ultimately revealed a man whose isolation forced him to look inward, finding liberation in ink and gouache on paper.
A learned man, references spanning Christian text and mythology, to the writings of Shakespeare and Victor Hugo infuse Soutter's work. Female figures in his drawings recall Mannerist influences, with the artist inspired by the busy compositions and contorted bodies of the High Renaissance style. In Nuit (Night) (n.d.), for instance, a group of women twist and turn beneath a full moon, a figure to the bottom left resembling Botticelli's Venus. In Soutter's cross-hatched early works, the figures of his later paintings began to materialise.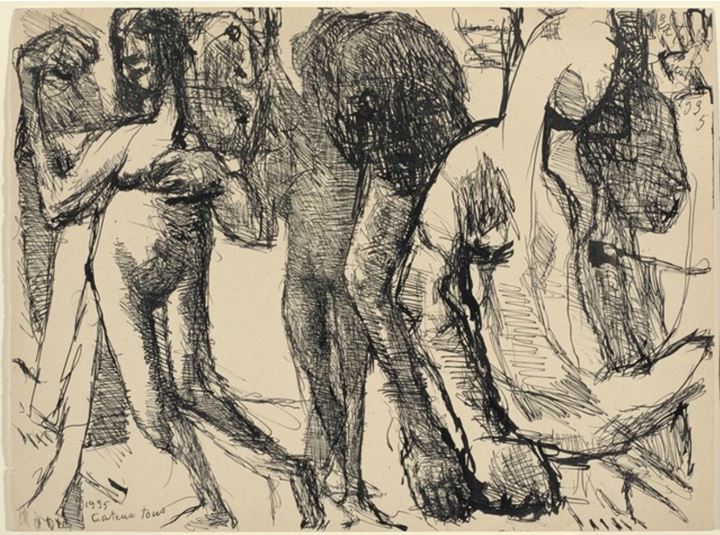 Louis Soutter, Entre nus- gâteux tous (1935). Ink on paper. 26 × 35 cm. Courtesy Ditesheim & Maffei Fine Art.
A first cousin on his mother's side, Le Corbusier would only become aware of Soutter's work around 1927. A decade-long friendship followed, with Le Corbusier bringing the artist materials, and helping publicise his work. The formats of his drawings grew larger, and ink forms were given increasing liberation to take up space. In Où sont nos sens? (Where Are Our Senses?) (c. 1930–1937), a busy composition of female figures with manes of curly hair and full lips were inspired by his observations of other inmates at the hospice, whom he referred to as the 'Sans Dieu'—a 'pure caste, elevated by the torture of isolation'.1
In 1936, Le Corbusier organised the artist's first solo exhibition at Wadsworth Atheneum in Hartford, Connecticut, writing about his work in the magazine Minotaure. Beyond a small following consisting of writers and artists such as Jean Giono and the Vallotton brothers, Soutter's work gained little traction, however.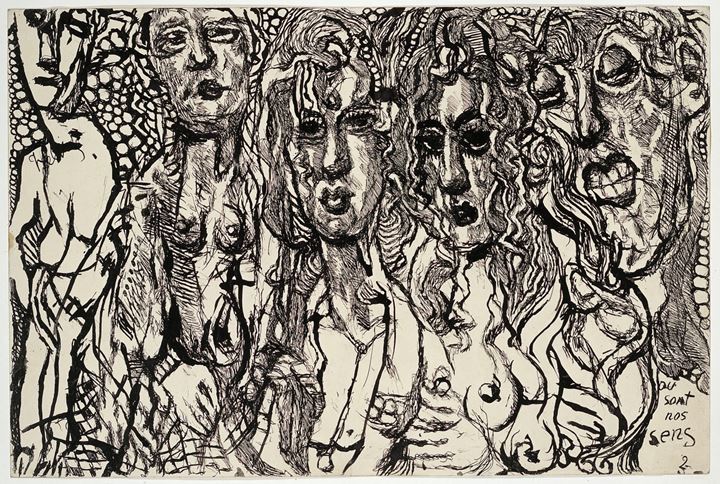 Louis Soutter, Où sont nos sens? (c. 1930–1937). Plume et encre de Chine sur papier. 33.9 x 51 cm. Acquisition, 1955. Courtesy © Musée cantonal des Beaux-Arts de Lausanne.
Riddled with articular osteoarthritis during the later years of his life, Soutter began painting with his fingers, rendering his dancing figures as tremoring forms on large sheets of paper. Alive with energy, figures are compressed in their frames against bare backgrounds or lines, dots, and dashes that amplify their movement. This shift in style is showcased in Un Présage (29 August–12 October 2020) at Galerie Karsten Greve in Paris, which presents a series of these extraordinary paintings, Soutter's most emphatic.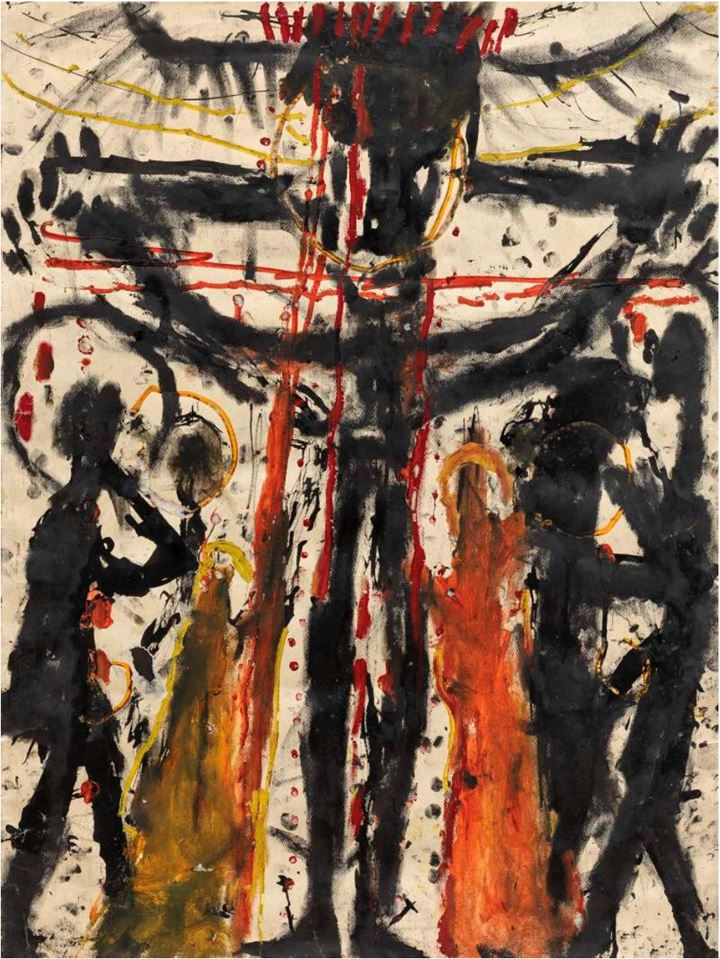 Louis Soutter, Crucifixion (c. 1937–1942). Black ink and gouache on paper. 68 x 50,5 cm. Courtesy Galerie Karsten Greve. Photo: Nicolas Brasseur.
Le Corbusier ended up shunning Soutter in disagreement with his new-found approach: the antithesis to Le Corbusier's architectural emphasis on order. But in many ways, Soutter's work also represented a gateway to modernism, with his economy of form and material, and understanding of the frame that defined his compositions. Their assemblies of cultural references placed him not within the category of Art Brut, as Jean Dubuffet emphasised after his death; nor could his creations be reduced to the facile reading of his psychopathology—Ballaigues, despite many false assumptions, was not a psychiatric hospital.
Soutter's art ultimately revealed a man whose isolation forced him to look inward, finding liberation in ink and gouache on paper. In a poem bearing the name of Soutter, Hermann Hesse, who later discovered the artist's work as a result of the writer Jean Giono, wrote, 'I paint with ink and blood. I paint truth. Truth is terrifying.'—[O]
1 'Louis Soutter, Où sont nos sens ?', Musée cantonal des Beaux-Arts de Lausanne, https://www.mcba.ch/collection/ou-sont-nos-sens/
2 Edited by Ingo Cornils, A Compion to the Works of Hermann Hesse, (Camden House, 2009), p. 247.