Feature
Same, but Different: the 10th India Art Fair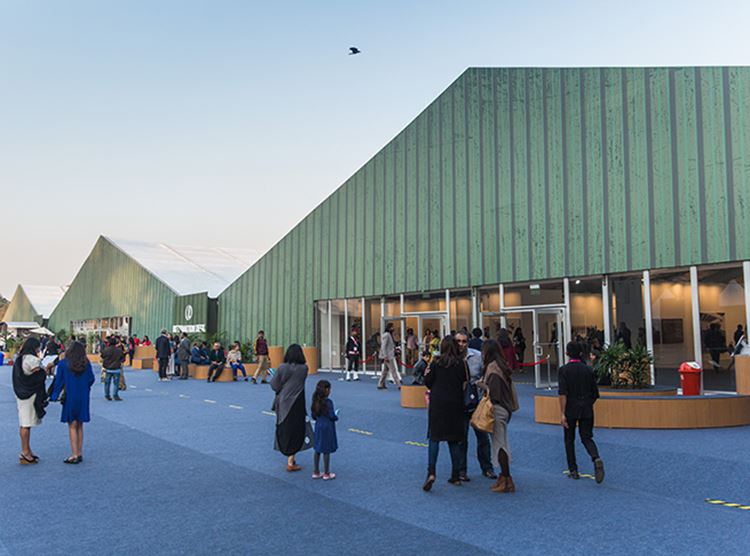 India Art Fair, NSIC Exhibition Grounds, New Delhi (9–12 February 2018). Courtesy India Art Fair. Photo: © Andy Barnham.
The blending of craft with art, history with the contemporary, material and political, subjective and collective made this year's India Art Fair—and the exhibitions that surrounded it—a particularly meaningful one.
Launched in 2008 by Neha Kirpal with just 34 participating galleries, the India Art Fair was initially known as the India Art Summit before rebranding in 2011. Initially seen as an experiment, early editions were held at Pragati Maidan, a permanent exhibition centre in New Delhi, before moving in 2012 to the larger outdoor location offered by the National Small Industries Corporation (NSIC) Exhibition Complex in the Okhla Industrial Estate, where the fair is presented in a series of temporary tents.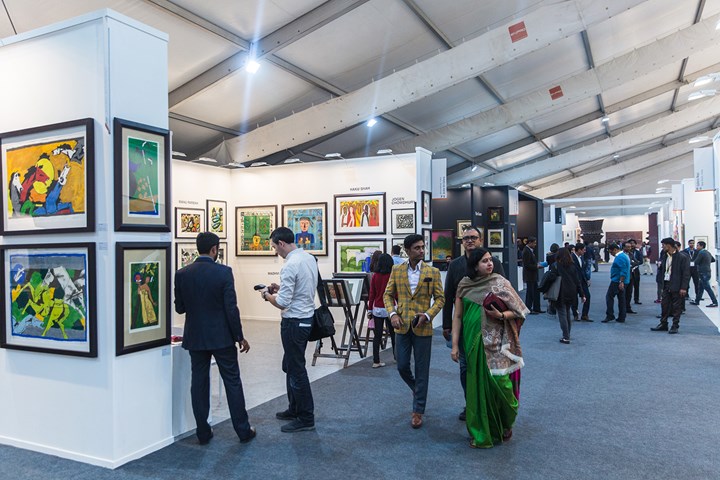 India Art Fair, New Delhi (9–12 February 2018). Courtesy India Art Fair. Photo: © Andy Barnham.
From the outset, Kirpal positioned India Art Fair as a regional art hub for South Asian art, and in September 2016 this vision was further consolidated by the acquisition of a 60.3 percent stake in the fair by MCH Group, making this the first of MCH's initiative to create leading regional fairs around the world. Reflecting these recent developments was the 10th India Art Fair (9–12 February 2018), which offered a refined focus on galleries, institutions and foundations from India and South Asia under the new directorship of Jagdip Jagpal, who was appointed in August 2017.
Jagpal appears to have cleaned up house with this year's edition, offering a refined version of the fair format that was set in 2016. (Gone were the design stalls and big-brand advertising stands that used to detract from the art on show, with a notable absence of the clutter seen in previous editions.) Around 78 participating galleries were organised into Galleries, Focus and Platform sectors, with 8 Institutional presentations and an Art Projects section located in a dedicated space across from the exhibitor tents. (A few projects remained within the Institution and Galleries sectors, such as Shilpa Gupta's 2007 interactive video projection incorporating simulated shadows, Shadow 3, which was supported by the Foundation for Indian Contemporary Art.)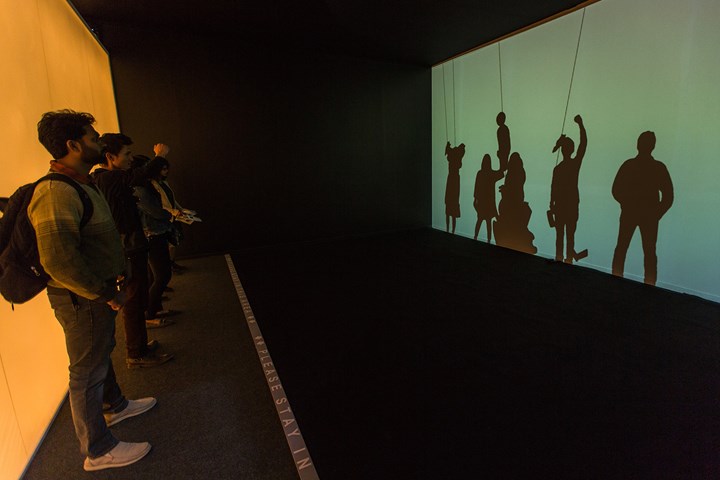 Shilpa Gupta, Shadow 3 (2007). Interactive video projection. Exhibition view: 'Art Projects' sector, India Art Fair, New Delhi (9–12 February 2018). Courtesy India Art Fair. Photo: © Andy Barnham.
In general, a fine selection of contemporary and modern Indian art, with a small assortment of modern and contemporary art from neighbouring countries, was on view. Major Indian galleries participated, including Chemould Prescott Road, Vadehra Art Gallery, Exhibit 320, and The Guild, to name a few. Galleries from smaller Indian centres were also present, including Archer Art, Samara Art Gallery and Zone of Contemporary Art (ZOCA) from Ahmedabad, Emami Art and Akar Prakar from Kolkata, Kalakriti Art Gallery from Hyderabad, Art Houz from Bengaluru, and Gallery Veda from Chennai. Some international galleries in attendance were Aicon Gallery, Grosvenor Gallery, Blain | Southern, baudoin lebon, and Sabrina Amrani, who showcased a lyrical watercolour work with cell-like marks by Korean artist Timothy Hyunsoo Lee, titled Murmuration I (2017).
David Zwirner's first-time participation was an encouraging development after the loss of spaces like White Cube in previous years. (Having just opened its Hong Kong space, Zwirner is establishing a firm Asian presence.) A large and prominent space in the Focus sector showcased a new ceramic tile pumpkin sculpture by Yayoi Kusama, Starry Pumpkin (2018)—green with Kusama's signature black polka dots. Complimenting this sculptural work were editioned silkscreen prints and paintings replete with the Japanese artist's characteristic spots, as well as Thomas Ruff's chromogenic prints of Indian royalty (2014), Alice Neel's oil on canvas portrait Man with White Shirt (1953), and cast bronze sculptures by Sherrie Levine.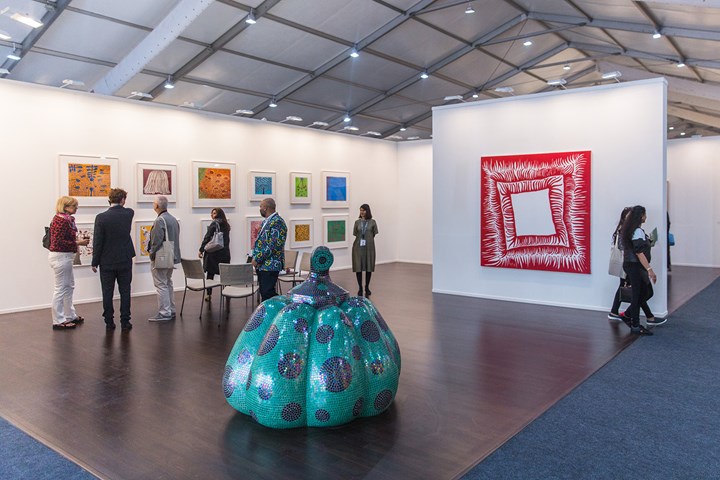 Exhibition view: David Zwirner, India Art Fair, New Delhi (9–12 February 2018). Courtesy India Art Fair. Photo: © Andy Barnham.
Most galleries presented insightful and meticulously designed booths. Jhaveri Contemporary's curatorial spanned media, generations and nationalities, giving ample space for works to converse. These included sensual black and white photographs from the modernist period in South Asia by Sri Lankan photographer and Colombo '43 Group member, Lionel Wendt, and a multi-layered montage, The Fireside Camp (1980), by Indian modernist Mohan Samant. British-Bangladeshi artist Lubna Chowdhary's Low on the Horizon (2017), six geometric ceramic objects reminiscent of mid-century architectural ceramics coated with colourful glazes, and Blueprint (2017), a collection of small ceramic objects of modern and industrial buildings, felt like invocations of Asia's crossbred architecture. Architectural representations continued at Experimenter, which featured works by Rathin Barman, Ayesha Sultana and Sahil Naik.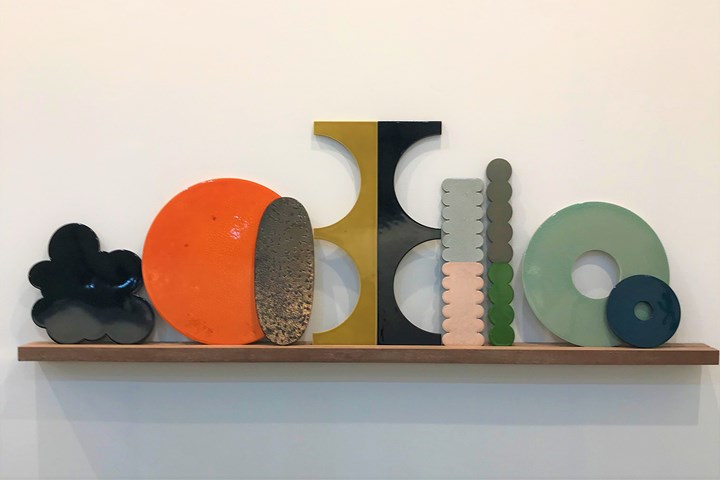 Lubna Chowdhary, Low on the Horizon (2017). Exhibition view: Jhaveri Contemporary, India Art Fair, New Delhi (9–12 February 2018). Photo: Gayatri Uppal.
Galleryske and Photoink booths interconnected, with a shared space between them, physically reflecting the space that both galleries share in New Delhi, not to mention their programme of collaborative shows. This middle ground was stylishly furnished with imitation Jeanneret furniture, originally designed for Chandigarh's public institutions, creating an intimate 'living room' space. Here, Astha Butail, winner of the 2017 BMW Art Journey Award, showed a geometric wall-mounted sculptural work in brass, Conversations with the sky part 11, experiencing the red lunar moon (2018), which faced Madan Mahatta's black and white photographs of Delhi's Modernist architecture from the series 'Delhi Modern: The Architectural Photographs of Madan Mahatta (late-1950s–mid-1980s)'. Mahatta, whose estate is represented by Photoink, was a photographer who worked with a number of renowned architects in post-independence Delhi to document the construction of new buildings, many of these public institutions, at the peak of Nehruvian Modernism.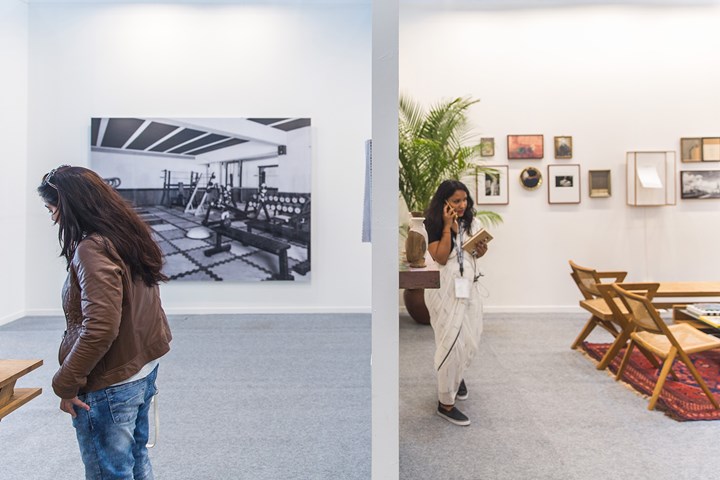 Exhibition view: Galleryske and Photoink, India Art Fair, New Delhi (9–12 February 2018). Courtesy India Art Fair. Photo: © Andy Barnham.
Digital photomontages from Vivan Sundaram's body of work, which engage with the artist's family's archives, adorned another wall in this common space. Titled Re-take of Amrita (2001–2005), these montages reconfigure photographs from the artist's family album that were taken at different times and in locations, reinterpreting the family's complex dynamics and foregrounding his aunt, renowned modernist painter, Amrita Sher-Gil, and his grandfather, Umrao Singh Sher-Gil. (Beyond the fair, a 50-year career retrospective of Sundaram's work, titled Step inside and you are no longer a stranger: A Retrospective: Fifty Years and curated by Roobina Karode, opened at Kiran Nadar Museum of Art on 8 February, and is showing until 30 June 2018.)
Of note in Galleryske's booth were wooden renditions of everyday objects—including a microphone, torch, radio, lantern, typewriter, and teapot—that Sudarshan Shetty handcrafted from reclaimed wood, collectively titled the pieces earth left behind (2018). Shetty has been preoccupied with creating imitations of objects in a material that changes their value, function and meaning; reducing them to decorative objects that could be viewed in a museum context. Complementing these handcrafted sculptures was GYM (2018), a photographic work by Dia Mehta Bhupal, for which the artist painstakingly rolled reams of recycled paper into a three-dimensional rolled set. Continuing this hand-crafted thread were wall-mounted works at Blueprint 12's booth by Kathmandu-born Youdhisthir Maharjan, whose practice specifically deals with the materiality of text and includes carving, hollowing out and obliterating words on book pages.
Sudarshan Shetty, the pieces earth left behind (2018) (Detail). Recycled wood. Exhibition view: Galleryske, India Art Fair, New Delhi (9–12 February 2018). Courtesy the artist and Galleryske.
Historical presentations were especially strong. Chatterjee & Lal, previously focused on mid-career and emerging artists, has started to incorporate historical material into its programme—as was evident in the gallery's booth. Returning to the fair this year after a period of absence, on view were early abstract watercolour and ink works from the 1960s by India's celebrated abstractionist Nasreen Mohamedi, whose practice has received notable attention following retrospective exhibitions at the Kiran Nadar Museum of Art in 2013 and at The Met Breuer in 2016.
At Delhi Art Gallery's booth, a large representation of Indian modern art was displayed in a presentation of nine artists—Raja Ravi Varma, Abanindranath Tagore, Nandalal Bose, Gaganendranath Tagore, Jamini Roy, Rabindranath Tagore, Amrita Sher-Gil, Nicholas Roerich and Sailoz Mookherjea—titled Navratna–Nine Gems: India's National Treasure Artists. Standout pieces included a 1932 tempera on cardboard painting of the Himalayas by Roerich, and a charcoal on handmade paper portrait of a topless woman by Sher-Gil, whose likeness was seen in a 1937 oil on canvas self-portrait on display showing Sher-Gil in a blue sari. Interestingly, these 'national treasures' come under the 1972 Antiquities and Art Treasures Act and cannot be traded or travel outside of India. (Including those made by Roerich, who died here.) Elsewhere, a fine representation of Indian modern masters at Dhoomimal Gallery's space showed Krishen Khanna, J. Swaminathan, F.N. Souza, Jamini Roy and Sailoz Mookherjea. (Theweek also saw viewings for the Evening sale of modern and contemporary art by the likes of Bhupen Khakar and Tyeb Mehta, organised by Saffronart at the auction house's new gallery located in the recently renovated Oberoi hotel.)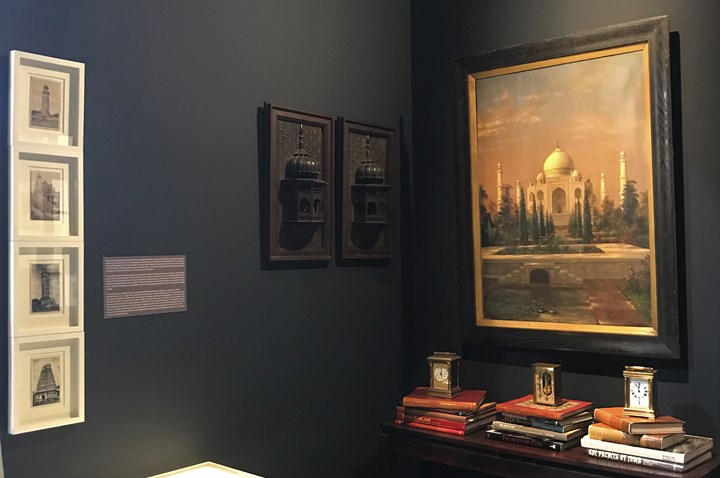 Exhibition view: Swaraj Art Archive, India Art Fair, New Delhi (9–12 February 2018). Photo: Gayatri Uppal.
Standing out in the Institutions sector was Swaraj Art Archive, set up in 2013 to document, conserve and exhibit Vijay Kumar Aggarwal's family collection. Traces of India showed architectural photographs from India in the 19th and 20th century authored by various photographers, studios and societies from this period. (Including the Archaeological Survey of India, Bourne & Shepherd, Colin Murray for Bourne & Shepherd, Henry Cousens, J.C. Harle, Lala Deen Dayal, M. Sain for Burlington Studios, Darjeeling, Philip Stanley Rawson, and others.) The display mediated the complexity of these documents; for as much as they contribute towards building an archive of India's history, they reflect the enthusiasm that colonial powers had for recording the monuments and traditional costumes of their colonised subjects, taking photographs both for research and as souvenirs.
Considering the legacies of colonialism and its impact on contemporary identities was a film by Hetain Patel that was included in the Forum Film programme. Don't look at the Finger (2017) documents a wedding of sorts that becomes a site for ritualistic and combative communication; it is a sleek production by the British-Indian artist, with outstanding choreography and costumes. Commissioned by Film and Video Umbrella, Manchester Art Gallery and QUAD, the film was shot in a church in London in 2017, features hip-hop dancers, and seems to take inspiration from Hong Kong and Hollywood martial arts films. The result is a hybrid landscape that actively breaks imposed stereotypes—a landscape that, as a whole, was similarly reflected throughout the India Art Fair in 2018, and beyond.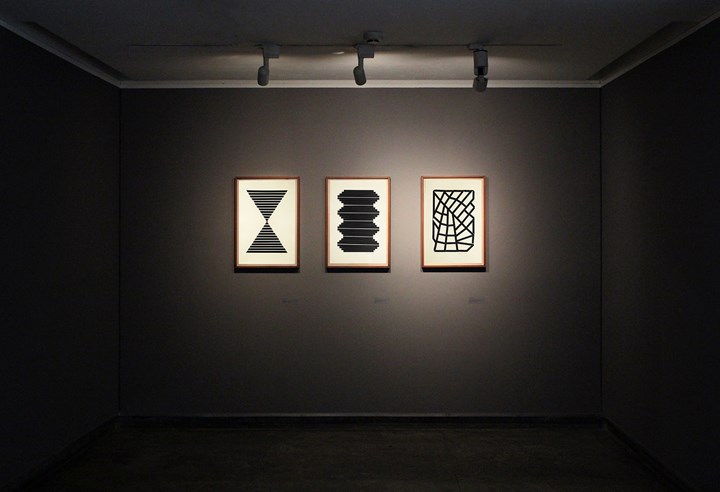 Exhibition view: Zarina Hashmi: Weaving Darkness and Silence, Gallery Espace, New Delhi (3 February–3 March 2018). Courtesy the artist and Gallery Espace.
A number of exhibitions coincided with the art fair, expanding the national-regional-global frame expressed among galleries on the fair floor. Zarina Hashmi's solo exhibition at Gallery Espace, Weaving Darkness and Silence (3 February–3 March 2018), presented woodcuts, delicate collages and ink drawings that are characteristic of the artist's subtle minimalism. Born in Aligarh, Zarina trained as a printmaker in India and Japan, and her geometric works bear architectural references to both countries, reflecting a personal and internal preoccupation with the domestic space. Similarly, Mutations: Indo-French Image Encounters, curated by Rahaab Allana and François Cheval, was presented by the Institut Francais en Inde and the Gujral Foundation as part of the Indo-French festival Bonjour India (10–25 February 2018). It featured Indian and French artists addressing their interior and exterior environments and translating them through images. (As the curators note, the exhibition takes the view that form and style, rather than the subject alone, is a crucial device for 'negotiating subjectivity'.)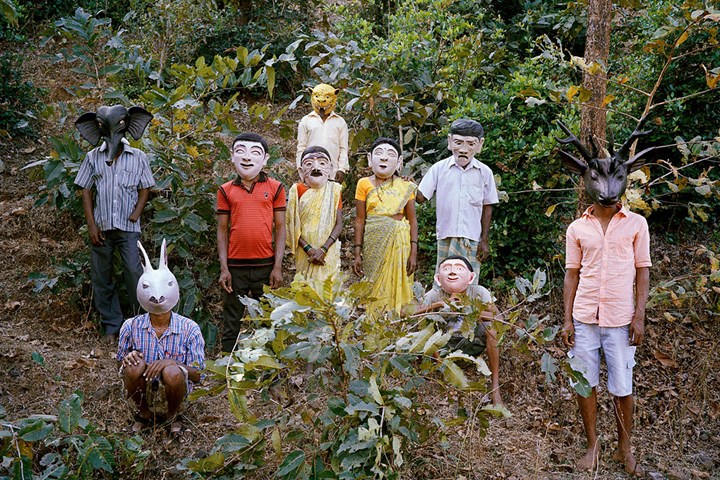 Gauri Gill, Untitled from the 'Acts of Appearance' series (2015–ongoing). Courtesy the artist and Nature Morte.
At Nature Morte, images from Gauri Gill's 'Acts of Appearance' series were on view; first exhibited at documenta 14 in Kassel in 2017. Working with the Bahora crafts community in Maharashtra, Gill commissioned a few families to create masks that reflect their contemporary realities, and photographed these mask makers, and other volunteers from the village community, wearing their creations. This relationship between craft and art practice was also a focus at A Search in Five Directions—an exhibition on textiles presented by the National Handicrafts and Handlooms Museum in collaboration with Devi Art Foundation (21 January–31 March 2018). A tribute to the late Martand Singh, who spearheaded a significant textile revival movement in the 1980s and 1990s, the show references seven 'Visvakarma' exhibitions from that period, which documented traditional textile techniques and worked with weavers and craftspeople to adapt, innovate and evolve these techniques for contemporary times.
The blending of craft with art, history with the contemporary, material and political, subjective and collective made this year's India Art Fair—and the exhibitions that surrounded it—a particularly meaningful one. The fair itself is showing a renewed sense of promise in living up to its stated position as 'the leading platform to discover modern and contemporary art from South Asia and a portal to the region's cultural landscape.' —[O]