Insight | Exhibition
Hell is a Place on Earth: P·P·O·W Looks to History in Context of Covid-19
In Carlos Motta's 30-minute video Legacy (2019), the artist appears with his mouth pried open by a dental gag, as he repeats a timeline of HIV/AIDS narrated by journalist Ari Shapiro.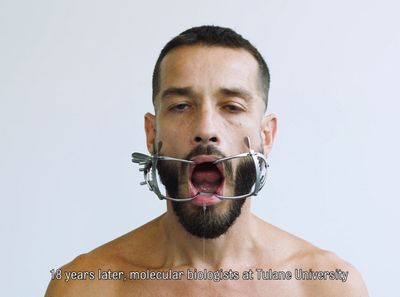 Carlos Motta, Legacy (2019) (still). Courtesy P·P·O·W.
He starts in 1908, when it is believed HIV was first transmitted to a human, and ends in 2019, when the Trump administration announced aims to end the HIV/AIDS epidemic in the United States within ten years, and Congresswoman Alexandria Ocasio-Cortez called out pharmaceutical company Gilead on the cost of the prevention drug Truvada.
Motta can barely form his words: a steady drip of saliva runs over his bottom lip, forming frothy stalactites from his beard.
His breathing becomes laboured as he runs over key events, like when Ronald Reagan said 'AIDS' in public for the first time in 1987, some five years after the term 'acquired immunodeficiency syndrome' (AIDS) was proposed to replace the stigmatising 'gay-related immune deficiency', seven years after the first recognised case of HIV/AIDS was recorded in the United States, and just one year after The New York Times reported that 1 million Americans were infected with the virus.
David Wojnarowicz and Marion Scemama, When I Put My Hands on Your Body (1989/2014) (still). Super 8 colour on digital video with sound. 4 min 28 sec. Courtesy P·P·O·W.
Legacy is the first work composing Hell is a Place on Earth. Heaven is a Place in Your Head. (26 March–25 April 2020), an online exhibition of films by Motta, Guadalupe Maravilla, Carolee Schneemann, Hunter Reynolds, Suzanne Treister, and David Wojnarowicz organised by P·P·O·W.
The compilation leads with a quote from a Wojnarowicz essay titled 'Postcards from America: X-Rays from Hell', which he wrote following the passing of friend and mentor Peter Hujar from AIDS, and his own diagnosis.
The text accompanied a 1989 show at Artists Space curated by Nan Goldin, Witnesses: Against Our Vanishing, and it prompted the National Endowment for the Arts to withdraw funding from the institution. Hell is a Place on Earth. Heaven is a Place in Your Head. starts with the line where Wojnarowicz describes his rage at the time: '...when I was told that I'd con­tracted this virus it didn't take me long to realise that I'd contracted a diseased society as well.'
Guadelupe Maravilla, Spirit Level (2019) (still). 3 min 7 sec. Courtesy P·P·O·W.
In the United States, parallels have been drawn between the early years of the domestic HIV/AIDS crisis and what is unfolding with Covid-19, and these connections feed into Hell is a Place on Earth. Heaven is a Place in Your Head. 'The most glaringly obvious similarity,' activist Cleve Jones points out, 'is that both pandemics began with Republican administrations and a Republican president who did not acknowledge the gravity of the situation, and the failure of a strong early response led to tragic consequences.'1
More generally, as explained in one UNAIDS document titled 'Rights in the time of COVID-19: Lessons from HIV for an effective, community-led response', epidemics expose and aggravate 'existing inequalities in society, where those already marginalized and vulnerable are the most affected'.2
When it comes to demonstrating the lack of worth that some governments have placed on people's care, not to mention the undervaluing of society's essential yet underfunded workers, Covid-19 has been exemplary.
Suzanne Treister, Survivor (F) / The New Planet (2016–2018) (still). 3 min 46 sec. Courtesy P·P·O·W.
In response to what this context of self-isolation and so-called social distancing has brought to light, Hell is a Place on Earth. Heaven is a Place in Your Head. foregrounds artistic expressions of togetherness and self-realisation from across a spectrum.
From Hunter Reynold's Medication Reminder (Original) (2012), constructed from daily voice messages reminding the artist to take his meds, and Guadalupe Maravilla's Spirit Level (2019), which recounts the story of how the artist 'became undocumented', to Suzanne Treister's transformation of a field of sunflowers into a vision of a 'post-futuristic sublime' in Survivor (F) / The New Planet (2016–2018).
The intention, per the exhibition's short statement, is to demonstrate a resistance to 'bodily and societal restriction' and 'transcend culture's sovereign structures, conventions, and taboos'.
Carolee Schneemann, Fuses (1964–1967) (still). Courtesy P·P·O·W.
At a time when physical proximity has become synonymous with danger, Carolee Schneemann's Fuses (1964–1967), and David Wojnarowicz and Marion Scemama's When I Put My Hands on Your Body (1989/2014) feel ever more poignant.
The former teases glimpses of the artist making love in film that is painted, collaged, and burned with fire and acid; the latter is an intimate blue-scale encounter between Wojnarowicz and Paul Smith. Both works, in their demonstration of closeness, highlight what this global pandemic has made acutely palpable as so many shelter in place. That every life (and death) in the world is dependent on all others, and the denial of this enduring truth costs lives.
All of which returns to the Wojnarowicz quote that frames this collection of works, with the artist continuing to express a belief that 'one of the last frontiers left for radical gesture is the imagination...'
The idea that nothing will be the same once the Covid-19 pandemic passes seems to be a common reflection right now. How could this moment not be transformational, as an unfathomable portion of the world is brought to an exceptional standstill? It would be more unimaginable, perhaps unimaginative, if things went back to how they were. —[O]
Hell is a Place on Earth. Heaven is a Place in Your Head. is being hosted on a dedicated website. View the exhibition here: https://www.hellisaplaceonearth.com/
—