Insight | Exhibitions
Highlights of Asia Now's 2020 Programme

In Partnership With Asia Now
There's more to Asia Now than what galleries are showing at the fair.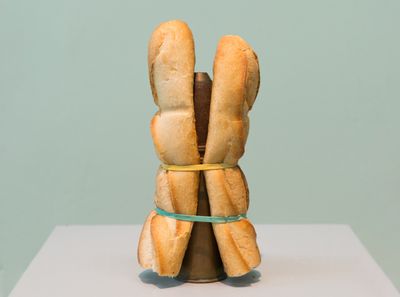 Tian Dexi, N°158 (2020). Mixed media: baguette, rubber bands and a shell from World War I. Courtesy of the artist.
In addition to its gallery presentations, art fair Asia Now comprises projects, conversations, off site exhibitions, a screening, and a performance.
Among the highlights of the fair's events programme are three Special Projects that will be exhibited at the physical fair on 9 Avenue Hoche. They include a solo show by New Delhi-born artist Remen Chopra W. Van Der Vaart, drawings on felt by Chinese artist Zhang Yunyao, and an intriguing duo show by Tian Dexi and Alioscha curated by Martina Köppel-Yang.
Entitled Format Exchange, the duo show concept was developed by collector Barbara Hunz and curator Julia Ritterskamp to create dialogues between emerging Asian and European artists. This iteration sees Tian Dexi, born 1979, wrap baguettes around a World War I shell with rubber bands, creating a cursed hotdog (pictured top), both funny and ominous.
Shoi, Mes Souffles (My Breaths) (2020) at Musée Guimet, Paris. Courtesy the artist and Galerie Maria Lund.
Another highlight is Korean artist Shoi's Mes Souffles (2020), or 'my breaths', which will take place at the fair on Tuesday 20 October from 6.30-7.30pm Paris time. In her performance, Shoi repeatedly fills balloons, trapping her breaths inside them again and again. Originally created to communicate anxiety caused by asthma, the performance takes on new meaning amid the COVID-19 pandemic.
The fair's feature screening is Unsung Heroes of Ink (2020), produced and directed by Olivia Wang. The 25-minute documentary, which will show at the fair on Thursday 22 October and Friday 23 October at 6.30pm Paris time, sees artists Liu Dan and Shao Fan explain the importance of paper to their practices of ink painting.
A selection of videos created by Chinese, Korean, Japanese and Vietnamese artists will also screen Off-Site, away from the fair's main venue near the Arc de Triomphe. Part of the fourth edition of the Cernuschi Museum's Cernuschi Video Art programme, entitled Natura Naturata, these works will examine the interdependence of humanity, the environment and animals, rarely more in evidence than in 2020.
Other works showing in Paris away from the fair's main venue include 11 meticulously made Japanese wickerwork objects that will be exhibited at the Musée National des Art Asiatiques — Guimet as part of the Mingei Bamboo Prize, presented by Galerie Mingei, Paris, which specialises in Japanese art.
Reena Saini Kallat, Verso-Recto-Recto-Verso (2017). Tied and dyed silk, wood. Image courtesy Reena Saini Kallat and Nature Morte, New Delhi.
Musée Guimet will also host Reena Saini Kallat's installation Verso-Recto-Recto-Verso (2017), presented by New Delhi gallery Nature Morte. The artist used the process of tie-dying to render the preambles to the constitutions of countries politically partitioned or in conflict, including India and Pakistan, North and South Sudan, and the United States and Cuba. Fair director Alexandra Fain says the work speaks to 'the endless cycles of nature and the fragility of the human condition'.
This packed programme of events helps inform the fair's Conversation Platform. The Cernuschi Museum's Maël Bellec will speak to Victoria Jonathan at 3pm on Wednesday 21 October, for instance, while artist Zhang Yunyao will speak with curators Amin Jaffer and Hervé Mikaeloff at midday on Friday 23 October. Another highlight is an introduction of the Centre Pompidou's upcoming Sayed Haider Raza exhibition by the museum's Deputy Director of the Musée National d'Art Moderne, Catherine David, at 3pm on Friday 23 Oct.
More information about the fair's programming can be found on the Asia Now website. —[O]